Jack Ramsay dedicated more than 60 years to the game of basketball that he loved so dearly…
Student-athlete, Navy captain, fitness guru, doctor, coach, general manager, broadcaster, style enthusiast, father and friend. Jack Ramsay's family released a statement after his death that said it best,  "He led the greatest life that one could lead."
Ramsay's Early Years: 
Jack Ramsay was born on February 21st, 1925 in Philadelphia and was raised in Connecticut with his mother, father and three sisters. His family moved back to Philadelphia when he was in high school where he became a local basketball star, earning a scholarship to St. Joseph's.  Ramsay's sense of duty led him to enter the Navy  during World War II where he became captain at the early age of 21. Education was an important part of Ramsay's life and upon returning from the Navy he decided to go back to St. Joseph's to graduate.
After graduating, Ramsay went on to play semipro basketball, coached high school basketball and earned a Doctorate in Education from the University of Pennsylvania in 1949, explaining why many refer to him as "Dr. Jack".
In 1955 Ramsay he was named head coach of his alma mater, St. Joseph's. At St. Joseph's his impact was seen immediately, leading the the Hawks to their first Big 5 Championship and an NIT playoff birth in his first season. During his eleven season tenure, Ramsay went 234-72 and took the Hawks to the NCAA tournament seven times and the Final Four in 1961.
His Professional Career Begins: 
Ramsay began his professional basketball career in the front as general manager of the Philadelphia 76ers during the 1967-68 season.  Once again, Dr. Jack brought the right remedy to Philadelphia, leading the 76ers and Wilt Chamberlin to their first-ever NBA Championship. At the time, Ramsay became the first general manager  to use computerized analysis in scouting college players for the draft.
The following year Ramsay decided to get back on the sidelines and became the 76ers head coach. As head coach in Philadelphia his teams made the playoffs three out of  four seasons.
In 1972 Ramsay left Philadelphia and took the head coaching job for the Buffalo Braves, once again leading the team to the playoffs three of the four seasons he was there.
The coaching position Ramsay landed next is where he would leave his biggest mark in the NBA. In 1976, he became head coach of the Portland Trail Blazers. At the time, the Trail Blazers had never made the playoffs or even had a winning season! This gave Ramsay an opportunity to implement his unique playing style and coaching philosophies. Ramsay emphasized preparation, dedication, unselfish play, a running game, tough defense and strong rebounding.
Ramsay was fitness guru and brought a unique passion for conditioning to the Portland Trail Blazers. He put his teams through grueling practice sessions. Hall of Famer Bob McAdoo said in a statement "He was so much into the physical fitness and that's why we were so successful. It was very fun playing for him."
The importance of proper conditioning can be attributed to his days in the Navy, where he was quoted as saying, "I learned how important physical conditioning is. I learned how to focus on an objective in spite of all kinds of hazards. I learned how to deal with stress, too. I also learned that my connection with my team members was best handled by being in there with them."
Ramsay wanted his Trail Blazers to run fast and  be in the best shape possible. His team was young and in shape and looked to fast break every opportunity that they had. Ramsay brought an unselfish mindset to the Trail Blazers, using his center and star player Bill Walton as a facilitator. This was very uncommon at the time, most center's were used on offense only to score. The Blazers didn't care who scored, they moved the ball and created open shots for their teammates. Their only agenda was to win and that they did! In his first season as head coach Ramsay's Trail Blazers won the 1977 NBA Championship. "Teams that play together beat those teams with superior players who play more as individuals" said Ramsay. Ramsay coached in Portland for twelve years, leaving the organization in 1986.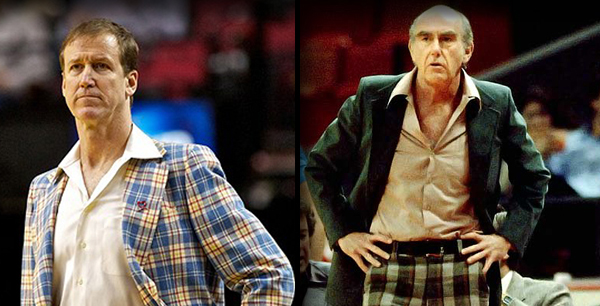 His legacy in Portland still lives, on February 22nd of this year, current Trail Blazers head coach Terry Stotts honored Ramsay for his 89th birthday by wearing a throwback plaid suit, just like the ones he use to wear.
Ramsay's coaching career ended as head coach of the Indiana Pacers, where he only spent two seasons before deciding to retire. He retired with a career record of 864-783, which was at the time the second in all-time wins under Red Auerbach.
Post Coaching Retirement: 
After his retirement from coaching, Ramsay gave basketball clinics around the world on behalf of the N.B.A., then became a broadcaster for the 76ers, the Miami Heat and ESPN. When asked about why he broadcasts games Ramsay replied,  "It enables me to stay close to the players and coaches,".  Mike Breen, play-by-play man for ABC's television coverage, says, "He's one of the most incredible people I've met in my life and it has nothing to do with basketball. It's the way he carries himself with class and grace and dignity every single day." During the 2013 NBA Playoffs Jack Ramsay was forced to announce his retirement to treat cancer he had been battling since 2000.
Ramsey's talents did not end with his front office work, coaching skills, triathlons or  legendary commentary, he was also the author of  The Coach's Art (purchase here) and Dr. Jack's Leadership Lessons Learned From a Lifetime in Basketball (purchase here).
In 2010 Jack Ramsay was awarded the Chuck Daly Lifetime Achievement Award, a  distinction that represents a coach who has set a high standard of integrity, competitive excellence and a commitment to the promotion of the NBA game. He was named one of the league's Top 10 all-time coaches in 1996. For his dedication to the game of basketball, Ramsay was inducted into the Naismith Memorial Basketball Hall of Fame in 1992.
Jack Ramsay passed away April 27th at the age of 89 of cancer.
From the NBCA: 
Executive Director of the NBCA Michael Goldberg released this statement when speaking about their relationship, "President Dr. Jack was "the perfect man for the job". A world Championship coach, well respected, a leader, a motivator and an extremely articulate individual. Under his leadership, he marshaled the other Coaches in the room that day to work with him and myself in building the Association and achieving these original goals. For the next 8 years under Jack Ramsay's leadership, the Coaches Association took major steps in the area of pension benefits and breakthroughs in the salaries paid to Head Coaches and Assistants."
President of the NBA Coaches Association Rick Carlisle said "Dr. Ramsay was a man of the highest character and integrity, his contributions to coaching in the NBA spanned the better part of five decades. He'll be missed. But he's had a very rich life and he passes with the satisfaction of knowing he touched a lot of people and helped this game in so many ways."