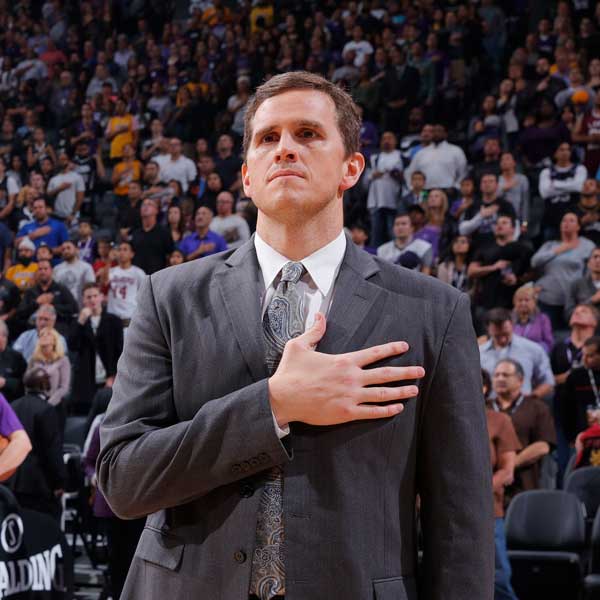 Source: Trent Toone, Deseret News
SALT LAKE CITY — Standing at 7-feet tall, Los Angeles center Brook Lopez is taller than Lakers assistant coach Mark Madsen, who is 6-9, but Lopez still looks up to Madsen in many ways.
Both big men played college basketball at Stanford University. Lopez appreciates Madsen's high-energy, "Mad Dog" mentality for playing the game of basketball. But more than anything, it's the assistant coach's life off the court that impresses Lopez.
Madsen is a mentor and friend. He's devoted to his faith as a member of The Church of Jesus Christ of Latter-day Saints. He and his wife recently had their first child, who Lopez has taken to calling "Mad Pup."
"He's such a great role model," Lopez said before Tuesday's game at Utah. "You see how he has done so well for himself in the NBA. Then you look beyond that and he has accomplished so much more in life. He has a great balance of things, and everyone I've met has nothing but positive things to say about him."
In between helping Lopez work on his free throw-shooting technique at a pregame shootaround and fist-bumping each player before Tuesday's opening tipoff with the Utah Jazz, Madsen spoke with the Deseret News about his path from NBA player to becoming an assistant coach with the Lakers. He also revealed the role Shaquille O'Neal played in the beginning of his career, the incredible story of how he met his wife and his feelings about the joys of fatherhood.
Finding Hannah
It's always been Madsen's goal to marry the right person, at the right time and in an LDS temple. After years of searching for the right girl, it finally happened for the returned Mormon missionary in 2016, thanks to some help from his mother, Erlyn Madsen.
"It's a great story," Madsen said with a huge smile.
Madsen's parents were hosting a small musical event in their Provo home in December 2015 when the pianist canceled at the last minute. In the scramble to find a replacement, Madsen's sister recommended her children's longtime piano teacher, Hannah Harkness. It was only a few hours before the program was scheduled to begin and she was in Salt Lake City, but she wanted to help out, Madsen said.
When Harkness knocked on the door, Madsen's mother greeted her and was clearly impressed.
"It's great to meet you — are you single?" She said before taking her by the elbow and marching her to a wall of family photos. "She pointed to me and says 'Hey, how does he look?'" Mark Madsen said. He was 39 at the time.
Harkness wasn't in a serious relationship at the time and was willing to go out with a guy at least once. They exchanged texts that night and spoke by phone for about an hour the next day. Their first date took place a few weeks later. The relationship didn't get serious until the end of the 2016 NBA season, but things progressed quickly after that and they were married that September.
"We got along so great from the start, it really clicked," Madsen said. "Just seeing the way she lived her life, her commitment to personal relationships, her faith and her family, and she was so much fun at the same time. It was a beautiful thing."
Madsen is grateful he waited for the right girl at the right time for a temple marriage. After years of living a bachelor's life, his basketball approach of working, being ready and fostering hope also helped him to take this next important step in life.
"When that time came, I was ready, and she was ready, and it was awesome," Madsen said.
To continue reading, click here: How Mark Madsen met his wife: A look into the present-day life of the NBA's favorite 'Mad Dog'