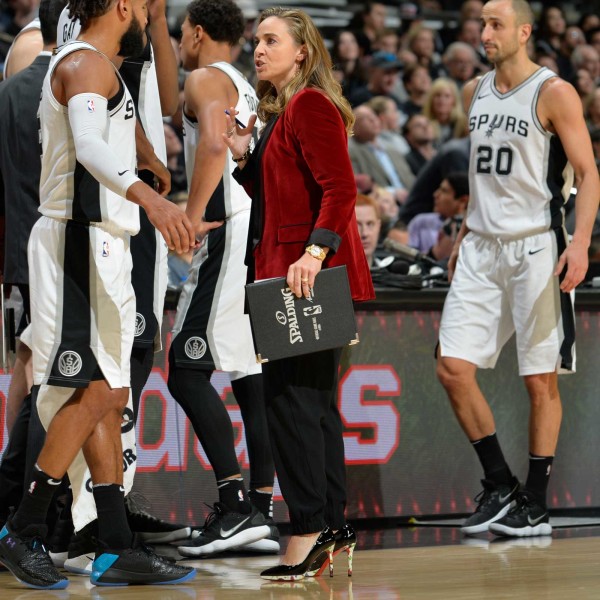 Source: Louisa Thomas, The New Yorker
It was August, 2012, and Becky Hammon, the point guard of the Silver Stars, San Antonio's franchise in the W.N.B.A., was on her way home from the London Olympics. While waiting to board a connecting flight in Atlanta, she spotted the craggy face of Gregg Popovich, the head coach of the N.B.A.'s San Antonio Spurs. Popovich is widely considered one of the greatest coaches of all time, and is known for a capacity to inspire selfless team play even among players of colossal ego. One of his many fans, Barack Obama, has said that if he were a free agent in the N.B.A. he'd sign with Popovich. Hammon was far less famous, but Popovich was an admirer, and he recognized her, too. He had been watching her play since 2007, the year before she led the Silver Stars to the W.N.B.A. Finals. From time to time during the next few seasons, Popovich would call or text Dan Hughes, the Silver Stars' coach, with comments about her performance.
Though only five feet six, Hammon was a commanding presence on the court: gum-snapping, energetic, her quick cuts and jab steps to the basket punctuated by a swishing ponytail. She could slip through a narrow space between two defenders and drive to the hoop, scooping a shot that would skim the rim and slide through the net. Like Magic Johnson, she flipped no-look passes over her shoulder, and, like Stephen Curry, she hit shots from half-court. But Popovich was most struck by her prowess as a court general: she had an uncanny ability to direct her teammates around the floor. "I'd watch the game, and the only thing I could see—it's an exaggeration, I mean, but—was Becky's aura, her leadership, her effect on teammates, her effect on the crowd, the way she handled herself," Popovich told me. "She was, like, the ultimate leader. Energy, juice, vitality. At the same time, she was doing intelligent things on the court, making decisions that mattered." In the N.B.A., a woman in charge was almost unthinkable, but he was considering hiring her.
Hammon and Popovich managed to sit together on the flight to San Antonio. They talked until the plane touched down, but not about basketball. He wasn't interested in whether she could diagram a play. Popovich has a more character-driven view of coaching—and of coaches. "I wanted to find out who she was," he said. "What did she think? How intelligent is she? How worldly? What goes through her mind? My ulterior motive, if that's the way to put it, was that I wanted to find out whether she had the interest and the tools to be a leader, to run a team."
Rebecca Lynn Hammon, who is now forty-one, was born in Rapid City, South Dakota. She has a heart-shaped face framed by chestnut hair that falls below her shoulders, and she speaks in a cheerful, sincere voice with a Midwestern accent. She was raised, and remains, a devout Christian. She is unapologetically American. And yet at the London Olympics, she told Popovich, she had played in a red uniform for the Russian Federation. Four years earlier, she'd been passed over for the U.S. team's first round of tryouts for the Beijing Olympics, and Russia had offered her a spot on its national team; she also played in a Russian league. Popovich, who had been a Soviet-studies major at the Air Force Academy, was fascinated. He told Hammon about touring the Soviet Union with the U.S. Armed Forces basketball team in the seventies, and, as she drank a beer, she told him what it was like to live in Moscow and to lead players who were, at first, wary of an American teammate. "I was a proud, arrogant American," she later recounted. "But, at the end of the day, you live in the world with billions of people, and everyone has a unique upbringing and experience." Hammon had become a naturalized Russian citizen in order to play in Moscow—a difficult decision. Some Americans called her a traitor. Even the U.S. head coach, Anne Donovan, said that she was unpatriotic, though later she backed off, saying, "I hold no grudge, and more power to her."
As their flight neared its end, Popovich could barely conceal his interest. He said, "So, if I ever hired you and I asked you something, you'd tell me the truth?"
Hammon found the question curious. "I don't know why else you'd ask if you didn't want me to tell the truth," she said.
"Good," he said. "I don't want a bunch of yes-men."
To continue reading, click here How Far Can Becky Hammon Go in the N.B.A.?