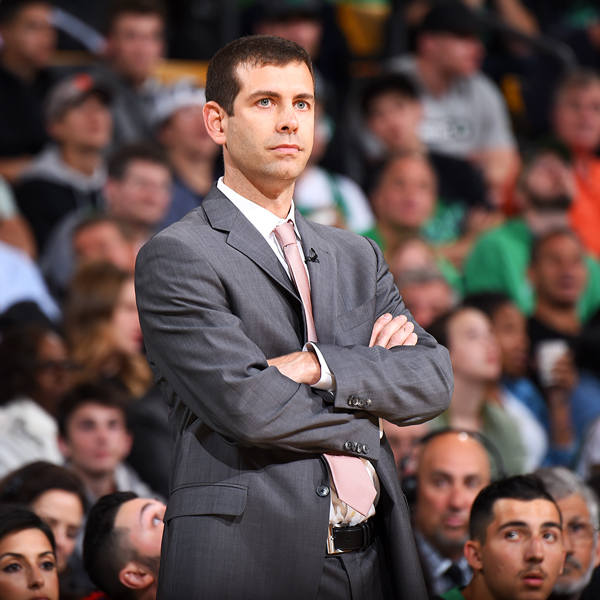 Source: Bill Burt, The Daily News
Brad Stevens has done something not even his idol, San Antonio Spurs coach Gregg Popovich, has been able to accomplish. Five seasons into the job, his teams have improved every year.
Stevens' Celtics now are arguably ready to compete for a championship. Vegas currently has them as the No. 2 favorite — behind, of course, the Golden State Warriors.
Popovich far eclipses Stevens in the Larry Brown Trophy department — his teams have won five championships, while Stevens is still in search of his first in the NBA — but the 41-year-old appears to be in pro basketball for the long haul.
Stevens arrived on Causeway Street on July 3, 2013, after putting together a special career at Butler University, the Indianapolis mid-major (FYI – he hates the term). Having recently passed his five-year anniversary in Boston, he sat down for nearly an hour to reflect on a range of topics — from childhood to adulthood to, of course, the Celtics.
That interview follows. Portions were edited for clarity.
Q. We've heard a lot of stories about you and Butler University. Talk about life before Butler — growing up in Indiana, your parents, how they've molded you.
A. Well, my parent are divorced, first of all. My parents got divorced when I was about 22. My dad is remarried. He's in Indy. My mom is remarried living in Florida. I see them not as much as I would like but certainly regularly enough because they come to some games throughout the year and everything else.
Dad was an athlete in high school — baseball and football. He played football at Indiana University and was a big part of my upbringing athletically, taking me to games and coaching my Little League teams. He was a pediatric orthopedic surgeon. So, you know, every time a kid would break a wrist or break an ankle or whatever, they would just show up at our door, and he would take them in on a Sunday and put them in a cast or whatever.
My mom was a high school teacher at one point, but a professor in college most of my life. She taught everything from shorthand and keyboarding to typing to introduction to computer science.
Both are really prideful in the work that they do. Both, I thought in a warm way, demanded a work ethic and demanded to learn about how to put yourself second and go to work and try to be as good as you can and put your signature on something. I was really lucky to be raised that way.
Q. You were working when a volunteer position in basketball comes up at Butler. Basketball obviously was an important part of your life; Indiana and basketball go together. Did you sort of fall into that frenzy?
A. Yeah, I think that the first sport you're drawn to that in that state is basketball, then obviously football. But it's a big part of the fabric of the state. The saying is, "In 49 states. it's just basketball versus Indiana." As a kid, you embrace that. That was part of the community. It's what you did on Friday and Saturday nights — go to the high school games. When the state high school tournament came around, it was as magical as going to a college or pro game.
So I played high school there, I played college there (at DePauw University), then was fortunate enough to hook on with Butler and Coach Thad Matta as a volunteer after leaving Eli Lilly.
I was 22 years old. I had been working as a marketing associate. I was fortunate enough to be hired before my senior year started, so I accepted a job at Lilly. I had done an internship there. It was a Fortune 500 company. A lot of parents of kids who I'd grown up with worked there and lived comfortable lives, and I thought that sounded pretty good.
Then, once I got in the middle of it, I decided I really wanted to give basketball a shot. A lot of things played into it, but competing was a huge part — having a scoreboard and being a part of a team were probably the two biggest things that drew me back in.
Q. Your girlfriend and now wife, Tracy, obviously played a big role. It seems like she was a bastion of strength for you, when you were making the decision to jump from corporate America to a volunteer assistant job?
A. Well, that was something she was really supportive of, and at the time she was working at a not-for-profit in Indianapolis but also dabbling with the idea of going to law school. I think the idea of me going into coaching and her going back to school, those kind of fit at the time.
The silver lining for her was that she went back to Cleveland, where she's from, to go to law school for the first two years at Case Western. It was at the same time that her mom was fighting cancer, so she got to live at home with her mom in two of the last years of her life, which was really, I think in retrospect, a special part of these decisions.
So I worked typical young-coach hours, and she was working her butt off in law school, and we would drive and meet halfway, or I'd go there for a weekend, or she would come to Indy for a game and a long weekend. We just kind of made it work. But it was, looking back on it, not easy.
Q. Your connection to Butler is special. Can you explain "The Butler Way" — a term used before you became head coach?
A. The school administration, athletic administration, coaches, students and student athletes are particularly aligned in that what we envision as a great student experience and a great student athlete experience ties into the right things. I was really lucky to work for people who valued us just as much when we were not in the NCAA tournament as we were when we were at the Final Fours. It was a tremendous experience.
It was a tremendous learning experience, but I think it's that alignment, based on what Butler would refer to as a shared set of values. I think every great organization has a way to it, a vibe about it that's based on a foundation of a culture that has been built over time, and that was no different at Butler.
It may not have always been defined the same way. Tony Hinkle was there and coached every sport and was a person that obviously is in the Naismith Hall of Fame and one of the biggest names in basketball in Indiana. Then Barry Collier, when he took over in 1989, Butler had had some tough years. About midway through his tenure as coach, he put down the values and a vision based on a meeting he'd had with Dick Bennett. Ironically those values are the same ones that (Bennett's son) Tony Bennett has at the University of Virginia now.
That meeting kind of led to a way of looking at it not only as, I'm going to coach guys from an X's and O's standpoint, but we're going to make sure that we're recruiting and prioritizing the right things outside of that.
To continue reading, click here: Brad Stevens unplugged: Celtics coach talks about Indiana, Butler University, Gordon Haywardand his first five years with the sport's most storied franchise