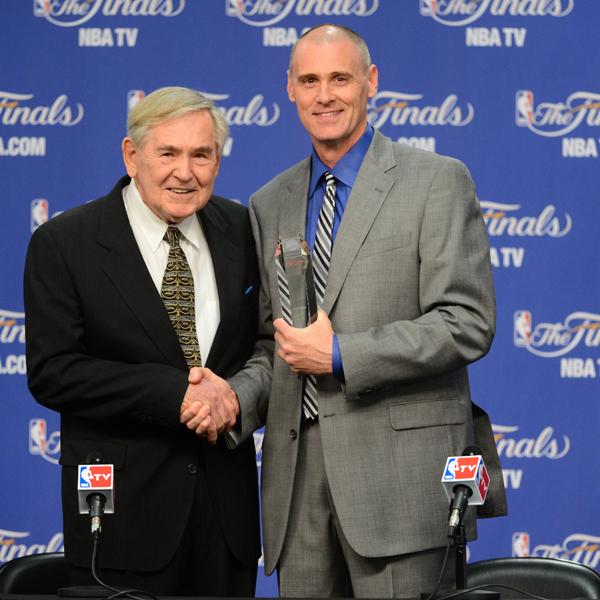 SAN ANTONIO – These days Bill Fitch gets a special kick out of tuning into postgame news conferences and hearing players say they won't really know what happened in the game they just played until they look at the video.
That's because Fitch was sometimes mockingly called "Captain Video" in the early part of his 25-year NBA coaching career for using videotape to analyze opponents and scout talent.
But what was once a joke became a standard and integral part of the game, making Fitch a pioneer. That, along with his 944 career wins and penchant for turning bad teams around, has earned him the 2013 Chuck Daly Lifetime Achievement Award from the National Basketball Coaches Association. He received the award Tuesday in a presentation prior to Game 3 of the NBA Finals.
"To be honest, I never really thought being known as Capt. Video was a bad deal," Fitch said. "Other people could laugh and tease all they wanted. The truth is I was glad to that nobody else was doing it, because I thought it always gave our teams a big advantage.
"If you could see my closet today, it's crammed full from floor to ceiling with old tapes and now with DVDs and I'm still doing film for different people. I still love the competition and the strategy."
Fitch ranks eighth on the all-time win list and his 2,050 games coached is third. He is a two-time Coach of the Year winner (Cleveland in 1976 and Boston in 1980), led the Celtics to the NBA championship in 1981and, after moving to Houston, took the Rockets to The Finals in 1986. He was also named one of the NBA's top 10 coaches of all-time in 1996-97.
The NBCA Chuck Daly Lifetime Achievement Award commemorates the memory of the Hall of Fame coach who won a pair of championships with the Pistons in 1989 and 1990 and led the 1992 USA Dream Team to the gold medal at the Barcelona Olympics.
"I've always said that being a coach made me able to live a life where I never, ever felt like I had a job," Fitch said. "Honest, it wasn't about the money. It was about the feeling that I was never working, because I was doing something that I loved. It was about the competition all those relationships that were built.
"I guess what this means is that I'm 81 and going the wrong way. But seriously, anytime you get an honor from your peers it means a lot more. I'm humbled by it. It's always great to be recognized by the guys you worked with or against. Coaching is the biggest fraternity there is and I've always felt like I've had more brothers than I could count.
"Chuck especially was a great friend and to get an award named after him makes me immediately think of all the experiences and stories we shared, some of them that could even be printed."
Fitch recalled working a basketball camp once in Michigan when Daly sprung a surprise that he had wrangled a couple of tee times at the course where the U.S. Open would be played in a few weeks.
"Chuck kept telling me, 'Don't talk so long today. We gotta be on time,' " Fitch recalled. "When we finally rushed up there and got ready to play, I told Chuck that I had forgotten my golf shoes. So he gave me a pair of his and I went out and whipped him wearing his own shoes. I never gave them back and he never let me forget it. That's how the relationships work."
Fitch has been a mentor to a stable of NBA coaches, including Danny Ainge, Butch Beard, Jim Brewer, Larry Bird, Rick Carlisle, Don Chaney, Lester Conner, Bob Hill, Lionel Hollins, Eddie Jordan, Kevin McHale, Flip Saunders, Reggie Theus and Lenny Wilkens. Hall of Fame coach Phil Jackson played for Fitch in the college ranks.
"I had the privilege of being coached by Bill Fitch when I was a part of his team at the University of North Dakota," Jackson said. "He was a great coach and teacher then carried these traits to a great NBA career."
"Bill Fitch coached me to my first championship, a thrill I will never forget," said the Hall of Famer Bird. "He is so deserving of this highest honor in memory of Chuck Daly."
While he was celebrated for teaming with the rookie Bird to turn the 29-53 Celtics into a 61-21 team that made the 1980 East finals and a championship club the next season, it was that Fitch's first NBA experience, in Cleveland, that probably has the strongest hold.
Having ushered the expansion franchise into the league with a 15-67 record in 1970-71, five seasons later, Fitch and the Cavaliers went on a ride that became known as "The Miracle of Richfield."
With a team that featured Austin Carr, Jim Chones, Campy Russell, Nate Thurmond, Bingo Smith, Jim Cleamons, Dick Snyder and Foots Walker, the Cavs compiled a 49-33 record and won the Central Division. The Cavs made the playoffs for the first time and knocked off the defending Eastern Conference-champion Bullets in the conference semifinals when Snyder nailed a jumper with four seconds left in Game 7.
An injury kept Chones out of the Eastern Conference finals and the Cavs lost to Boston in six games. Yet "The Miracle of Richfield" lived on as the Cavs did not win another playoff series until 1992.
"You've got to start out by saying that you have to like any team that Bird was on," Fitch said. "But your first-born is special and what we did that year in Cleveland still lives with the people who were there to see it.
"I really wouldn't want to choose between those two teams if you forced me. But you know what? There was something to like about every one of those other teams, too."
After Fitch watches the Spurs and Heat play Game 3 from courtside, he'll get back home to watch it again and again, breaking down plays, analyzing defenses, gleaning little bits of information that will help another coach.
The machines and the technology may have changed, but not Capt. Video.
via www.nba.com