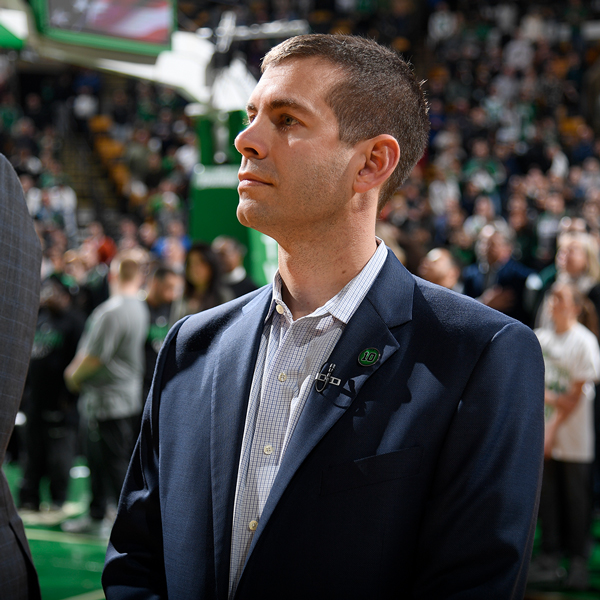 Source: Taylor Snow, Celtics.com
WALTHAM, Mass. – New Boston Red Sox manager Alex Cora had just walked out of his first major team meeting of Spring Training Monday, when he unexpectedly bumped into the familiar face of a fellow Boston sports figure. It was Celtics coach Brad Stevens, who had decided to spend a day of his NBA All-Star break taking in some afternoon baseball in sunny Fort Myers, Florida with his 12-year-old son, Brady.
Without hesitation, Cora pulled Stevens aside and asked if he could speak to his players and staff before they dispersed. The C's coach was slightly caught off guard by the sudden request, but he didn't think twice about taking advantage of the opportunity. So, he stepped up to the plate and dished out the best advice he could offer to the wide-eyed, eager group.
"First of all," Stevens relayed to Celtics reporters Wednesday evening back at the team's training facility in Waltham, Massachusetts. "I told them, 'I'm not qualified to speak to a baseball team. I got picked off the last play of my career in high school.'"
But, through his extensive coaching knowledge, Stevens was still able to connect to the Sox.
"I think that my biggest message was that throughout the whole course of the season, remember the vibe and the feeling you have now," Stevens said.
The feeling of not having any at-bats under their belts. The feeling of having fresh arms and legs. The feeling of not yet experiencing a losing streak. The exciting, unknowing feeling of what lies ahead in the coming months and the endless possibilities that await them.
Experiencing that feeling with the Red Sox is exactly the reason why Stevens went down to Fort Myers in the first place.
"That's one of the fun parts for me," said Stevens. "Just the freshness of it all."
To continue reading, click here: Stevens' Advice to Red Sox Could Also Apply to Celtics