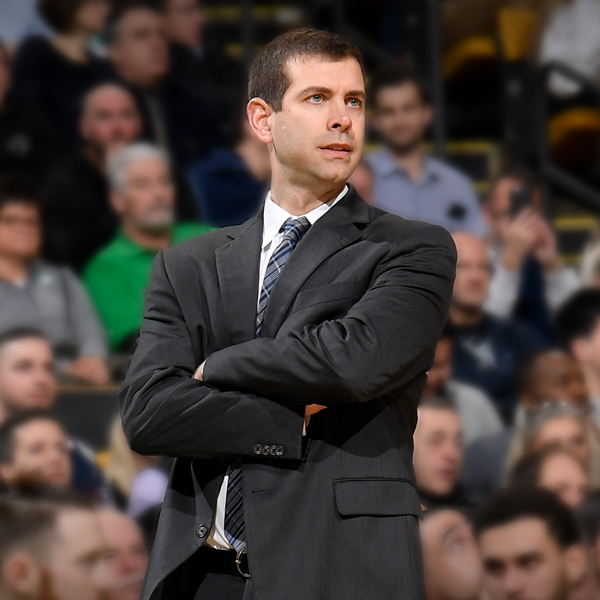 Source: Chris Forsberg, ESPN
BOSTON — The pizza parlor style Ms. Pac-Man table, once a beloved daily diversion, has been gathering dust.
Boston Celtics coach Brad Stevens used to plop down at the glowing cabinet — a gift from his wife, Tracy, a few years back — and play a dozen rounds of the 1980s arcade favorite to break up the monotony of film work at his Wellesley home.
When Stevens first revealed his love of the game last summer, it drew national attention (NBA coaches — they're just like us!) but as the Celtics near the finish line of the 2017-18 campaign, Stevens gave a startling admission.
"I haven't played it all year," Stevens said during a rare Celtics off-day practice this week.
Such are the sacrifices during a season that has challenged Stevens like no other. There was an unprecedented roster overhaul that culminated with the Celtics swapping All-Star point guards with their chief Eastern Conference rival. Then Boston lost its offseason All-Star signing just five minutes into its season opener. And the injury bug returned with a vengeance in March to feast on the team's remaining talent.
Despite all the obstacles, the Celtics have navigated parts of the season as if they've just munched on a Pac-Man power pellet, turning some of the league's top competition into glowing ghosts. There was a 16-game winning streak early in the season that restored the team's confidence and, despite running a MASH unit out of their practice facility in recent weeks, Boston has won six of seven while unfathomably remaining within striking distance of the top seed in the conference.
The Celtics visit the East-leading Toronto Raptors on Wednesday night (8 ET, ESPN) with hopes of keeping that quest for the No. 1 seed alive. And the fact that it's still even a possibility speaks to the sheer sorcery that Stevens has wielded this season.
Stevens downplays his role in Boston's success. Even the Ms. Pac-Man hiatus, he contends, isn't entirely due to the rigors of keeping his team afloat.
"I've been trying to tell my [12-year-old] son [Brady] to play less video games," Stevens said. "So I can't set the bad example."
Celtics players have combined to miss a total of 193 games this season. That's not an exorbitantly high number, and injury data tracked by Jeff Stott's indispensable InStreetClothes.com ranked Boston only 13th in the NBA in terms of total games missed through the end of March.
What's more telling is that Boston's opening-night starters have combined to miss 111 of those games with the All-Star trio of Kyrie Irving, Gordon Hayward, and Al Horford combining for 100 of those missed games. The Celtics rank near the top of the league in total salary lost to injury, per InStreetClothes.
Add in lengthy injury absences for top reserves such as Marcus Morris (26 games missed) and Marcus Smart (23), and that has forced Stevens to often lean heavily on the inexperienced players who comprise the end of Boston's overhauled roster.
One night rookie forward Guerschon Yabusele is in the G League, the next he's an emergency starter. Shane Larkin was in Europe last season, now he's providing key backup ballhandling for an East contender. Greg Monroe was a midseason buyout from the lottery-bound Suns but could be a key bench contributor in the postseason for the Celtics.
To continue reading, click here Dad jokes and a Ms. Pac-Man hiatus: How Brad Stevens kept Boston afloat