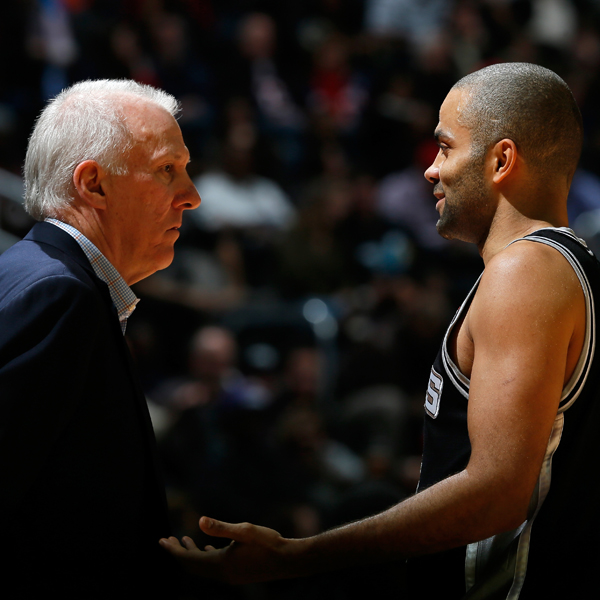 Gregg Popovich, the head coach of the San Antonio Spurs, has established his place on the Mount Rushmore of coaches, alongside Red Auerbach, Phil Jackson and Pat Riley. What makes him and his team so successful, though?
Establishing he belongs with the greatest is not hard.
According to Basketball Reference, Popovich is 247 games over .500 for his career, putting him third all time. If the Spurs win 58, he'll move into second this season. Considering the Spurs are off to a 14-2 start, that's a distinct possibility.
He is on pace to have his 16th consecutive season winning at least 60 percent of his games. No team in history, not even the Boston Celticsof the 60s, has ever come close to that. No other coach, not even Phil Jackson, has even brushed up against that.
In fact, after perusing Basketball Reference's data, it appears no other coach or team has ever even had more than 12 such consecutive seasons.
That he has been able to have such a sustained level of success in a league that has extended to 30 teams and in an era of free agency, it's all the more remarkable. When you consider that San Antonio is a small market, it's phenomenal.
(The city of San Antonio is the seventh largest in the country, but based on market size, it is only 37th, making it the fourth-smallest market in the league).
With four wins in five finals appearances during that span and two Coach of the Year awards, the credentials are clearly there for Popovich to lay claim to the title of hands-down greatest active coach in the game. But, what has he done to get there?
There are three things that make him so successful: the X's and O's of his system, his cultivation of an atmosphere where players desire to put the team and system above individual glory and his developing a familial environment that relieves the pressures of the game.
The X's and O's
Ultimately, coaching begins with a system. Nothing else matters if you don't have one. It's very hard for a player to be where he is supposed to be on the court if he doesn't have somewhere to be. That's not a problem in San Antonio.
Popovich has developed an offense that is consistently one of the best in the league.
These are not your slightly older brother's version of the Spurs that dominated the aughts with Duncan-led boring ball. No-sirree-Bob! These are the new and improved, Parker-led Spurs. These guys run up and down the court.
Since 2011, they are the seventh-fastest paced team and have the fourth-most efficient offense in the league. Only the Miami Heat have a higher effective field-goal percentage. How do they generate so much offense?
The Spurs' use of screens is outright beautiful. They'll use pick-and-rolls, double screens, triple screens and even quadruple screens to set up an open shot. Here's a perfect example. (This was literally the first play I looked at. I didn't have to go scouring for one).
Look at the number of screens set for Tony Parker on this "loop play" to create an open shot.
First, the Spurs set up a screen with Matt Bonner, also forcing the Utah Jazz into effectively screening out Parker's defender, Alec Burks, and themselves as well. Burks fights through the screen, though, and keeps up.
Parker runs through the screen and loops around, where KawhiLeonard sets a second pick. Now, Parker can either come around Leonard, catch the pass from Duncan and drive to the rim, having a serious mismatch against Richard Jefferson, or, if Burks can fight his way through the second screen (which he does) Parker can go high and let Duncan set a third one.
Now, Parker is running at full speed, and Duncan is setting the pick. Burks can't get through the third screen, and Parker has the wide open jumper for an easy two.
This is the essence of Popovich's offense. Create open shots by setting screens.
And, it's not always multiple screens setting up a shot. Sometimes, it's one player blocking out two players at one time. Watch Matt Bonner (sort of) screen two Orlando Magic to set up this open three for Marco Belinelli.
The Spurs run a beautiful kind of team game, with every player constantly doing his job. They use team ball to set up shots, and that's on coaching.
The defense is no different in that, once again, it's the team concept that rules the day.
Popovich likes to have as many players as possible in the paint, keeping it packed, utilizing as much of the three seconds as possible. Each defender bobs in and out, maximizing the time they can spend in the paint. This sort of discipline comes from practice and deliberate coaching.
They shift their perimeter defenders to the strong side, and when the ball gets passed to the opposite side, they just seamlessly flow to where the ball is, always keeping the paint packed and the point of attack protected. Again, this issues from coaching.
Watch how effective they do this on this play, eventually forcing ArronAfflalo into this challenged mid-range attempt.
The Spurs have ridden this team-oriented defense to the second-bestefficiency in the NBA.
The amazing thing about the Spurs is that they've had so much success in spite of the lack of perceived "talent" on the team. For a team without it, they have an awful lot of it.
Consider the facts.
Apart from Duncan, who was taken first overall in 1997, the Spurs start Leonard (taken 15th), Parker (taken 28th), Tiago Splitter (taken 28th) and Danny Green (taken 46th).
Green came within a Ray Allen miracle of going from the D-League to the NBA Finals MVP.
The other heavy rotation players include Boris Diaw (whom they picked up off the waiver wire), Manu Ginobili (taken 57th), Marco Belinelli (signed with a mid-level exception) and Patty Mills (taken 55th).
This is a group of players that Popovich has developed into something more than they were before they got there. If you have  a few players who end up being more than you thought they'd be, it's good fortune. When it's virtually every player you coach, it's good coaching.
There are no attention-seeking glory hounds on this roster, and there is no room for them.
It helps that leadership, from the owner, Peter Holt (if you're not a Spurs fan, you probably couldn't even name him), down to the stars, Duncan, Parker and Ginobili, all buy into the philosophy. The system is what matters here.
For the Spurs, ultimately, it's Popovich who calls the shots. Make no mistake about it. Ben Golliver of Sports Illustrated quotes Manu Ginobili.
If Pop is really mad, then you drop the discussion. We might talk for 10 minutes about how to defend the pick-and-roll, and he may change his idea. But once he is convinced that is the way, then that is the way. And if you don't follow, you end up in the Pop doghouse.
The players all buy into the system, in part because they're required to, but in part because it works. This amalgamation of lottery leftovers and waiver-wire waifs has had greater team success, but each individual has also enjoyed a greater career for having bought into the system.
On the Spurs, the whole is greater than the sum of the parts, and each part has become happily greater because he has been content to merely be a part of the whole. There are no divas on this team. They have no place here.
Cultivating a Culture of Winning
For a man name Gregg, there are a lot of "gr" words that describe him well. "Great" comes to mind, but so do "grump" and "gruff." Then again, so does "gregarious," "gravity" and occasionally it seems (on the inside at least) "grinning."
Perhaps the best word, though, is "grandpa." The particular mix of grumpy and love he seems to deliver to both players and commentators alike is grandfatherly. How apt that his nickname is "Pop."
For all the task-mastering Popovich does, he does so with a genuine concern for his players. They realize this, and it pays dividends. Theywant to play for him. They want to play for each other.
And, this is something absolutely cultivated by Popovich. As he reveals to Golliver.
Yes, we're disciplined with what we do. But that's not enough. Relationships with people are what it's all about. You have to make players realize you care about them. And they have to care about each other and be interested in each other. Then they start to feel a responsibility toward each other. Then they want to do for each other.

And I have always thought it helps if you can make it fun, and one of the ways you do that is let them think you're a little crazy, that you're interested in things outside of basketball. 'Are there weapons of mass destruction? Or aren't there? What, don't you read the papers?' You have to give the message that the world is wider than a basketball court.
In this little bit of goofiness on the bench between Ginobili and Duncan here, you see the kind of harmless fun that happens on a team where the players have a genuine affection for one another. That's a chemistry cultivated by Popovich.
With other coaches, the tough, exacting style that Popovich has wears players down over time, but the reason he has been able to sustain success with it for 16 years and counting is because he blends together his expert understanding and exacting style with a human side.
President Theodore Roosevelt once said, "People don't care how much you know until they know how much you care." It's an apt expression to describe the relationship between the Spurs and their coach. In short, it's more than what Popovich does that makes him so successful, it's who he is.
It's not any one of those three things that account for his success as much as it is the way he's managed to weave them together into something that has become what you expect from Spurs basketball.
Often, when people discuss the Spurs, they ask whether Duncan made Popovich or Popovich made Duncan. That's the wrong question. Duncan would be great anywhere, and so would Popovich. But Parker, Ginobili, Bruce Bowen and a host of other players are who they are because they had Pop.
He didn't make Duncan great, but he turned the Spurs into a great franchise. Outside of Jerry West and the Los Angeles Lakers, it's hard to think of any one person who has had a greater impact on one team for so long a time. He truly is one of the great coaches in the history of the game.
via www.bleacherreport.com by Kelly Scaletta