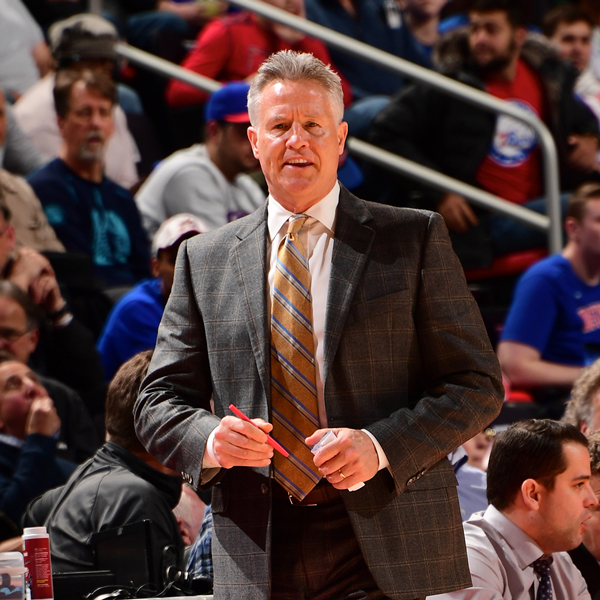 Source: Michael Lee, Yahoo Sports
PHILADELPHIA — Through all of the embarrassing losing streaks, a ghastly 10-win season, and a patience-testing string of top draft picks being forced to sit out all or significant portions of their first seasons, Philadelphia 76ers coach Brett Brown somehow saw hope. When the 76ers were laser-focused on Andrew Wiggins leading up to the 2014 draft, Brown watched film of Kansas and couldn't help but being enamored by Wiggins' 7-foot-2 teammate. While Ben Simmons' size and skill set suggested that he had a future as a forward in league, Brown saw a point guard.
Brown thinks differently, which explains how he was able to endure a four-year stretch of terrible basketball and even more bad breaks, and kept coming back, almost sadistically, for more. He has also seen what wasn't readily apparent to others, which explains how he gathered his players for the first time in training camp last September and told a squad that was going to rely heavily on two players who hadn't played even half of an NBA season, "We're going to the playoffs."
With the 76ers already set to not only make the playoffs but host a first-round series and win more games than they have in 15 years, and with Joel Embiid proving to be the true gem of his draft class and Simmons garnering comparisons to Magic Johnson and LeBron James, Brown is looking pragmatic and prescient. But he's not seeking praise for stating what was patently obvious to him — especially when it came to his postseason plans.
"I felt to have any other goal was borderline, sort of cowardly," Brown told Yahoo Sports. "I understood that it was going to be a difficult ask. But I think to walk into a locker room and not declare that to be a season goal at the start of the season is not how I'm wired. You would get different people within our organization that sort of advised me not to go there and I wanted to. I wanted to own it."
To continue reading, click here: Brett Brown on playoff spot after most daring rebuild in NBA history: 'To have any other goal was borderline, sort of cowardly'