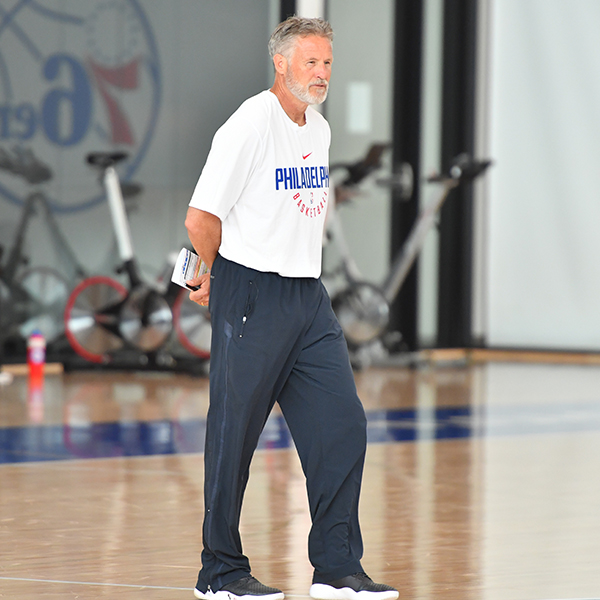 Philadelphia 76ers coach Brett Brown is now navigating his fifth season as the pilot of The Process, and is doing a lot better than he gets credit for.
Fans have called for Brett Brown's head for some time now. And in a season where many expect a playoff berth, each loss he endures only fuels this fire. Fans point to his record and late-game management as reasons to move on with a new leader.
However, the arguments used as evidence to overthrow Brett Brown might tell a contrary story. A story of how he is actually a good coach, and why he should stick around as this team matures.
Brown signed on to coach the Philadelphia 76ers four years ago, as a part of Sam Hinkie's personnel reconstruction. He signed on knowing that the 76ers were going to lose games, and lose them badly.
Brown the Developer
As Hinkie and The Process continued to make the roster a revolving door, there were only a handful of players who survived through three consecutive sub-20 win seasons. One of these players was a 3-point specialist named Robert Covington. Signed in 2014 after going undrafted in 2013, Covington was given every opportunity a young player could ask for.
Coming from a franchise (Houston) whose D-League team emphasized shooting and shooting early in the shot clock, Covington was as trigger-happy as a young player can be. Brown saw him shoot at will, and while it seemed like he shot way too much, he managed to shoot above average from downtown in his first year with Philly. Seeing his ability to hit contested shots, Brown concocted an individual plan for Covington. This involved, well, lots of shooting.
His shooting was clearly not the only thing Brown emphasized for him, either. Brown also placed an unrelenting emphasis on defense to all his players, and Covington is certainly a byproduct of this. In 2016-17, he finished fourth overall in Defensive Player of the Year voting, only behind accredited stars Draymond Green, Rudy Gobert, and Kawhi Leonard.
Now on a team with actual playmakers (you might have heard of Ben Simmons) and shooters (some guy named Redick?), Covington has balled out. Currently taking even more triples this year than last (up to 7.3 from 6.1), RoCo is draining them at nearly a 50 percent clip. Small sample size or not, 3.6 three-balls a contest is analytics at its finest.
Brown the Tactician
Additionally, Brett Brown is much, much more than a developer; he is also a legitimate game manager.
One of Brown's most notable late-game maneuvers last season was not really a maneuver at all. Down one point to the Knicks, with a timeout remaining, the Sixers grabbed a rebound off a Porzingis air ball. Brown, did not use his timeout, however, and let the boys play.
It worked beautifully. Believe it or not, this is a strategy coaches use sometimes. It keeps defenses off balance, and allows the players some artistic license.
As a contrary strategy, Brown also draws up plays to end games. His most notable one came against the Timberwolves, with the game tied and 1.6 seconds to go. An inbound from Dario Saric, an exceptional passer for his height, resulted in an alley-oop to Covington for the win.
Brown the Intellectual
These micro-analyses of Brown do not tell the whole story, however. Brown preaches the right principles for a modern NBA game plan.
For example, the 76ers ranked eighth in the Association last year in team assists per game. Considering how many plays were in isolation for Joel Embiid and Jahlil Okafor(1.8 and 2.6 possessions per game, respectively), the ball-sharing was at a premium with Brown's squad. This is even more impressive when considering that his Sixers only won 28 games last season.
Now, with actual playmakers and shooters in place, Brown's offense is flourishing. The Sixers are third in the Association in 3-point percentage, while taking only the eighth-most per game. Exceptional creating from Ben Simmons, combined with the gravity Joel Embiid draws in the paint, have revealed the true colors of Brown's game plan. His decision to use Simmons as the primary ball-handler was ingenious as well; he is already one of the best passers in the world, and is also a matchup nightmare for opposing defenses.
Brown has proven to be an excellent developer, capable game manager, and a great leader for these young Sixers. Philly fans are always looking for someone to blame when the team loses, but they won't find much blame with this coach.
To read the full article, click here: Brett Brown is better than you think