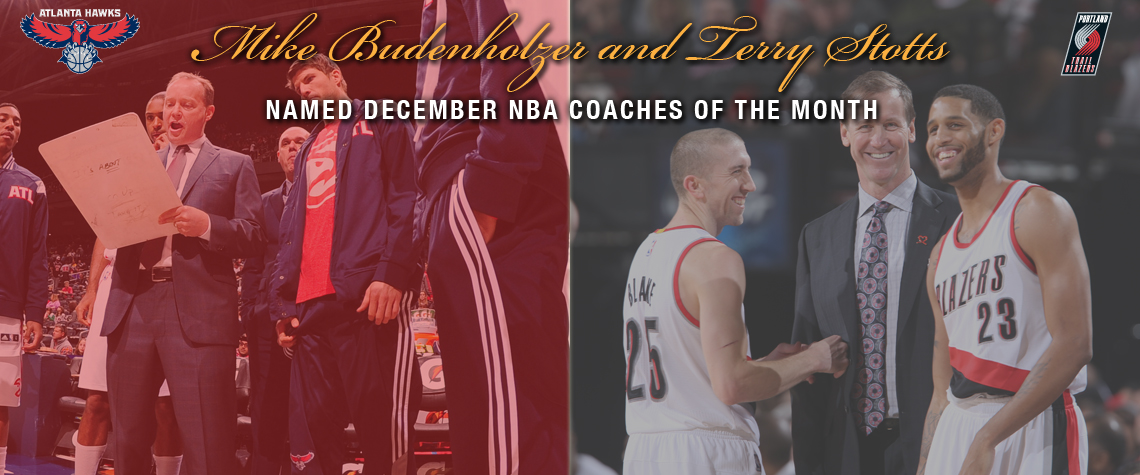 NEW YORK — The Atlanta Hawks' Mike Budenholzer and the Portland Trail Blazers' Terry Stotts today were named the NBA Eastern and Western Conference Coaches of the Month, respectively, for games played in December.
Budenholzer led the Hawks to the best record in the NBA in December, 14-2 (.875). Atlanta won seven consecutive games to open the month, part of an overall nine-game winning streak which dated back to Nov. 28. Following a one-point loss to the Orlando Magic on Dec. 13, the Hawks reeled off a five-game winning streak from Dec. 15-23, which included wins over the Chicago Bulls, Cleveland Cavaliers, Dallas Mavericks, Houston Rockets and Los Angeles Clippers. Atlanta posted identical 7-1 marks at home and on the road during December.
Stotts guided the Trail Blazers to the Western Conference's best record in December, 13-3 (.813). Portland recorded three winning streaks of four-or-more games on the month, including a stretch with five consecutive wins from Dec. 13-20, during which all but one win came by double digits. The Trail Blazers, who rank in the top three in the NBA in opponents points per game allowed, surrendered 100-plus points just five times in 16 December contests. The Trail Blazers played three overtime games during December, and won them all.
Other nominees for Coach of the Month were Chicago's Tom Thibodeau, Dallas' Rick Carlisle, Golden State's Steve Kerr, Los Angeles Clippers' Doc Rivers, Milwaukee's Jason Kidd, Oklahoma City's Scott Brooks, Toronto's Dwane Casey, and Washington's Randy Wittman.
via www.nba.com