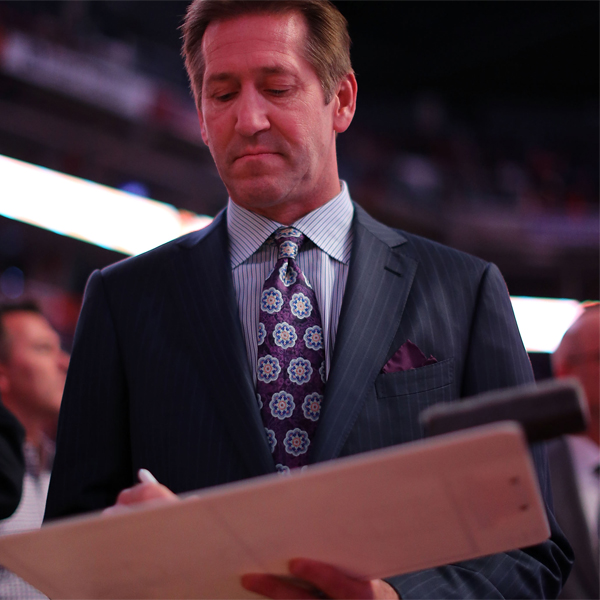 The Phoenix Suns have an average age of 26 years old. They entered the season having traded their starting center Marcin Gortat, their best power forward in veteran Luis Scola, and having seen an offseason of turnover both in the general manager's and head coach's office. They traded Jared Dudley in a package deal for a raw point guard who had been a backup his entire career. The most prominent thing about them was the stunning number of picks they have in the 2014 draft.
It was supposed to be a tanking year. Struggle with this young team for another season as you try and learn what you have on roster, then draft high once more with a few extra picks, build a new core, and really start to put some wins together starting next season.
Whoops.
The Suns are 19-11, eight games over. 500 with signature wins over many of the Western Conference's powerhouses. They compete every night, but lots of young teams do that. What's stunning about these Sons of the Desert is that they play such fundamentally sound basketball. They find the open man, they move the ball, they work for high percentage looks. They look and play like a veteran team despite six of their top seven players being 28 or younger, several just 24.
Where did this team come from? And how is it that a team trying to do so many new things with younger players comes across like a legitimate Western Conference playoff team?
The man behind Phoenix's surprising run this season acts like he doesn't have a care in the world. Jeff Hornacek may be the most laid back NBA coach you're going to find. He speaks with an easy smile on his face, like a guy who happened into a comfortable job he can enjoy. That's a pretty long walk from the hellacious pressure cooker that warps men's hairlines and weathers their faces. Take a look at how much Jason Kidd has aged in just a few months on the job.
But while other first-time head coaches have struggled, Hornacek has accomplished that rare feat — he's truly gotten through to their players. Talk to the Suns and you can't really get away from the rave reviews they provide.
"We're a really young team," point guard Goran Dragic told CBSSports.com recently. "Nobody expects us to play fundamental basketball, sharing the ball all the time. The best thing is all the players have a great relationship with the coaching staff. We really believe in Jeff. Jeff is unbelievable, he played in this league for many years and was one of the best shooting guards. He knows how to play this game."
Many coaches run into trouble because they lack some level of the NBA experience. Many didn't play in the league and so they can't really communicate that they understand what happens on the floor or in the locker room. Others were never assistant coaches, leaping into jobs they may not have been ready for. But Hornacek was a tremendous guard for perennial championship contenders, then a part-time shooting coach and eventually an assistant coach in Utah. It's not just his familiarity with the game, it's that he remains calm.
On a Friday night in December this season, Hornacek's Suns found themselves down 21 points, on the road in the altitude of Denver. It was another moment in a series of moments where you would expect them to fold. To buckle. To show their youth.
"I gotta give coach the credit," Gerald Green said after the game. "He never panicked, he never yelled at us. He kept with it. He told us to stick with the plan, just to keep at it, it's going to work."
Calm, cool, collected. Laid back.
The Suns got back to moving the ball, swinging the ball reversal to the weak side and finding shooters. When defenders over-corrected, the interior players made them pay. Everything clicked. 103-99. Phoenix wins, again.
So what's the secret? How do you take a team this inexperienced and new to one another and convert them into a team that shares the ball, finds the open man, and consistently finds a way to win?
"Well, I think first," Hornacek told CBSSports.com, "you gotta have that kind of player. Unselfish guys. Every guy thinks they can score. They can take the guy who's guarding them. We had a little bit of an advantage because every guy I talked to when I got the job said 'Hey, we liked each other off the court. We all got along great. It was when we were on the court that we were a little selfish.' And I said that's one thing the coaches can work on, playing unselfish and playing hard.
"Early on in training camp, we made it an emphasis that when we saw a guy not make the right pass or the extra pass, we'd stop the play. And we'd explain to the guy, if you just make this play or find this guy, then this or that will happen. And in the beginning it was a little bit of a struggle for some of these guys, but when you do things over and over again, it works. That's probably what makes San Antonio so great, Pop harps on it. The top ten teams in the league all share the ball, they move it quickly."
Hornacek has installed an offense that relies on two point guards who were supposed to get in the way of one another, and instead has used Eric Bledsoe and Goran Dragic's strengths to give the defense a nearly unsolvable problem. Dragic is averaging 18.4 points per game. Bledsoe is averaging 18.0. Dragic is dropping 5.9 assists per game. Blesdoe, 5.8. Their numbers are nearly identical, something Hornacek says helps a lot with keeping the balance between them.
"There are times when Goran's (playing) a point guard," he says, "and times when Eric's a point guard. It's probably falling out that Eric's probably got the ball 40 percent of the time when they're on the floor together. But in fast break and in our offense, we swing it from one side to the other. So it may be Eric that starts out with it but it ends up in Goran's hands. That's what we're trying to accomplish on offense. It's good for us that they're both pretty similar in their stats so one guy's not saying 'Gosh, I'm not getting the ball enough.'
"Goran's a really good shooter, and last year he didn't shoot the ball well from three (32 percent). I think a lot of that is because a lot of them were off the dribble, and that's a tougher shot. And now he's getting a lot of catch-and-shoot opportunities and consequently his percentage is up."
And what of Bledsoe, the former Clippers sparkplug who has blown away doubters this season by showing not only can he run an offense, but he can work beside another ball-dominant point guard and still be aggressive?
"I think all guys with proper leadership from teammates and coaches, if they have the talent, they want to win. Eric's a competitor, he doesn't like to lose. You see that in practice. We have a lot of guys who are just getting the chance to play big minutes. And that's a big adjustment to go from 15 to 35 minutes. That takes another level, of preparation, of conditioning. When you're just mentally focused for 15 minutes, it's not bad, but when you have to do it possession after possession, that's a big jump and Eric's done a great job adjusting."
You hear the same things when you talk to the players, that Hornacek has managed to do one of the tried and tested approaches to management. He puts them in a position to succeed and gives them the confidence to go do it. Some teams may need the swift kick in the backside to get them to respond, but the Suns it seemed needed someone just to get them to buy into what they can do.
"The first time I spoke to him," Dragic says, "I was back in Europe. And he said 'We want to be like those old Suns, use two ball-handlers and play extremely fast, up-tempo.' You never know if that's going to work or not, but he always tries to give you that confidence. Even in tense minutes on the floor, he's always calm. It helps you to not get worried, and just play your game."
But as calm as Hornacek is, as laid back as his demeanor seems, behind his approach is a philosophy that balances pragmatic player coaching with an analytical bent that jibes with new Suns' GM Ryan McDonough's philosophies and the emerging trends in basketball analysis.
Take, for example, his approach to using shot chart data to guide where and how players are taking shots.
"You can look at the shot charts," Hornacek says, "and say 'OK he shoots it better from here, worse from here,' but when you start talking to guys about that, then they start thinking. You say 'Don't shoot it from over there.' Now when they get the ball over there they're thinking, 'Oh, I better not shoot it.' Then if they have to, they're probably not going to make it. 
"We try to emphasize looking at areas where they do shoot well and then try and develop a set or a play that gets them the ball in that area. Then the next thing is to ask them where they think they shoot well. And if they say 'Oh, I definitely shoot well from over here,' then you can use the shot chart to say 'Well, actually, you're probably better off over here.' Then you can guide them to not not shoot that, but if you have a choice, go to that side."
"We've given the point guards the shot charts to look that. We'll tell them in transition, 'Let the guys get set before you throw it to them.' It's been shown that if they're on the run, the percentage goes way down. So if you know Gerald Green shoots a high percentage from the corner, wait till he gets all the way down there and gets set."
These things seem simple, but that's kind of the beauty of what Hornacek is accomplishing. He's using advanced analysis to reinforce a pragmatic coaching style that resonates with the players. Put guys into a position to succeed, give them confidence, encourage them to make the right play, and leave the more complex elements to the coaching staff.
One adjustment Hornacek discussed was how when looking at the Suns' dreadful offense in 2013 (Phoenix ranked 29th in points per possession via Basketball-Reference.com), the coaching staff could see that the power forwards were clogged at the elbow, preventing Dragic and the other point guards from attacking. So immediately the staff set to work in moving Markieff Morris, the surprising young star for the team, down low. The result has been better work on the offensive glass, more efficiency from Morris, and more room for Dragic and Bledsoe to create.
But still, the biggest trademark for Phoenix is they way they consistently create open looks for one another, moving the ball like a veteran team. Phoenix is third in points per possession in catch and shoot opportunities according to Synergy Sports, putting them among company like the Portland Trail Blazers and Golden State Warriors. How do you get this team to do that?
"We try to always say 'If you hold the ball and you hesitate and your first look is how can I get by this guy?' It's probably not going to work. You know when the pass is in the air, whether you should catch it and go or if you have an opportunity to catch it and shoot. But you can't catch it and then think that. You're going to be a second late and then it's not good. I think it's a testament to us as coaches for making it a priority right from the start, and a testament to the players for knowing they're all going to get their fair share of shots. If everybody shares it, and they're unselfish, everybody winds up with the same amount of shots anyway."
Sounds simple enough, yet that lack of ball movement, that ball stoppage and hesitation, is rampant and a serious problem offensively throughout the league. That again is a credit to Hornacek. He hasn't installed a system so complex and cumbersome that it leaves the players overthinking things, nor does it dumb things down to the point the team can't function. Hornacek is walking a tight rope. He just happens to be strolling casually as he navigates it.
Hornacek understands the value of defense, it was something the staff made a priority in reshaping both Markieff and his brother Marcus.
"They were horrible defensively," Hornacek says. "Whether that was the system, or what. But we're putting a lot of responsibility on them to help out and to rotate and these guys are following it, and I think that's what's taking them to the next level."
In the preseason, Hornacek told Phoenix blog Bright Side of the Sun he wanted to average over 103 points per game. I thought he was nuts. This roster, in a rebuilding year, in your first season? Come on.
Entering play Thursday night, the Suns are averaging 103.7 points per game.
Just like with the players, Hornacek is making believers out of skeptics across the league.
He just looks awfully laid back while he does it.
After the buzzer:
I asked Hornacek, who has consistently criticized mid-range jump shots which are the scourge of advanced metrics, if there is a divide in coaching circles on the fundamental, 18-foot jumper and its role in the NBA.
"I thinks so. Analytics people say you should never take those shots. But here's how I look at it.
"I looked at the 14 of 16 playoff teams last year their effective field goal percentage was right at 51 or higher. The two teams that weren't were Indiana and Memphis who were probably the two best defensive teams in the league. So the ultimate goal is, how do you get to that 51 percent?
If you look back to when we played, we didn't shoot a lot of threes. And if you look at the Utah teams I played on, we shot 50 percent from the field every year and we probably made 5 for 7 threes every game, so our effective field percentage probably was about 52 percent and we took a lot of mid-range jump shots. The goal is to look at the overall package and see how do you get to the overall number. If you've got a guy that can shoot 55 percent from those shots, why not shoot them? I don't think you can say it's black and white don't shoot those shots. 
I think as coaches you also say, 'That's great, don't shoot those shots.' But then when you get in the playoffs, those are the shots you get because the defenses are so locked in, and you know how everyone plays, that those are the shots that come available, those 18-foot mid-range jump shots. And that's when you gotta make them. And if you haven't taken them all year long and then you're in the playoffs and you gotta make them, how's that going to work?"
I asked Hornacek about the difference in pushing the pace to create a transition shot, and working to get into sets quicker, which allow for more time to run through offense.
"If you push the ball up the court, sometimes you catch the defense sleeping. You push and you might get an easy shot or an easy penetration, so that helps your points per possession right off the bat. II think the really good teams, they don't get panicked when there's five seconds or less on the shot clock. They can still do one or two more things. But when you're young, I think it's really important to get into your set quicker. Because the defense stops you on your first or second option, and you have to go to that third option, you're not quite there in terms of veteran execution. That makes it really tough and your scoring goes way down at the end. I want the ball up the court fast, get into early offense, and if you do that, the team's not able to set up their defense. 
"A lot of teams just drop their head when the other team scores. That's when we want to go, because a lot of teams are happy they scored, and they're celebrating a little bit and lose focus. You can pick up the pace just by taking it out quicker. We have a lot of success when our guy just takes it out and goes, a lot of time you'll catch them off guard and be attacking them and that's really what the NBA team is about, who's going to be aggressive, who's going to attack the other guy. Coaches say it till they're blue in the face, whoever's more aggressive wins. "
On the value of being an assistant coach first and what that brings to the head coaching job:
"Being with Tyrone in Utah, you realize what the head coach has to do. Not just about basketball but everything else. There's a lot that comes up, and the value of having assistant coaches help you in different things. When I tried to hire the staff I tried to hire the best ones I could find that were out here. These guys come up with great ideas, and some of them I use and some of them I don't. 
"I learned as an assistant how Ty listened to us an considered things we said and how to implement them. You learn how to use those ideas well. You're the head coach, but it's very much a collaborative effort."
On why his offseasons are primarily spent focused on basketball, and why he likes it that way:
"I always said to be involved in basketball in the strategy part of it, that was the fun part as a player and now as a coach, it's the same thing."
via www.cbssports.com by Matt Moore