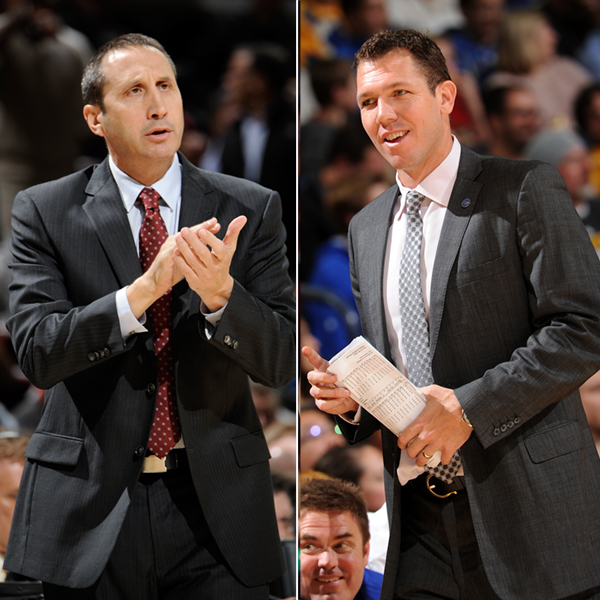 NEW YORK — The Cleveland Cavaliers' David Blatt and the Golden State Warriors' Luke Walton today were named the NBA Eastern and Western Conference Coaches of the Month, respectively, for games played in October and November.
Blatt guided the Cavaliers to an Eastern Conference-best 13-4 (.765) record for games played in October and November. After dropping their season opener to the Chicago Bulls, the Cavaliers reeled off eight consecutive victories from Oct. 28 — Nov. 13. The defending conference champion Cavaliers own a 9-0 record at Quicken Loans Arena, and rank sixth in the NBA in both scoring (103.1 points) and team defense, limiting opponents to 96.5 points.
While filling in for head coach Steve Kerr (back surgery), Walton has led the defending champion Warriors to the best start in NBA history at 19-0. The Warriors lead the NBA in scoring at 115.3 points, and enjoy the largest point differential in the league at 15.4 points. Walton is in his second season on the Warriors' staff, and previously served as a player development coach with the NBA D-League's Los Angeles D-Fenders during the 2013-14 season.
Other nominees for Coach of the Month were Charlotte's Steve Clifford, Indiana's Frank Vogel, the Los Angeles Clippers' Doc Rivers, Miami's Erik Spoelstra, Oklahoma City's Billy Donovan, Orlando's Scott Skiles, San Antonio's Gregg Popovich and Toronto's Dwane Casey.