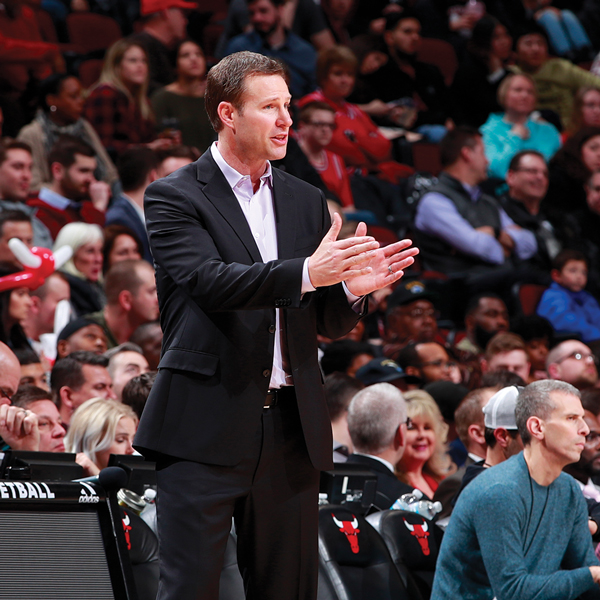 SOURCE: NBA.com, Steve Aschburner
A year ago, on the night of the 2017 NBA Draft, the Chicago Bulls switched gears. Jimmy Butler was traded to Minnesota, taking with him any pretense that the Bulls were a legitimate playoff team. In that moment, Chicago committed to a rebuild, which is to say, a dive into the draft lottery where coach Fred Hoiberg and his team presumably would be rewarded not for how many games they won but how many they lost. By whatever means necessary.
Soon after Butler was moved to the Timberwolves, veteran point guard Rajon Rondo was waived. A few months later, Dwyane Wade was cut loose (via a handsome buyout) to bounce through Cleveland to Miami. The Bulls moved forward with three young pieces courtesy of the Wolves — wing Zach LaVine, guard Kris Dunn and the No. 7 pick in 2017, rookie forward Lauri Markkanen — and a general acceptance that getting from there to here was going to bring a lot of pain.
Some of that was literal: Bobby Portis slugged teammate Nikola Mirotic in a preseason practice, breaking two facial bones and putting Mirotic on the shelf for 23 games. Some of it was figurative: the frustration of a season that began as a 3-20 mess and ended in a 10-28 slog. In between, though, the Bulls somehow put together a 14-7 stretch that offered a glimpse of what 2018-19 might be. It also cost them precious lottery balls, eventually leaving them with the No. 7 pick (and No. 22, after dealing Mirotic in February to New Orleans) in Thursday's Draft.
Hoiberg, who went from an alleged coaching "hot seat" during two .500 seasons, wound up with more job security as a coach headed toward 50 defeats and beyond. He spoke with NBA.com about his and the Bulls', er, challenging season. This is edited from a pair of longer conversations, one at the end of the regular season, the other within the past week.
NBA.com: So you go through everything that was 2017-18, dutifully lose 55 games and wind up at No. 7 instead of in the top three for the Draft. The inevitable question is, was it worth it?
Fred Hoiberg: Obviously you're disappointed. You were hoping to move up. But we're confident we're going to get a good player with the No. 7 pick and we're confident we'll get a good player with the 22nd pick.
NBA.com: C'mon, this isn't our first rodeo. I get that people don't like to use the word "tanking," but the Bulls' marching orders last season were pretty clear.
FH: I don't think you can look at it that way in the midst of your season. The players are competitive, your staff is competitive. You want to play as well as you can and put yourself in a position to win.
When you look at the successful stretch that we had in December and January, you think about carrying those things forward and then adding, based on who we get, to the roster. There was some real frustration that we didn't get a lot of wins at the end. But we developed some younger players and saw what we had with some of our guys.
NBA.com: When you guys had that run before the season's midpoint, winning seven in a row (first team in NBA history with such a long winning streak immediately after a losing streak of 10 in a row) and 10 of 12, did you and the front office ever consider a Plan B? As in, maybe, show potential free agents how good your supporting cast could be, in hopes of luring big-name help this summer?
FH: I think we did. What we showed was a really good foundation and a young core that we can build around. When I look back at it, I just wish we could have had more opportunity to work with it and see what it would have looked like. When Zach LaVine came back [Jan. 13 from ACL knee surgery], the plan was for him to play about 20 minutes a night. Then his third game, Kris Dunn fell against Golden State and had that concussion [that cost him 11 games, before missing the final 14 with a toe injury]. It's too bad we didn't get the full look. But players like Cam Payne, Denzel [Valentine], Bobby, Robin [Lopez], Justin Holiday all had career years.
NBA.com: You had a lot of injuries down the stretch. Not to suggest that they weren't all legit, but were you instructed at any point by VP John Paxson or GM Gar Forman to dial it back after that 14-7 success?
FH: No, we weren't. And the big thing from the very beginning of last season, the two things we wanted to see, was competing at a high level every night and the development of our players. I think we accomplished that.
NBA.com: What — in your background as a player, coach, competitor, you name it — prepared you for this past season?
FH: Part of what prepared me for this was, I had been through this as a player. I went from four really competitive teams in Indiana, playing with someone as driven and helpful as Reggie Miller, taking me under his wing. There were other great veteran players who helped me just to survive and taught me a lot. Larry Brown was the coach, then Larry Bird my last two years.
Then when I came to Chicago, I knew it would be an opportunity to play. But it was a rebuild. Eventually I got thrust into the role of captain, as the oldest player on team at 28. It really helped me with what we're going through now. I learned how important it is to keep guys' morale up and be positive through the ups and downs. I give our guys all the credit in the world for remaining so positive, keeping up a great work ethic and still being sponges in wanting to learn.
Click here to read the official release: Q&A with Chicago Bulls head coach Fred Hoiberg