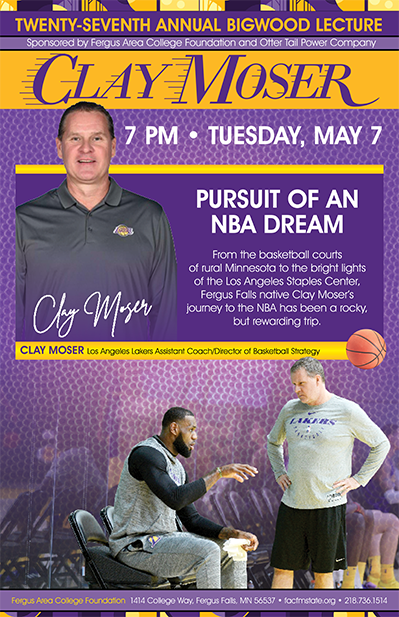 Clay Moser, whose basketball career has been described as one that took him "from the lakes to the Lakers," returns to Minnesota State Community and Technical College to recount his journey on Tuesday, May 7.
Moser, currently an assistant coach and director of basketball strategy for the Los Angeles Lakers, will be the keynote speaker at the 2019 Bigwood Lecture sponsored by Fergus Area College Foundation.
The doors open for Moser's presentation at 6:30 p.m. May 7, and the lecture begins at 7 p.m. in Legacy Hall. His presentation is free and open to the public.
Moser, who moved from Wheaton to Fergus Falls as a youth and played high school basketball for the Otters, competed for the Spartans at what was then Fergus Falls Community College. After graduating with his AA degree in 1984, Moser spent nearly three years as an assistant coach under legendary Spartan basketball coach Dave Retzlaff.
In a 2013 interview with the Fergus Falls Daily Journal, Moser said, "Our teams were terrific, (Retzlaff) was terrific and my philosophical foundation as to how the game should be played stems from my days playing and coaching under him."
Moser was hired as an assistant coach in 1987 at Division I North Carolina State University and subsequently spent time coaching and in management for teams in the Continental Basketball Association and the National Basketball Association. He joined the Lakers in 2014.
Funded in part through an endowment by Otter Tail Power Company in 1991, the Bigwood Lecture honors the late Bob Bigwood, former power company president and chairman of the board. Bigwood was a leader at Otter Tail Power Company, in the Fergus Falls community and on the Fergus Falls campus of M State, where he was a founder of both the campus and Fergus Area College Foundation. His involvement sets the standard for the annual Lecture's continuing recognition of engaged leaders and civic participation.
Fergus Area College Foundation was incorporated in 1963. Through the support of donors, the foundation provides resources to enrich learning, living, working, and serving. During the 2018-19 academic year, the foundation awarded $122,000 in scholarships and provided more than $22,900 to support new initiatives and upgrade facilities and curriculum.
For more information on the Fergus Area College Foundation click below: