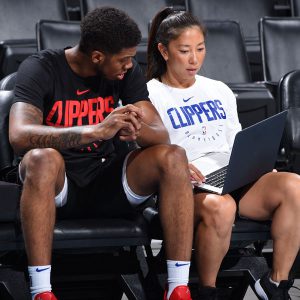 Natalie Nakase is conspicuous among the towering men who, like her, are playing out their dreams on the Clippers' practice courts.
Instructing, high-fiving, passing, cajoling, prodding, commanding attention and effort, she is, unlike them, petite, female, of Japanese descent – "a really good example of the fact that passion for basketball can come in a lot of shapes, sizes and forms," as Clippers assistant coach Casey Hill put it.
The thing is, players speak of her as if they hadn't noticed.
"She knows basketball, she has a high IQ and is very positive," said Clippers forward Danilo Gallinari, who worked often with Nakase, a player development coach, this past summer. "She has a lot of energy and that's what you expect from any assistant coach."
"She wants to see me do well," said guard Tyrone Wallace, who bookends practices shooting with Nakase. "She's always available to me, every day we're in here. It's a lot of time that goes into it and I'm appreciative."
A CIF girls basketball champion at Marina High in Huntington Beach and a standout on the UCLA women's team, a knee injury curtailed the former point guard's playing career while she was competing professionally in Germany.
"I was just like, 'I'm done,' " Nakase recalled recently. "I said it, and I'm a believer in when you say something out loud, it actually comes true."
So she shut the book on playing ball and opened another about a pioneering journey in which she's become one of a small but growing sorority of, for now, seven women coaching in professional men's basketball in America – not that she thinks about that much.
Click here for the full story:
Clippers' Natalie Nakase building her résumé with goal of being an NBA head coach
Source: www.ocregister.com