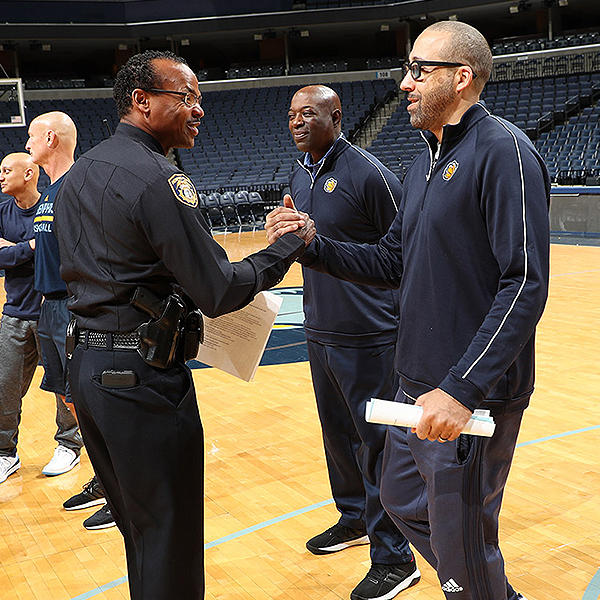 Memphis Grizzlies Head Coach David Fizdale and his coaching staff will play host to a Grizzlies Police Basketball League clinic tomorrow Friday, Nov. 17 on the main court at FedExForum. As part of the Grizzlies commitment to the project, the entire Memphis Grizzlies coaching staff will lead a coaching clinic for Memphis Police Department officers and volunteer coaches from Memphis Athletic Ministries (MAM) and the Boys and Girls Club of Greater Memphis (BGCGM). This event is closed to the public, but media is invited to attend.
"I wanted to be somebody that was a part of a solution, and I feel like this is a small but effective way to create some better relationships in our community," said Fizdale. "I really take a lot of pride in the program, and I'm very proud of it."
Friday's coaching clinic will help prepare MPD officers and volunteers to not only coach youth in the sport of basketball, but also to mentor youth in the community by fostering the sense of camaraderie and trust built through the power of sport. The clinic will feature guest speaker Elliot Perry who will engage with Grizzlies coaches, MPD officers and MAM and BGCGM coaches in a community discussion. The group will touch on the importance of mentorship and how to impact the next generation of youth through coaching. Following the clinic, Grizzlies coaches, MPD officers and volunteer coaches will enjoy refreshments in the Courtside Lounge at FedExForum to further discuss how they can create change together.
Coach Fizdale first partnered with Memphis Police Director Michael Rallings last season to create the Grizzlies Police Basketball League, formerly known as the Memphis Police Athletic League. The league launched initially within the Memphis Athletic Ministries network and matched eight teams with two police officers each who acted as assistant coaches and mentors. After a successful inaugural year, the league will relaunch this year at six MAM locations and will also add seven Boys and Girls Club of Greater Memphis locations. Both MAM and BGCGM strive to focus on underserved youth in the most challenging zip codes of Memphis. Through the program, each MAM and BGCGM lead coach will be assigned MPD assistant coaches from their neighborhood precinct.
This season, the Grizzlies Police Basketball League, MAM and BGCGM will pilot an eight-week basketball program culminating in a championship game at FedExForum on Feb. 13 where the team with the best record from MAM will go up against the team with the winning record from BGCGM. Coaches from both organizations will go through Sports Based Youth Development trainings throughout the season. The teams are made up of 200 youth ages 13-14 with the first games of the season being played this Saturday, Nov. 18. Volunteer coaches will receive additional mentor training led by the Grizzlies Foundation throughout the season.
Read the official release here: Coach Fizdale & his coaching staff to host Grizzlies Police Basketball League clinic at FedExForum