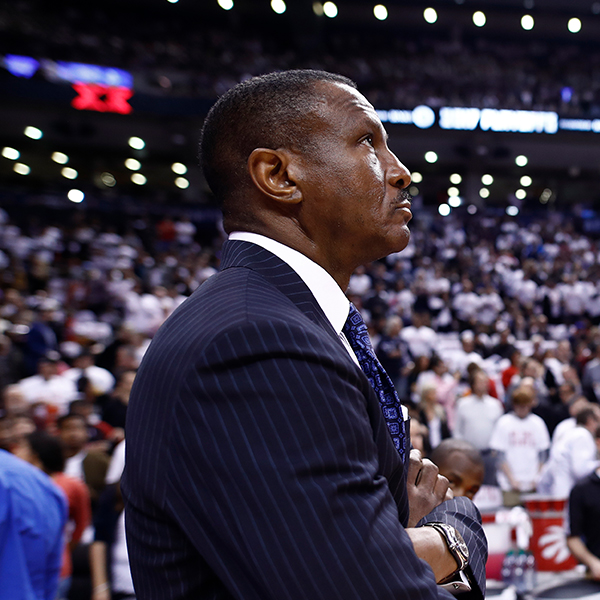 Source: Chris Mannix, Yahoo Sports
TORONTO – Let's call him "Coach A." Coach A has been in City B for seven years. He inherited a team that was 22-60. By his third season, it was 48-34. He has made the playoffs for four straight seasons, advanced to a conference final and, entering the All-Star break, his team is sitting atop his conference.
A coach with those credentials should be among the highest paid, with airtight job security, right?
Right — except if you're Dwane Casey, and you are coaching in Toronto.
Casey is headed to Los Angeles this weekend to coach Team LeBron in the All-Star Game. It's an honor he never aspired to — Casey was an assistant on All-Star staffs in 1996 and '98, which was good enough for him. Asked about going to L.A., Casey cites only two things: being the first Raptors coach to coach an All-Star team, and the fact that coaching it probably means your team is winning.
"I really never thought about [being the All-Star coach]," Casey told Yahoo Sports. "The only thing I think about is doing the boring things every day to win. That's what I worry about. That's why I'm probably boring as a coach."
Boring, perhaps. Successful, definitely. Toronto is 41-16 entering the All-Star break, with a two-game cushion over Boston for the top spot. The Raps are riding a seven-game winning streak, have won nine of their last 10 and own the best home record (24-4) in the NBA.
Credit often — and rightfully — begins with the stars, DeMar DeRozan and Kyle Lowry, who will join Casey in L.A. Serge Ibaka is having a fine two-way season, while Toronto's unheralded bench (Delon Wright, Fred VanVleet, Pascal Siakam) has emerged as one of the best in basketball. Casey? There is often a perception that Casey is just along for the ride.
Think about it: When is Casey not on the hot seat? "My butt is burning from being on the hot seat every year," Casey said, laughing. His offenses — ranked in the top 10 the last four seasons — have been deemed too simplistic and it often felt like the Raptors were one early playoff exit from GM Masai Ujiri — who inherited Casey when he took the job in 2013 — letting Casey go.
"Honestly though, I don't feel that way," Casey said. "I'm coaching to win, and I don't worry about all that outside crap. I know what we're doing here, I'm proud of what we're doing here. Ownership, they are supportive. A lot of [the hot-seat talk] is hopefully media driven because I think people appreciate what we're working with, developing players and getting better every year.
To continue reading, click here: Why is All-Star coach Dwane Casey seemingly always on the hot seat?