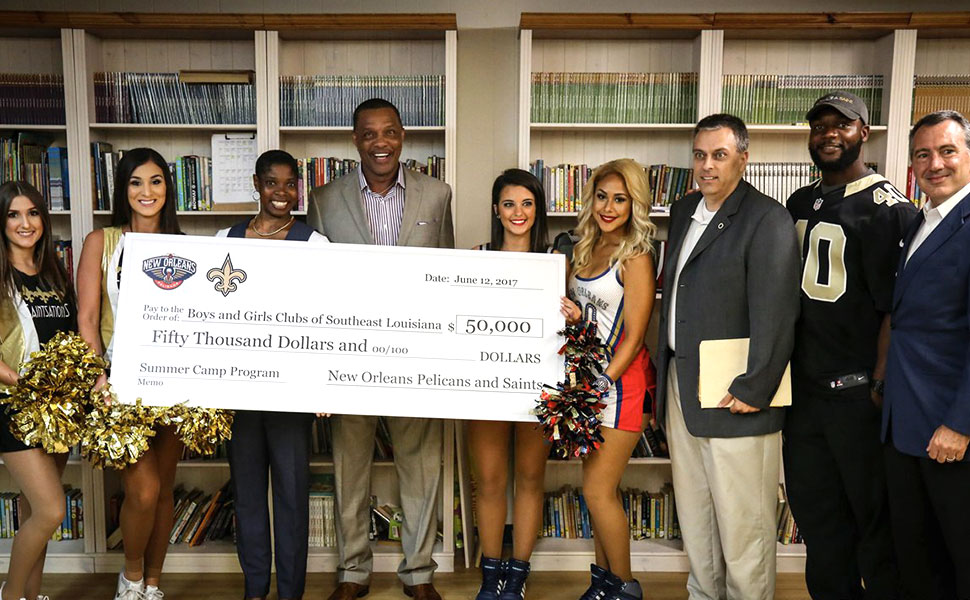 NEW ORLEANS – On Monday evening, June 12, New Orleans Pelicans Head Coach Alvin Gentry, New Orleans Saints CB Delvin Breaux, New Orleans Saints and New Orleans Pelicans mascots and dance team members and Chevron representatives surprised the Boys & Girls Clubs of Southeast Louisiana representatives with a check for $50,000. The money is earmarked specifically for The Boys & Girls Clubs Summer Enrichment Program, which is an all-day program that focuses on providing children educational and fun experiences.
The check presentation was made in front of a packed Boys & Girls Club in Covington, Louisiana and took place inside the educational learning portion of the building, as threatening weather prohibited the children and organizers from taking the activities to the Pelicans' branded basketball court, which was dedicated this past fall. Nevertheless, Gentry and Breaux were the headliners on this afternoon, with Gentry enthusiastically speaking to the children and volunteers.
"It's an honor to be here with all of you here this afternoon," Gentry stated. "I'm very proud to represent the teams and Chevron and the great work that they do here in Southeast Louisiana. I'm especially proud of the Boys and Girls Clubs because I was fortunate to be involved in the Boys and Girls Clubs where I grew up in North Carolina. I know the great work that goes into it because I was blessed to have that direction bestowed upon me when I was growing up."
Gentry, who was inducted into the Boys & Girls Club of America Alumni Hall of Fame Award last summer, spoke about the importance of the Summer Enrichment Program and the value it provides by keeping children active, mentally engaged, around positive role models and above and beyond all else, having fun experiences throughout the summer months.
"Chevron is honored to be partners with the Saints and Pelicans and the teams' commitments to working with the Boys and Girls Clubs," said Chevron public affairs representative Lauren Buggs. "To be here and see the impact that this will have on a first-hand basis is exciting and we know there will be a lot of fun, exciting days ahead for these youngsters the remainder of the summer."
To read the full article, click here: Pelicans, Saints Team Up with Chevron to Make $50,000 Contributions to the Boys & Girls Clubs of Southeast Louisiana