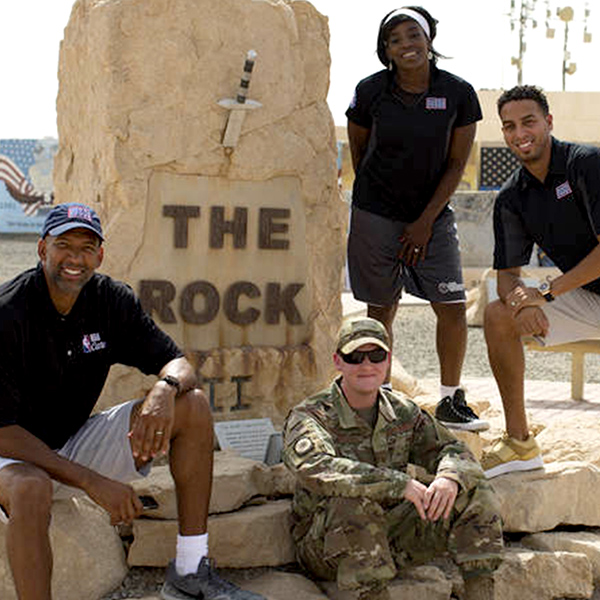 SOURCE: USO, Sandi Moynihan
As part of the NBA Cares Hoops for Troops program, NBA legend Kevin Martin, coach Monty Williams and WNBA legend Ruthie Bolton embarked on a multi-day USO tour to three U.S. military installations in Kuwait.
During the tour, the trio surprised troops at work, learned about the military and participated in meet-and-greet sessions at each base. This was the first USO experience for all three participants.
At Camp Arifjan, one of the stops on the tour, Martin, Williams and Bolton had the opportunity to coach service members at in an evening basketball game. The game, which went into double overtime and was followed by a meet-and-greet at the USO center, drew a slew of spectators from across the base.
"To be able to come over here and provide a bit of nostalgia, a bit of normalcy, a positive reminder of what it's like back home, but also to encourage them that what they do back home makes a difference and that we all appreciate it [is important]," Williams said.
Click here to read the official release: NBA's Kevin Martin, Monty Williams and WNBA's Ruthie Bolton Head on USO Tour to Kuwait