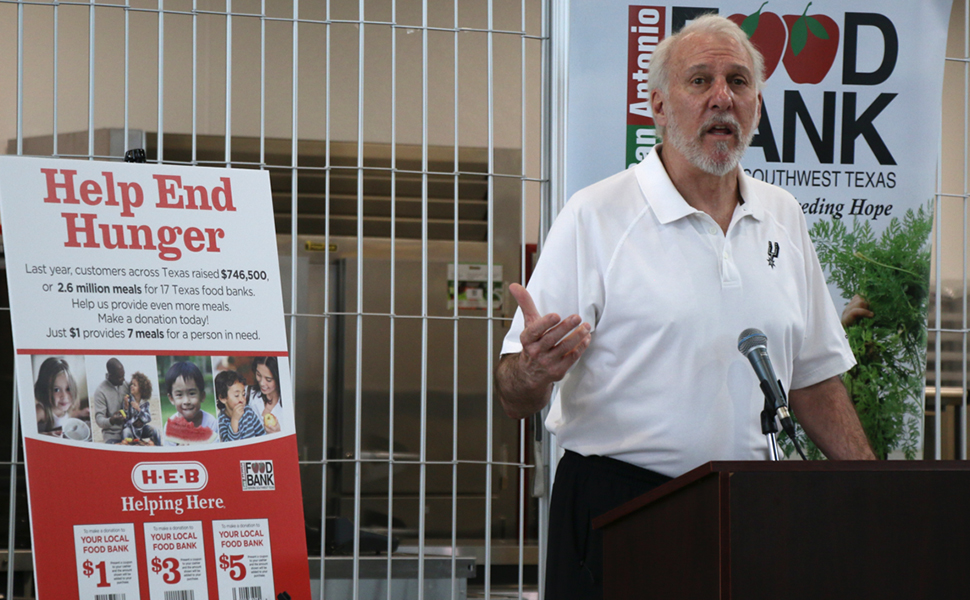 SAN ANTONIO – Never reluctant to speak about social issues, San Antonio Spurs head coach Gregg Popovich made a pitch Wednesday afternoon for the San Antonio Food Bank.
Addressing the media with Eric Cooper, Food Bank president and CEO, Popovich spoke about the urgent need for donations this summer to help feed local students.
"We have a problem," Popovich said. "It's got nothing to do with the pick-and-roll, rebounding or anything like that. It's about our kids, and that's why we're all here today. Many people probably don't know the stats, so I'll just go through just a few of them and point everybody to what the problem is.
"Here in our San Antonio area, in summertime, one out of every four kids is going to have a problem, a challenge, food-wise, as far as meals are concerned, which results in hunger, obviously. One in four."
The Food Bank provided meals for 15,000 kids in the first week after school ended last year and doubled the number this year.
"The need doubled, which means the money's got to be doubled somehow or other to continue to meet this need," Popovich said. "During the school year, about 200,000 kids either get free meals or reduced-priced meals at school. School's out and it's summertime now, so that exacerbates the problem.
To read the full article, click here: Pop lends voice to S.A. Food Bank's drive to feed kids this summer