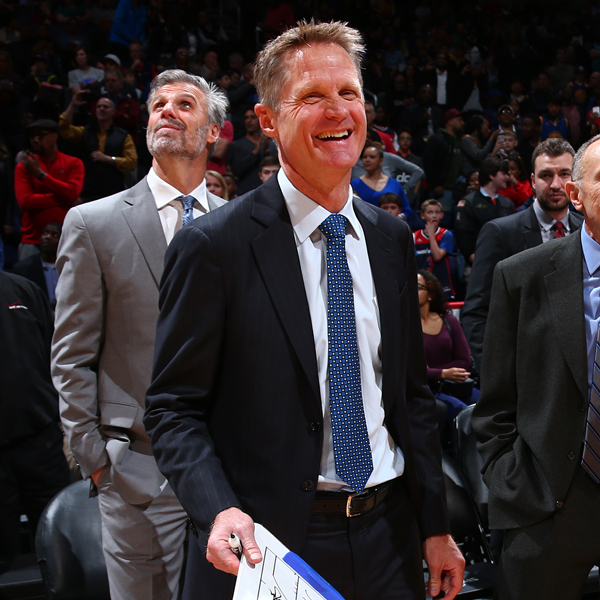 Source: Cyrus Saatsaz, The Inertia
At first glance, Golden State Warriors Head Coach Steve Kerr resembles more of a surfer than a guy orchestrating x's and o's in the NBA — or maybe even a ski bum. Maybe it's the blonde, spiked hair, blazing blue eyes, or the Southern California vernacular. Either way, Kerr doesn't strike the uninformed onlooker as a seven-time NBA Finals champion.
But while Kerr's professional accomplishments are rooted in the game of basketball, he actually considers surfing one of his true passions.
I've maintained a close relationship with several members of the Golden State Warriors throughout the years, from my early days covering the team while working in the San Francisco Bay Area sports media industry. And I've had this curiosity for a while to interview their Head Coach, Steve Kerr, to talk about surfing. I'd read numerous stories over the years with Kerr casually mentioning that he surfs. There's no extensive discussion about it, no voluminous details, no minutiae of surf lingo and exposition, just random references here and there that among Kerr's passions, hobbies, and interests, surfing is one of them.
I finally got my chance to sit down with Kerr when the team came to town to play the Denver Nuggets. The conclusion of a morning team shootaround is the best time to request one-on-one interviews, which I wanted with Kerr — one of the very rare moments in the day when players and coaches have some free time. So when Kerr was finished answering questions in a sea of local beat reporters, I introduced myself and sat next to him on some courtside chairs.
Kerr, who is incredibly media savvy, didn't hesitate for a moment to jump right into a conversation about surfing. "I love to surf," he said. "I'm not very good at it, but I enjoy it."
Kerr then surprised me in revealing that over 10 years ago (Kerr didn't remember the exact date of the issue), Surfer Magazine did a profile story on him that was published in their print edition.
"I was used to being in basketball magazines," Kerr said. "All my surfer buddies who are way better at it than me, they were all like, 'You've got to be kidding me. You're in Surfer Magazine? You suck!' But I love it."
To continue reading, click here: Golden State Warriors Head Coach Steve Kerr Talks About His Passion for Surfing