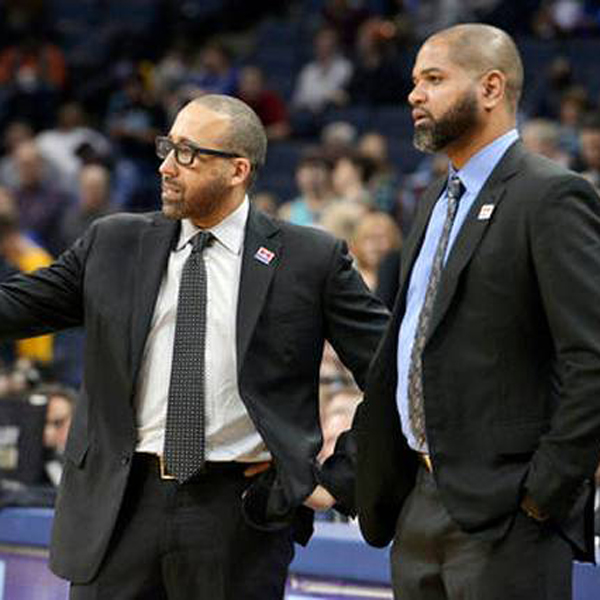 Mike Conley and Marc Gasol have spent the last nine years in Memphis, their bond as strong as that of any NBA teammates. It is the foundation of the Grizzlies' identity.
It's a friendship built on trust, respect and a whole lot of ribbing. They go at each other daily, but even Conley knows they have nothing on two coaches who arrived in Memphis last summer.
David Fizdale and J.B. Bickerstaff have known each other for two decades and are working on the same NBA staff for the first time. They operate with a razor-tongued familiarity that has disarmed a veteran team initially wary of the new faces.
"They're worse than me and Marc," Conley said. "Me and Marc will keep it cool, but they will go after it a little bit."
The two outgoing, charismatic friends have helped keep the Grizzlies in the thick of a top-heavy Western Conference. At 33-23, Memphis is just one victory behind fourth-seeded Utah despite injuries to Allen, Conley and Chandler Parsons.
"I look at him as another head coach on this staff," Fizdale said of Bickerstaff in an interview with The Associated Press. "He has a voice on this staff. He speaks up in practice more than any other assistant. I give him full range to have input with these guys. I just see it as a lot of times, in a lot of ways, he's my co-head coach. I don't see him as my assistant.
And just as he senses the praise is getting a little thick, he slips a jab.
"Sometimes I put him in his place, though," he said. "Let him know."
The two met through Bickerstaff's father – longtime NBA coach Bernie Bickerstaff. Fizdale played in college at San Diego, where the elder Bickerstaff was an alum.
"His dad was always giving me a hard time for not hanging out with his son," Fizdale cracked.
To read the full story, click here: Memphis Grizzlies' success fueled by coaching brotherhood