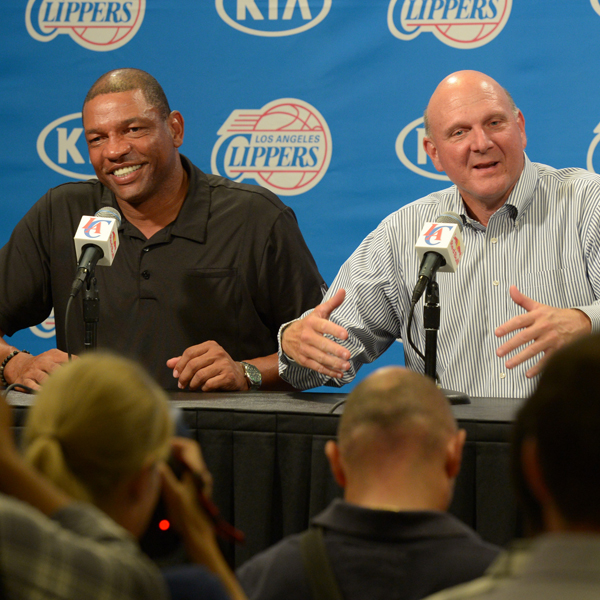 The Los Angeles Clippers today announced that President of Basketball Operations and Head Coach Doc Rivers has agreed to a contract that will keep him with the team through the end of the 2019 season. Terms of the deal were not disclosed.
"This is an important day for this organization," Clippers owner Steve Ballmer said. "I am excited to work with Doc for a long time as we build a championship culture that will deliver results both on and off the court. Not only is Doc one of the best coaches and executives in the game, but he continually embodies the hard core, committed and resilient character and winning culture that the Clippers represent. It was one of my top priorities to ensure that he was firmly in place as the long-term leader of this team."
Rivers took over as head coach of the Clippers in June 2013 and led Los Angeles to the best record in franchise history (57-25, .695) and a second straight Pacific Division title. He became President of Basketball Operations on June 16, 2014.
"Steve has shown a clear and determined desire to make the Clippers one of the most elite, first-class and championship organizations in all of professional sports," Rivers said. "We know we have work to do to get there, but I am motivated by the challenge and thankful for the opportunity to stand together with Steve as we continue to move toward our goal of winning an NBA title."
Entering his 16th season as a head coach, Rivers is one of just three active coaches (Gregg Popovich, Flip Saunders) to win at least 600 games and his 644 career regular season wins is second among active coaches in victories. The 1999-2000 NBA Coach of the Year, Rivers led the Boston Celtics to the 2008 NBA Championship. A former Clippers point guard (1991-92), Rivers coached in Boston from 2004-2013 and prior to that led the Orlando Magic from 1999-2003.