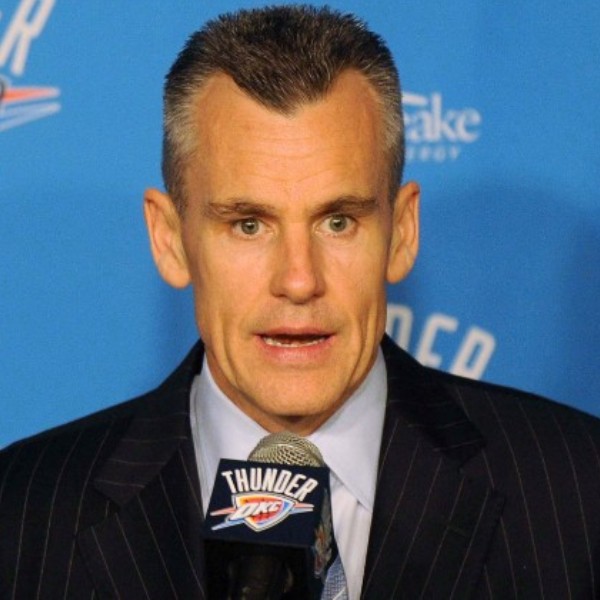 It's safe to say new Thunder coach Billy Donovan will stay in the NBA this time.
Donovan jokes that he has coached in the league before – eight years ago, he was hired by the Orlando Magic, only to change his mind the following day and return to the University of Florida. He said that decision had nothing to do with the Magic, and that it was more about his relationships with his family and Florida.
The 49-year-old coach said it had to "take something very, very special" to make him leave a program he led to two national championships, four Final Fours and seven Elite Eights in 19 seasons. He carefully considered the situation with his inner circle and didn't listen to outside voices before accepting the offer.
"I wanted to be respectful to the University of Florida and I wanted to be respectful to the Thunder," he said. "I think you start talking to a lot of different people, I think it can cloud things and things get out. It was really more about what was best for me and best for my family at that moment in time."
The pressure will be immediate – the Thunder have gone to three conference finals and the NBA Finals once since moving to Oklahoma City in 2008-09, but they haven't won it all. Now, Donovan inherits a team with 2013-14 MVP Kevin Durant and 2014-15 scoring champion Russell Westbrook. Plus, Durant can become a free agent after next season, giving Donovan little time to build a strong relationship with the star.
Still, Donovan is optimistic and more focused on the process than the results.
"I really feel like it's a great opportunity for me to grow as a person, and really be challenged as a person in a lot of different ways," Donovan said.
He'll have big shoes to fill. Scott Brooks went 338-207 (.620) in seven seasons with the Thunder and was the 2009-10 NBA coach of the year.
"Scott Brooks has done an outstanding job while he was here, and I hope I can continue to build off of what he's built," Donovan said. "I know that's very important to the organization."
One challenge will be figuring out how to get Durant and Westbrook the touches they need to be effective. Durant is a four-time scoring champion who averaged 32 points in 2013-14, but he sat out much of last season with a broken right foot, and he's still recovering. Westbrook averaged a career-high 28.1 points last season.
Donovan said his offenses at Florida emphasized ball movement and making the extra pass, a change from Oklahoma City's tendency to let Durant and Westbrook create the team's opportunities. He said he hasn't yet decided how he'll adjust his system to fit the talent at his disposal.
"I think the first thing is, coming into a situation as a coach, the relationship part is really important – to have them be able to have some ownership of how they want to play and what they want to do, and to be able to collectively share and game plan and figure out what's the best thing for the team – how's the best way for us to play," Donovan said. "That's something that I've got to do once I get back into town on a more continual basis and spend time with these guys."
Read the full article here: www.nba.com