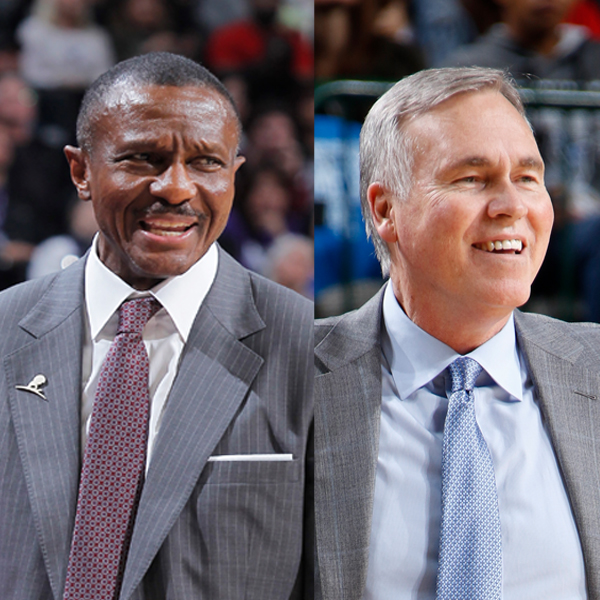 NEW YORK — The Toronto Raptors' Dwane Casey and the Houston Rockets' Mike D'Antoni today were named the NBA Eastern and Western Conference Coaches of the Month, respectively, for games played in December.
Casey guided the Raptors to a 10-4 record in December, highlighted by two four-game winning streaks that started during the month.  Toronto had identical 5-2 records at home and on the road, including a 101-94 victory at the Boston Celtics on Dec. 9 and a 104-98 win at the Utah Jazz on Dec. 23.  The Raptors led the Eastern Conference in scoring (112.1 ppg) and point differential (11.1 per game).  In December, Toronto set franchise records for largest margin of victory (a 44-point win, 128-84, over the Atlanta Hawks on Dec. 3) and consecutive road wins (seven, with the first two victories coming in November).
D'Antoni led the Rockets to an NBA-best 15-2 record in December as Houston tied a franchise record for wins in a month.  Behind Kia NBA Western Conference Player of the Month James Harden, the Rockets paced the league in scoring (120.9 ppg) and point differential (12.9).  They also made an NBA-high 16.4 three-pointers per game, hitting 111 more than their opponents for the month.  Houston opened the month with a 132-127 double-overtime road victory over the league-leading Golden State Warriors on Dec. 1.
Other nominees for the NBA Eastern and Western Conference Coaches of the Month were Cleveland's Tyronn Lue, Golden State's Steve Kerr, Memphis' David Fizdale, San Antonio's Gregg Popovich, Utah's Quin Snyder and Washington's Scott Brooks.
See the official press release here: Dwane Casey, Mike D'Antoni named NBA Coaches of the Month