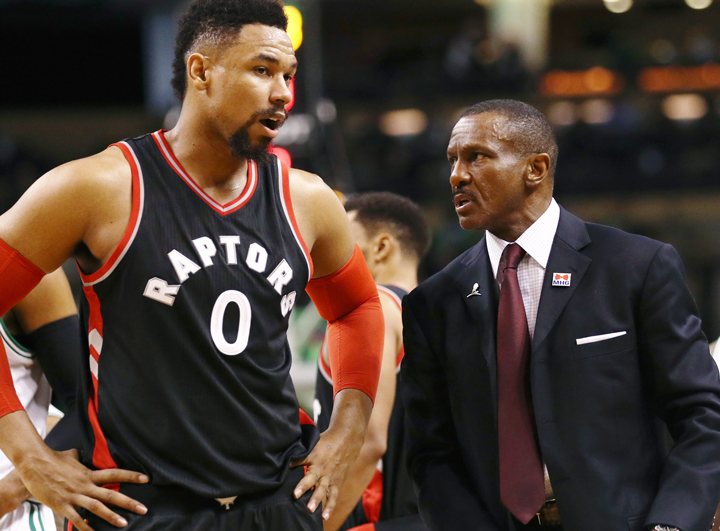 The X's and O's are the lifeblood of any basketball coach, and trying to devise strategies that put his players in the best position to succeed and come up with wrinkles to confound opponents is what drives them.
But there is so much more to the job than that, as Dwane Casey knows so well — issues as large as plays and defensive schemes that have just as much to do with a team's success or failure.
It's managing men and egos and knowing which buttons to push with diverse personalities, to keep a team intact and avoid the fracturing that can be the ruin of championship dreams.
Casey, the longest-serving coach in Raptors history, takes pride in his ability to keep a team together by treating men like men and getting to know what makes them tick.
He's been challenged this last couple of weeks or so, trying to mesh key new players — Serge Ibaka and P.J. Tucker — into a team that was as cohesive as any in the NBA, a group that Casey has known for years and nurtured.
"You don't have as much time, but you take time to get to know them, talk to people who know them. You get to know them that way," Casey said of his way of figuring out the newly-acquired Raptors. "Those are two good men — that's the difference. They are two guys whose hearts are in the right place, and that's not changing with them."
The chance to learn about teammates away from the court was in part the reason for the team's three-day getaway here between road games. There was a team dinner on Sunday night, then practices Monday and Tuesday, and enough idle time that hanging out was unavoidable.
"You can't put a number on it as far as how much you can get out of that, but I always think it's good when guys can spend time away from the court together," Casey said. "Again, they are in a captive situation where they are together, but I do think you can get a lot of that as far as bonding, guys getting to know one another away from basketball and spending time together."
Read more here: Raptors coach reveals secret to team building