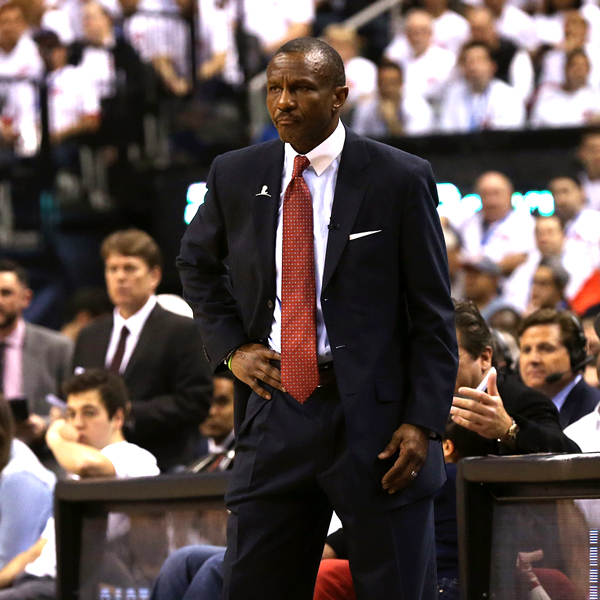 Source: Lee Jenkins, Sports Illustrated
Four-and-a-half hours before tip-off Dwane Casey heads downstairs, to the basement of his three-story brownstone in midtown Toronto, and lowers the ironing board from the rack on the laundry room wall. The cover is baby blue with vertical stripes, a Christmas present from his wife, Brenda. She also bought him a new iron, a white T-fal, but he still prefers the silver Shark. After positioning the board on a narrow strip of brown carpet alongside his office desk, he grabs the steaming Shark and prepares that night's ensemble: shirt, jacket, pants, pocket square. For the few minutes he guides metal over cloth, he is not the coach of the best team in the Eastern Conference and not the winningest coach in the history of the Toronto Raptors. He is his daddy's grandson.
Casey was born to a young couple in Indianapolis and raised by his mother's parents in northwest Kentucky, apart from his four younger siblings. The grandfather he called Daddy, Urey Miller, worked mornings at Elliott Cleaners in Morganfield and nights at Payne's Cleaners in Henderson. Urey left home every day at 5:30 a.m. in a crisp T-shirt and creased slacks, dirty laundry under his arm. "I had one suit and he always made sure it was pressed," Casey recalls. "We didn't have a lot, but we had that." On days his grandfather let him tag along to the dry cleaners, Dwane separated lights from darks, and afterward Urey rewarded him. He had one more shift, the graveyard at Bel Air Restaurant, where African-Americans were allowed to clean but not eat. As Urey mopped empty floors, Dwane gorged on ice cream and Coke.
He'd offer to iron sheets for his grandmother, Elizabeth, and later jeans for his wife. "Dwane," Brenda reminds him. "They're jeans." He is not a neat freak. He just likes having something to smooth. As a fourth-grader at Morganfield Elementary, he waded through hostile white parents protesting the desegregation of the school, and then he defended himself against daily attacks from their children. "Those became some of my best friends," he says, the first wrinkles removed.
He started coaching when he was 13, with the Morganfield Little League Cardinals, who toasted their championship over milk shakes at Dairy Mart. But his career was marked by far-flung detours: to a coal mine, a tobacco farm, a courtroom and a Japanese gym where he tutored both the men and the women. He sold a newspaper, chauffeured a governor, was exiled by college basketball and exalted by the NBA. Seven years ago on Biscayne Bay, he implemented a defense that helped change the sport, forcing teams to reevaluate conventional lineups, stilted sets and the definition of a good shot. This season he finally joined the freewheeling movement he spawned, and the Raptors sit atop the East.
Casey arrived in Toronto as head coach in 2011 after failed interviews with a third of the league. He nearly missed his introductory press conference, having left his passport in a suit jacket that wound up in a Dallas storage unit, but he sweet-talked an understanding customs agent at the border crossing north of Buffalo. Newspaper clippings helped his case. Casey and Brenda moved into a downtown apartment on the 52nd floor of a 54-floor high rise with a three-year-old, Justine, and a newborn, Zachary. Fire alarms sounded all night, and Diapers.com didn't deliver. At Justine's preschool drop-off, they saw only Maple Leafs sweaters. The Raptors ranked 30th in defensive rating, 20th in offensive rating and were trying to tank. Two years later they were still trying, trading everybody of significance except swingman DeMar DeRozan and point guard Kyle Lowry, whom they almost jettisoned until the Knicks backed out of the deal.
To continue reading, click here:  Smooth Operator: Dwane Casey Is Still Ironing out Every Wrinkle He Can Find