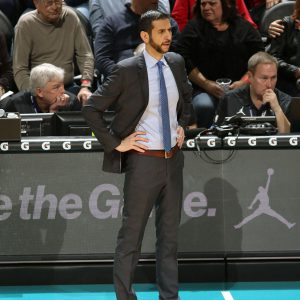 March is the final full month of the NBA regular season, but it also marks the beginning of Éne-Bé-A, the league's annual celebration and recognition of Latin American heritage and culture. For Charlotte Hornets Head Coach James Borrego – the league's first fulltime Hispanic Head Coach – it's an opportunity to not only reflect on his own background, but all the different ones within the game as well.
"It's a wonderful time for our heritage," said Borrego in an interview with Hornets.com. "To be able to look back and reflect on my upbringing, my background, my culture, my heritage and really be thankful for where I come from, who I am and embrace all the other cultures around us as well. I think that's what the NBA is doing such a great job at, obviously embracing everybody. It's so inclusive right now."
Raised by a single mother, Lydia, in Albuquerque, New Mexico, Borrego has begun tracing his Mexican roots more in depth in recent months (becoming the first Hispanic NBA Head Coach might have that effect). His family is currently in the process of determining which generation first arrived in North America, although like many Latin Americans, Borrego's ancestors originally hail from Spain.
Click here for the full article:Borrego Reflects on Hispanic Heritage, Family During Éne-Bé-A
Source: www.nba.com