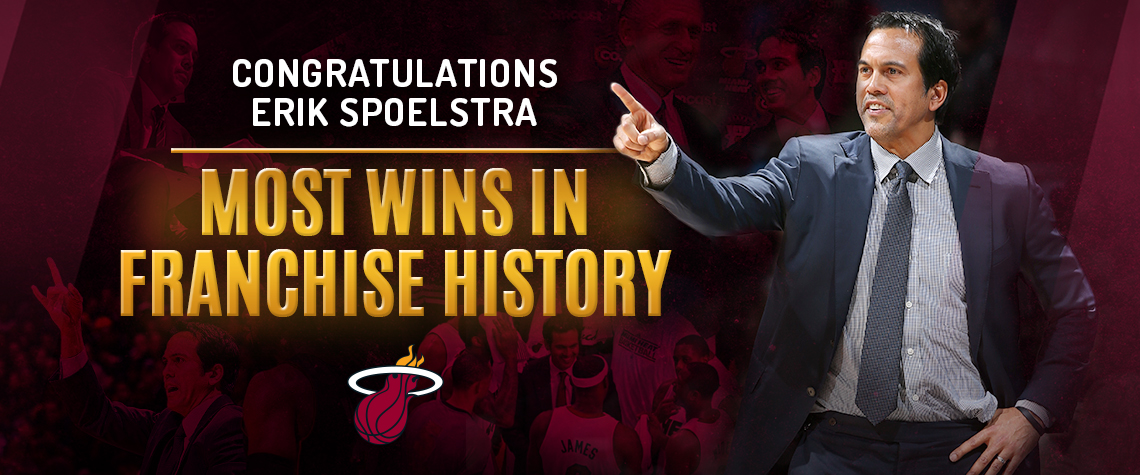 Miami Heat coach Erik Spoelstra became the franchise's all-time wins leader, earning his 455th victory when his team beat the LA Clippers 90-85 at home on Saturday night.
Spoelstra passed Pat Riley to break the record. Spoelstra is only one of two active head coaches in the NBA to post at least 450 wins with their current team, joining San Antonio's Gregg Popovich, who has 1,169 wins with the Spurs.
Spoelstra saluted Riley, whom he called his mentor, after the Heat grinded out the victory, despite shooting just 37.8 percent from the field.
"I thought that it would be most fitting to go retro and have an old-school Miami Heat game in honor of coach Riley," Spoelstra said. "This is the type of game he probably enjoys the most — you win shooting 37 percent. I think we scored too many points this game. But those are the old-school, tough, grind-it-out, find any way as a competitor to win the games. That's in honor of my mentor and my coach. He's still my coach."
Via ESPN.com
Read the full article here: Erik Spoelstra earns Heat record 455th win, passing Pat Riley
Coach Spoelstra Photo Gallery: Coach Spo's Regular Season Moments