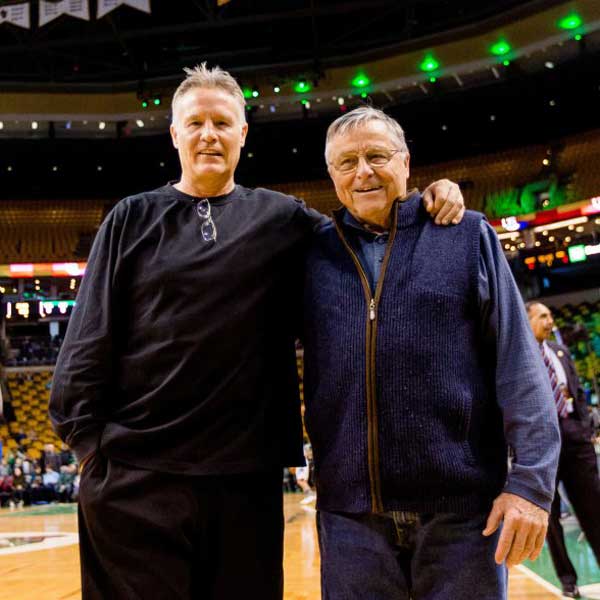 Brett Brown recalls his first trip from Maine to Boston Garden with his father, Bob.
"We came down and saw the 76ers play the Celtics," he said of that basketball game in the 1970s. "I remember trying to take photos with my new Polaroid camera of Julius Erving and George McGinnis."
On Friday night, inside the rebuilt and renamed TD Garden, Bob watched from 12 rows behind the visitors bench, where Brett stood on the sidelines as head coach of the Philadelphia 76ers.
Father and son represent a coaching lineage unmatched in Maine annals. Bob was head coach and Brett was the senior point guard when South Portland High School won the Class A state championship in 1979.
Bob Brown, 78, coached for 52 years before his retirement in 2012, winning four state titles and compiling a 476-154 record at seven Maine high schools. He won another 142 games as a college head coach at Boston University, Saint Anselm College and the University of Southern Maine.
Brett Brown celebrates after Boston University qualifies for the NCAA Tournament his senior year, 1982, by winning the conference championship. Brown family photo
Brett Brown, 55, never played in the NBA – only one player born in Maine ever has – and is believed to be one of only two Mainers to serve as a head coach in the league. His odyssey from South Portland to the world's top level of basketball included more than a decade of coaching in Australia. Along the way, he served under the tutelage of storied coaches such as Rick Pitino and Gregg Popovich – and, of course, his father, a member of five halls of fame.
On Friday, Bob Brown watched from an aisle seat, delighted to see Philadelphia forge a 14-point lead before intermission. The Celtics, however, rallied for a 110-106 victory, their 10th straight over the 76ers.
To read the full article, click here: Father-son coaching bond stretches from Maine to NBA