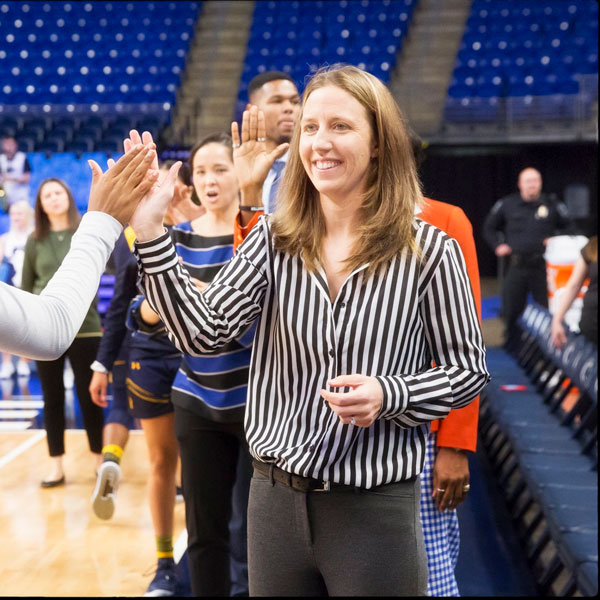 In a landmark appointment for the NBA, the Cleveland Cavaliers have hired University of California, Berkeley women's coach Lindsay Gottlieb to be an assistant coach on John Beilein's staff, it was announced Wednesday.
Gottlieb — a Final Four and seven-time NCAA tournament head coach for the Golden Bears — is the first women's collegiate head coach recruited to an NBA staff.
Sources said Gottlieb, 41, will sign a four-year contract and is expected to play a prominent role in support of Beilein and associate head coach JB Bickerstaff. Commissioner Adam Silver has been determined for the league to welcome more women's coaches into its ranks, and Gottlieb's stature and coaching credentials are unprecedented among women's coaches in the NBA.
"I am very thankful, proud and excited to be joining the Cavaliers as an assistant coach," Gottlieb said in a statement issued by the team. "After meeting with [GM] Koby Altman, Coach Beilein and Coach Bickerstaff, I knew this was an organization I wanted to be a part of and a team I wanted to dedicate myself to. While this move provided a unique and special chance to move directly from Cal Berkeley and women's college basketball to the NBA, it was really about being part of building and growing something special and adding value to a team and organization that is focused on doing things in a way that I believe strongly in.
"The vision for the Cavs' future is compelling and I look forward to helping make it a reality. At the same time, on a personal level, I am honored to hopefully impact young girls and women to be empowered to pursue their own visions and to be inspired to turn them into reality as well."
Click here to read the full article: Cavaliers hire Cal women's coach Gottlieb to staff
Source: www.espn.com