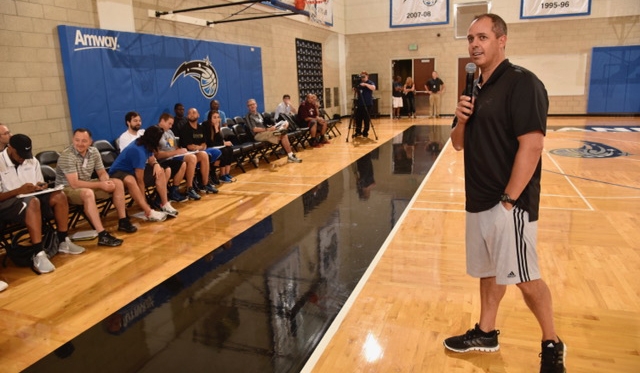 Being a successful basketball coach requires much more than just understanding the X's and O's of the game.
Winning coaches relate to their players and earn their trust. They stick to their disciplines and principles. They recognize and appreciate the importance of team chemistry and continuity. Valuing sportsmanship and a strong work ethic are also critical.
Orlando Magic Head Coach Frank Vogel and his assistants helped educate local high school and youth league coaches on those facets and more during a coaches clinic at the Amway Center on Saturday. The clinic was the second event to tip off the newly formed Magic Youth Basketball Academy. Through this program, youth will not only learn the game of basketball but also the importance of teamwork, sportsmanship, leadership and health and wellness to accomplish their goals.
"Connecting with your players was always a strong message," Vogel said when asked what he learned from his coaching mentors while moving up the ranks.
"You try to help the people that you are around. Like any teacher, you are trying to enhance their lives and give them great learning experiences and teach them ways to succeed," he added.
Saturday's clinic was unique in that attendees went from station to station to learn about different aspects of coaching. Vogel along with assistants Chad Forcier, Corliss Williamson, David Adelman and Jay Hernandez each offered important pieces of advice.
Read the full story here: Frank Vogel, Assistant Coaches Lead Clinic for Area Youth Coaches