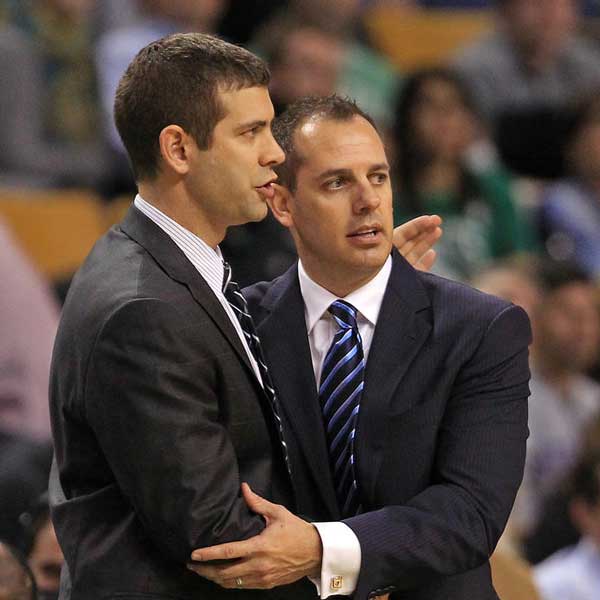 Like many friendships in sports, the friendship between Orlando Magic coach Frank Vogel and Boston Celtics coach Brad Stevens started on a playground.
Vogel and Stevens first got to know each other while their children played on a swing set in a suburban Indianapolis park.
Vogel coached the Indiana Pacers at the time, and Stevens coached the Butler Bulldogs.
In the years that followed, Vogel attended Butler practices during the 2012 NBA lockout, and Stevens occasionally attended Pacers practices.
"As much as you could admire anything, that's how much I admire the job that he did at Butler," Vogel said. "And then just who he is as a coach, who he is as a person — I have the highest level of respect for Brad.
"There's a lot of different ways to be successful in college basketball. A lot of that stems from talent and the ability to recruit. That wasn't the case with what Brad had done at Butler in terms of his success there. It was done with elite-level coaching, X's-and-Os, game-planning, scheming — all those types of things. So I think even before he got to the NBA everybody knew that he wasn't just a guy that can go out and get the top-level talent. He really knew what he was doing from a coaching standpoint. That just carried on as soon as he entered the league."
The Celtics hired Stevens in 2013.
On Friday night, the C's carried a 27-18 record into their game Friday night against Vogel's Magic.
The admiration is mutual.
"I just like Frank," Stevens said. "Frank's a good guy and a good coach."
To read the article, click here: Frank Vogel and Brad Stevens became friends in Indianapolis