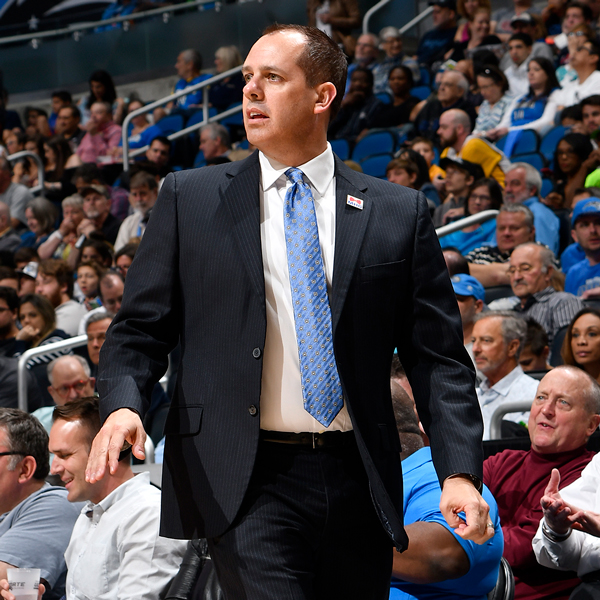 INDIANAPOLIS – With this Orlando Magic road trip making stops in Boston, Philadelphia and Indiana, head coach Frank Vogel can't help but feel a bit nostalgic these days – and that's a good thing since it gives him something to ever-so-briefly take his mind off the team's recent struggles.
Just months after hitting the 20th anniversary of him landing his first job in the NBA, Vogel recently pondered his winding journey in the NBA – one that started in Boston with him as a film-room grunt, continued in his adopted hometown of Philadelphia as an assistant coach and ultimately led him to Indiana where he defied even his own expectations and became a head coach for the first time.
"It's my reunion tour,'' he said with a chuckle.
These days, with the Magic stuck in the throes of an unsightly eight-game losing streak, Vogel is inspired ever-so-slightly by even his own story of pluckiness and determination to get to where he is today. What he endured and learned over the past two decades in the NBA, he puts to use now in trying to cajole the 8-12 Magic out of their debilitating slump.
"I do believe that those moments (from his coaching past) do help,'' Vogel said recently when discussing his career path as a coach. "I don't even feel like (the Magic) need some grand turnaround now because I think we're a good team. We were going in the right direction and we've hit a little bit of a rough patch. We've just got to find a way to put together a few wins while we're getting beaten up by our schedule and hang in the race.''
Vogel, 44, knows a thing or two about hanging in there considering that he's found a way to stick around the NBA for 21 consecutive seasons as either a video coordinator, advance scout, assistant coach or head coach. The kid who used to drive from Wildwood Crest, N.J. to Philadelphia with his family for 76ers games admits to still having to "pinch myself that I'm a head coach,'' considering all of the hard work, good fortune and success that it took to get him here.
Two decades ago, Vogel got his first break in the NBA when new Celtics coach Rick Pitino brought him along with him to Boston as the team's video coordinator at the urging of assistant coach Jim O'Brien. A year-and-a-half earlier, Vogel had quit basketball as a player at tiny Juniata (Pa.) College to follow his coaching dreams. He ultimately talked his way onto the coaching staff at Kentucky as a graduate assistant by promising that he had a complete understanding of computer technology when he in fact had very little.
Vogel's work ethic and dogged determination – both at the University of Kentucky and in that first NBA season with the Boston Celtics – would help to make up for whatever he lacked in knowledge and experience.
Vogel was asked recently what he remembered from those storied day-and-night shifts as a video coordinator for the Celtics and he couldn't contain his chuckling laugh.
"Fifteen hours? That's on a day off,'' Vogel joked. "It was around the clock. There were no video laptops back then, so we had to stay in the office all the time. Kevin Willard, the Seton Hall coach now, we'd joke all the time that we'd be breaking down a tape, doze off a little bit and all of a sudden there's two minutes left in the game and you're wondering what happened to the tape.
"We were sleeping on training-room taping tables and that was my life back then,'' Vogel continued. "The only reason I have a wife (Jenn) now is because of the (NBA/Players Association) lockout in 1999. I met her in Boston during that lockout when I actually had a few months to have a social life. Thank God for work stoppages.''
Thank God, too, for O'Brien in Vogel's case. O'Brien, a coaching lifer who now works as an assistant coach for the 76ers, took an early liking to Vogel and brought him along with him at coaching stops with the University of Kentucky, the Celtics, 76ers and Pacers. O'Brien, who declined to be interviewed for this story, taught Vogel the art of breaking down film, devising game plans and how to counter what foes throw at teams. Vogel said O'Brien's tireless work ethic showed him what it takes to be a coach at the game's highest level. To this day, Vogel is often in his office as much as four hours prior to practice, pouring over film and formulating plans for practice and games.
"I remember feeling like I was married to him since I'd be in his room at 6 a.m. every game day before practice,'' Vogel said of O'Brien. "I was with him for seven years with the Celtics. I always think about the opportunities he gave me along the way. He helped me get in with Rick Pitino at Kentucky without really knowing me, he convinced Rick to bring me to Boston, when he was a head coach (in Boston) he made me an assistant coach, here (in Philadelphia) he made me a bench coach and in Indiana I was a lead assistant. So, I basically owe everything to him.''
When O'Brien landed the head coaching gigs in Philadelphia (2004-05) and Indiana (2007-08), he hired Vogel each time to work under him. Little did Vogel know at the time, but that Indiana job would lead to the biggest break in his coaching career.
With the Pacers limping along at 17-27 midway through the 2010-11 season, then-team president President Larry Bird made the decision to make a coaching change, firing O'Brien and turning the team over to the 38-year-old Vogel. Rather than being filled with excitement over getting his first-ever head coaching gig, Vogel went to Bird to fight for his mentor – only to get another huge assist from O'Brien.
"My memories of that was that I was in, "I'm-going-to-tell-Larry-Bird-off mode,''' Vogel recalled. "He was wrong, we were turning it around and we were close – that's what I was going to tell him. While I was in mid-argument, 'O.B.' interjected that he was on the line on speakerphone. He told me to stop (arguing) and this (coaching change) was the right thing and he fully supported it.''
Finally, after all of those hours in the film room, all of those nights of sleeping on the training table and never having a social life because of basketball, Vogel was a head coach. But he knew that promotion wouldn't matter one bit if he couldn't quickly gain the respect of his Pacers players and show them that he was worthy of the job with his Xs-and-Os acumen and his abilities as a leader.
Fittingly, Vogel's first team won its first seven games and reached the playoffs in 2011 for the first time in five seasons. Then, on July 6, 2011, Vogel had the interim tag removed by Bird and he was officially the head coach of the Pacers. It worked, he says now, because his players instantly respected him because of his willingness to work and his ability to form relationships with players as a people person.
"It's not an easy thing to do, but the relationships that you build as an assistant coach really helped with that initial (interim) period and strengthened what we were trying to do when I talked about what we needed to tinker with and get us on track,'' Vogel recalled. "They had confidence with my voice because I had been with them a couple of years as an assistant. There's no medicine like wins. We started off 7-0 and that obviously strengthened what we were doing.''
Under Vogel's direction, the Pacers made it to the second round of the playoffs in 2011-12 and the Eastern Conference Finals in '13 and '14 only to be vanquished by LeBron James, Dwyane Wade and Chris Bosh both seasons.
Back then, Vogel preferred a bruising style of basketball and talked constantly about "collisions at the rim.'' With big men Roy Hibbert and David West willing to throttle foes, Vogel's teams usually ground opponents down and they had no problem winning games where the final scores hovered in the 80s.
That style of play is directly opposite of the style that Vogel now has to play in Orlando because of the NBA's shift to small-ball and a reliance on 3-point shooting. Once considered a defensive guru because of his overwhelming success in Indiana, Vogel said he's had to "re-think everything I've ever thought and taught about defense'' because of the new style of play in the NBA. Magic point guard Elfrid Payton, someone who has earned Vogel's trust enough to be able to call his own plays, said the transformation that his coach has made is downright incredible.
"The biggest thing from him, for me, was the style of coaching and style of play and him changing from going with a bigger lineup to trying to play small-ball,'' Payton admitted. "I feel that's one of the toughest things to do as a coach, changing your whole philosophy of how you coach – especially at this level and especially when you've been successful playing the other way. So, to step out on a limb like that and take a risk, that's big in my eyes.''
Orlando getting back on track rather quickly is big in Vogel's eyes as he knows full well that the eight-game losing streak the team is stuck in threatens their season. Other than benching a few players lately when they force bad shots or blow defensive assignments, Vogel has remained perpetually positive and peppy with his team.
Vogel has used his two decades of NBA experience in coaching to try and inspire his team with support and motivation of late. A huge fan of the "Rocky'' movies from his Philadelphia roots, Vogel has taken to splicing in inspirational scenes from the Sylvester Stallone movies in recent weeks to try and fire up his team. If all his time in the NBA while working in Boston, Philadelphia and Indiana have taught him anything, it's that a coach must be part psychiatrist, part motivator, part cheerleader, part disciplinarian and part tactician.
"That's a big part of the job, especially in times like this,'' said Vogel, whose Magic face the Pacers in Indianapolis on Monday night. "We're doing the right things – keeping our guys confident, keeping them moving in the right direction and keeping them understanding that winning is hard in this league, especially when you haven't done it as a group.
"You keep everybody lifted and engaged, make sure their attitudes are in the right place and address frustration,'' Vogel added recently, seemingly checking boxes on a coach's to-do list before flashing his humorous side. "And you have to make sure that nobody is on the roof of the Amway Center and ready to jump off. We're not in a hopeless situation.''
Click here to read the official story: Frank Vogel Reflects On Early Coaching Days