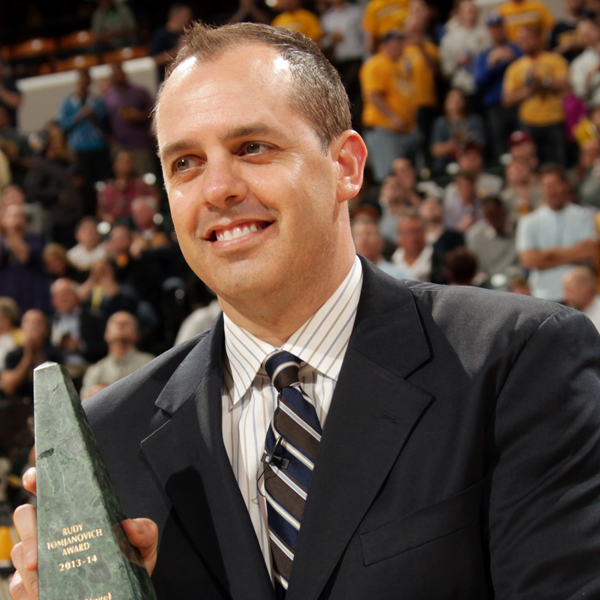 Forward Dirk Nowitzki of the Dallas Mavericks and coach Frank Vogel of the Indiana Pacers have been selected as the 2014 winners of the Magic Johnson Award and the Rudy Tomjanovich Award, respectively, which recognize excellence on the court with cooperation with the media and fans, the Pro Basketball Writers Association announced on Friday.
Agness: Frank Vogel Most Deserving of Rudy Tomjanovich Award
In addition, the public relations staff of the Golden State Warriors becomes the second two-time winner of the Brian McIntyre Award, presented to an NBA PR staff that exemplifies the standards of professionalism and excellence worthy of acclaim. The Warriors also won in 2010. The Indiana Pacers staff won the award for the second time last season.
Nowitzki, who averaged 21.7 points, 6.2 rebounds and 2.7 assists to lead the Mavericks to a 49-33 record and the No. 8 seed in the Western Conference playoffs, was one of six finalists for the award, joining Miami's Chris Bosh, Indiana's Paul George, San Antonio's Manu Ginobili, Houston's Dwight Howard and Memphis' Zach Randolph.
Vogel, who led the Pacers to a 56-26 record and the No. 1 seed in the Eastern Conference playoffs, was one of five finalists for the award, joining Oklahoma City's Scott Brooks, Toronto's Dwane Casey, Charlotte's Steve Clifford and Houston's Kevin McHale.
Finalists for the McIntyre Award included Dallas, Detroit, Miami and Toronto.
MAGIC JOHNSON AWARD WINNERS
2014 Dirk Nowitzki, Dallas
2013 Shane Battier, Miami
2012 Steve Nash, Phoenix
2011 Kevin Durant Oklahoma City
2010 Chris Bosh Toronto
2009 Brandon Roy Portland
2008 Derek Fisher, Los Angeles Lakers
2007 Shane Battier, Houston
2006 Grant Hill, Orlando
2005 Antawn Jamison, Washington
2004 Jermaine O'Neal, Indiana
2003 Jalen Rose, Chicago
2002 Elton Brand, L.A. Clippers
2001 Ray Allen, Milwaukee
RUDY TOMJANOVICH AWARD WINNERS
2014 Frank Vogel
2013 George Karl
2012 Doc Rivers
2011 Jerry Sloan
BRIAN MCINTYRE AWARD WINNERS
2014 Golden State
2013 Indiana
2012 Milwaukee
2011 Indiana
2010 Golden State
2009 Portland
2008 Toronto
2007 Phoenix
via www.nba.com