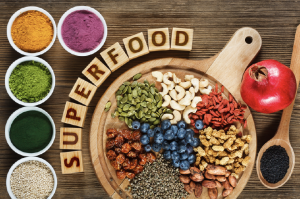 March Bulletin: Health Trends to Look Out For in 2018
With the 2018 New Year in full swing, the inevitable buzz surrounding new diet and health and wellness trends has already begun. Navigating these trends can be difficult for even the most discerning consumer, coach, or nutritionist. The nutrition industry is one whose tides shift constantly, with innovation continuously on the rise. Here are some trends to keep an eye out for in 2018 in the health, wellness and nutrition world that could impact your health.
1)  Moringa Superfood:
One of the newest superfoods, moringa, is now available in grocery and supplement stores in many different forms. This super powder is derived from a tree, whose leaves are ground into powder form containing protein, iron, calcium, potassium, and vitamin A. Nutrient-dense moringa is being found in bottled juices, energy bars, supplement-based powders and snack foods. It will also be seen in beauty products because of its anti- inflammatory properties. Moringa can have a bitter taste to the palate, which is why it's best used blended into smoothies or other recipes.
2)  Collagen Peptides:
Collagen is the main structural protein found in skin and other connective tissue. Collagen protein has been making its debut in food products over the last year, and has experienced rapid growth. The bone-broth trend has been taken to new heights in both commercial and local products, as well as being transformed into protein powders. Collagen has many positive affects when it's included in food impacting: healthy skin, hair, nails, joints and digestion. This year, health experts are predicting that we'll see an increase in collagen-infused everything, from energy bars to chocolate to chili to pancakes. You will also see a surge in collagen builders such as whole foods-based supplements.
3)  New Technology in Vegan and Vegetarian Foods:
The future of technology is moving beyond our iPhones. New technology is being used to create vegan and vegetarian foods mimicking meat, even using beetroots to create the illusion of blood. Try substituting your regular beef burger with a veggie burger. Veggie burgers are packed with plant protein, and so closely replicate beef that they will fool even the most dedicated meat lover.
4)  Gut Health Still the Rage:
In 2018, plan to see a continued emphasis on products promoting gut health. This includes more foods and supplements infusing probiotics, added fiber and a strong emphasis on creative kombucha flavors. Fermented foods are trending this year as well, with continued growth in products including miso, sauerkraut, tempeh, pickles, kimchi, kefir and yogurts.
5)  Puffed and Popped Snacks:
Cheetos are getting a facelift in 2018. "Puffed" and "Popped" snack categories are using ingredients such as beans, non-GMO corn, lentils, brown rice, vegan alternatives and more. Look for products high in protein and fiber, as well as those made with clean ingredients that you recognize.
6)  Simplicity & Shape in Energy Bars:
The list of protein and energy bars is endless. However, consumers and sports teams are demanding a shorter list of ingredients in their bars and are now wanting their quick snack on the go to be in a variety of different shapes. This year, we will see a trend toward protein and energy bars that have been simplified and made without a laundry list of ingredients. Whole food-based bars are also taking the form of bites and balls on a commercial level.
7)  Mushroom Mania:
Get familiar with mushrooms. There are a wide variety of types of mushrooms including: reishi, chaga and cordyceps. Due to their high immune support and antioxidant properties, mushrooms are going to be infused in coffee, chocolates, tea and snack foods.
8)  Supporting a Greater Cause:
Look for brands emphasizing transparency and sustainability in 2018. Consider supporting brands that value sourcing sustainable ingredients and giving back to charitable causes.
9)  Brain Boosting Supplements:
As total-body wellness increases, industries are beginning to combine what they know to revolutionize overall health. This is especially evident in areas such as brain health, where new technology is being applied to create nutritional supplements such as chewable coffee. These products support overall brain capacity and function.
10) Alternative Sweeteners:
In 2018, health experts believe sugar will continue to be phased out of food products in favor of more creative, healthier ways to sweeten food. An added emphasis will be placed on alternative sweeteners that are lower on the glycemic index reducing added sugar calories. Dates, sorghum and yacon syrups are sweet options that will be appearing on the shelves for 2018.
11) Middle Eastern Connections:
This year, we are moving beyond falafel and hummus and digging deeper into Middle Eastern tradition and ingredients in the food world. You will see an increased twist on traditional Middle Eastern foods from various cultures including Persian, Israeli, Moroccan, Syrian, and Lebanese. Shakshuka, grilled haloumi and za'atar are making their way across the borders into foods and menus where least expected.
12) Go Goth This Year:
Activated charcoal is quickly becoming a superfood and being promoted for its detoxifying characteristics. You will see activated charcoal being featured in everything from pizzas to beverages to ice cream.
13) Reducing Food Waste:
Local chefs, food manufacturers, nonprofit organizations and consumers nationwide are collaborating to reduce food waste. Recipes and food products will be incorporating more foods from root to stem that are usable in recipes such as salad dressings, salads, compotes and more.
14) Healthy Fats for the Win:
High-fat diets and foods full of healthy fats will continue to reign in the new year. We are well past the Snackwell era, learning that low fat and high sugar are not the keys to health or optimal performance on and off the court. Incorporating more options with healthy fats such as coconut, grass-fed butters and ghee, avocado and hemp oils, as well as nuts rich in fat such as macadamia nuts, almonds and cashews in moderation can be the key to weight-loss and performance success. In addition, avocado toast and peanut butter protein balls are great sources of healthy fats.
Conclusion:
Each year the list of healthy foods that should be incorporated into your diet grows and grows to a point where it feels impossible to navigate. This Health Bulletin aims to simplify that process by laying out some foods that should be included in your diet as well as those that should be avoided in 2018.
Stacy Goldberg – MPH, RN, BSN CEO & Founder
Savorfull
Office Phone: 313-875-3733
Cell Phone: 248-563-2920 Email: stacy@savorfull.com