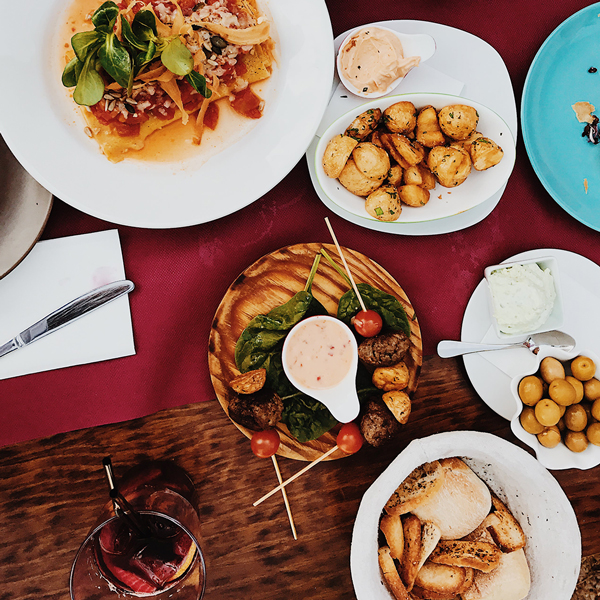 *On average, people gain between 5 to 10 pounds during the holiday season between Thanksgiving and New Year's. A typical holiday dinner can contain approximately 3,000 calories plus an additional 1,500 calories in appetizers and drinks before and after the big meal. Combined, that's the equivalent of more than 2 1/4 times the average daily calorie intake and almost 3 1/2 times the fat — with 45 percent of calories from fat. The average person may consume enough fat at a holiday meal to equal three sticks of butter. Traveling, family time and the stress of the NBA season can all wreak havoc on your diet as well.
Here are some tips to keep you well fueled and prevent weight gain this holiday season. Even if you are unable to accomplish all of these tips, try implementing a few to make the Holiday's healthier:
1) Make Sure to Eat Breakfast and Lunch:
Many people skip breakfast and lunch in preparation for an extravagant holiday feast. This poses problems for both your blood sugar and your waistline. Eat a well-balanced meal for breakfast and lunch before heading to your holiday table to avoid overindulgence. You may want to grab a high protein snack midday such as whole wheat crackers and veggies with cheese or hummus, or even a protein shake 2-3 hours before your holiday meal.
2) Ensure that the Turkey is Fully Cooked:
Holidays may be a time to settle down and cook with your family, friends or teammates. Avoid food poisoning by taking the proper precautions when dealing with your turkey meat. According to the Center for Disease Control and Prevention (CDC), when the turkey is left out at room temperature for more than two hours, its temperature becomes unsafe as it moves into the danger zone between 40°F and 140°F, where bacteria can grow rapidly. The CDC suggests thawing your turkey in the refrigerator, in a sink of cold water that is changed every 30 minutes, or in the microwave. Further, the CDC also recommends to cook stuffing in a casserole dish to make sure it is thoroughly cooked. Use a food thermometer to make sure the stuffing center reaches 165°F. Bacteria can survive in stuffing that has not reached 165°F and cause food poisoning.
3) Eat Vegetables to Help Fill You Up:
Focus on nutrient dense foods while filling your plate. Pile on the vegetables (skipping the creamy veggies such as green bean casserole), add a cup of fresh fruit, a fist-sized amount of protein, and a small amount of complex carbohydrates. Fill your stomach with vegetables and protein to ensure you're not instantly running toward the desserts.
4) Exercise:
Stay active throughout your day before you sit down for a holiday meal. Wake up and exercise before piling into the car to see your family and friends, or heading to a game. Aim for 60 minutes of cardiovascular exercise on Thanksgiving or Christmas morning rather than just sitting and watching the parade!
5) Stay Hydrated:
Avoid dehydration by drinking water throughout the day and refilling your glass during your holiday dinner. Don't let yourself be fooled into thinking you're hungry when you may, in fact, just be thirsty! If consuming alcoholic beverages, be sure to limit the sugary mixes and heavy caloric beers. Alternate your alcohol with glasses of water.
6) Try Healthy Snacks:
Be mindful of what you eat if snacking during the day, as this can double your caloric intake on Thanksgiving or Christmas! If you do snack during the day, enjoy cut up veggies, roasted pumpkin seeds, toasted almonds or marinated olives.
7) Alternatives to Mashed Potatoes:
While mashed potatoes and gravy are delicious, it's time to spruce up your side dish with a helping of healthy sweet potatoes. The sweet potato is a nutritional powerhouse filled with vitamin A and more fiber than a traditional white potato. Skip the marshmallow filled sweet potatoes or creamy mashed sweet potatoes and try roasting sweet potatoes in coconut oil, sprinkle with cinnamon, nutmeg and Himalayan pink salt and squeeze fresh oranges on top. Roast in the oven for 45 minutes-1 hour and you will have plenty of holiday sweetness. For added crunch, top with lower sugar granola or roasted pecans. Another alternative to mashed potatoes is mashed cauliflower for added vitamin C plus a huge calorie and carb savings. Replace your traditional mashed potatoes or even your bread stuffing with cauliflower as a gluten free, low carb alternative. You can even purchase ready-made mashed cauliflower or riced cauliflower as a side dish in a pinch.
8) Include a Salad:
Add a festive, nutrient dense salad to your holiday table with cooked and chopped butternut squash, kale, fresh cranberries, and feta cheese. Drizzle honey, olive oil, herbs, and seasonings to add an extra punch of flavor to your squash salad.
9) Try "Healthy" Apple Pie:
The average slice of apple pie contains 300 calories with 40% of calories coming from fat. Avoid these empty calories by stuffing baked apples with gluten free oats, honey, cinnamon, and apple pie spice for a healthy twist on the traditional apple pie. Top the baked apples with granola, seeds, or chopped nuts for a tasty crunch. Add a small amount of high protein vanilla Greek yogurt or Truwhip frozen dessert to make for a sweet treat.
10) Substitute Vegetable Oil for Coconut or Olive Oil:
Substitute traditional vegetable oil with coconut or olive oil while making Christmas sides or for potato pancakes. Swap out all purpose white flour for gluten free oat, coconut or almond flour while cooking. To add more nutrients and have low carb options for your potato latkes, use alternatives to potatoes such as spaghetti or butternut squash, cauliflower, parsnips, sweet potatoes and/or zucchini for extra dietary fiber, vitamin A and vitamin C. Sneak dark leafy greens such as kale, spinach and Swiss chard into your side of potato pancakes. Looking to make vegan latkes? Substitute your egg for a flax egg (mix 1 tbsp. ground flaxseed with 3 tbsp. water). Top your potato pancakes with plain Greek or Icelandic yogurt rather than sour cream to boost the protein. You can also use a non-dairy yogurt made from almond, hemp or soy milk.
11) Incorporate Vegetables into Your Meal:
Get creative with crudité and fresh fruit. Slice up veggies such as carrots, tomatoes, cucumbers and red peppers to have your kids create a veggie turkey, Christmas tree or Menorah. For a dessert option, try using fresh berries, bananas, oranges and mango.
12) Try Making Homemade Applesauce:
Experiment with making your own homemade applesauce with organic apples. Wow your guests by putting an interesting twist on your applesauce. Add ingredients such as pear, ginger, or raspberry to spice up your traditional sauce. Make extra to have around as a healthy snack option during the holiday weeks. Top with golden raisins and chopped walnuts. If choosing applesauce as a snack or holiday side dish, keep in mind that one serving of packaged cinnamon applesauce can contain up to 24 grams of sugar and high fructose corn syrup.
13) Substitute Salmon for Chicken:
While chicken is typical for a main course meal, salmon can be just as delicious for your holiday plate. Salmon contains high levels of omega-3 fatty acids, nutrients that play vital roles in brain health. If possible, always choose wild caught Alaskan salmon over farmed salmon, as it has the lowest risk for possible contaminants, including pesticides and pollutants.
14) Try Using Whole Wheat Flower Instead of Regular Flour:
If baking with your family or friends, experiment with 100% whole wheat, coconut or almond flour while making cookies for your celebration. You can also substitute dark chocolate for milk chocolate. Make your own icing with healthy ingredients such as Greek yogurt, coconut milk cream, or unsweetened almond milk instead of store bought icing. If making holiday sugar cookies, look for sprinkles and toppings free from artificial colors and dyes.
Conclusion:
The Holidays are a joyous time filled with friends, family, teammates and of course, delicious food. But the excitement can also lead to unhealthy decisions that you may regret come New Year's. Avoid having to rely upon a New Year's resolution, try incorporating some of these suggestions into your Holiday Meals, and you can have a fun and healthy Holiday Season without regrets!
From our team to yours, we wish you a very happy and healthy holiday season!