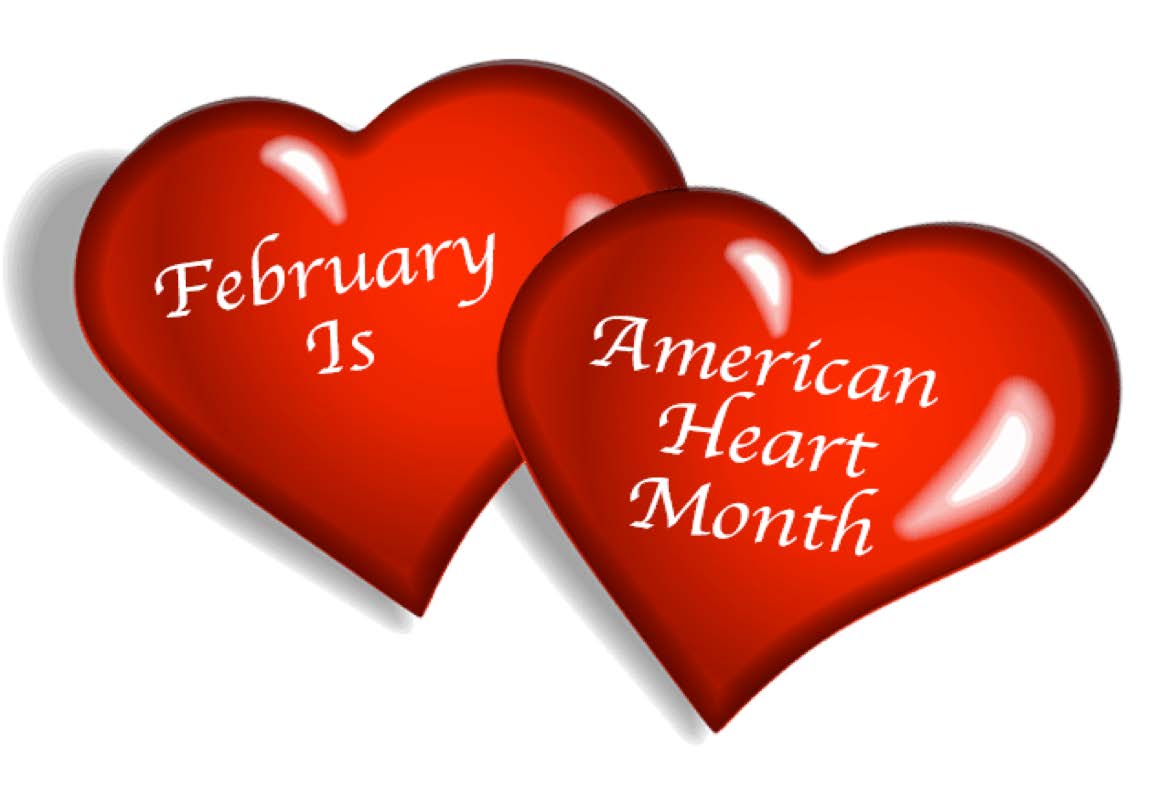 This month the NBA Coaches Association is resuming its two-part health bulletin on Heart Health. Along with Valentine's Day, February
marks American Heart Month, a great time to commit to a healthy lifestyle and make small changes that can lead to a lifetime of heart health.
Part I (disseminated in December) focused on an education of hypertension (HTN) and how it is treated. This bulletin (Part II) will take the
form of the role that good nutrition can play in combating HTN and overall heart health.
Healthy eating – follow the DASH diet pyramid. DASH stands for Dietary Approaches to Stop Hypertension. It is a scientifically proven diet to reduce blood pressure. The DASH diet encourages you to reduce the sodium in your diet and eat a varietyof foods rich in nutrients that help lower blood pressure, such as potassium, calcium and magnesium.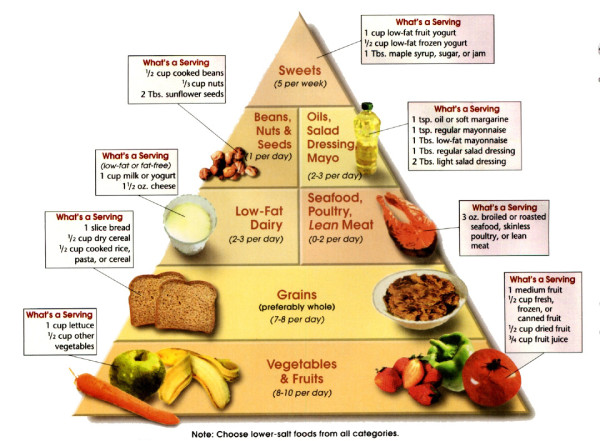 Reduce alcohol intake – If you choose to drink, have only a moderate (limited) amount.
This means (generally for average sized adults):
• No more than 1 drink a day for women
• No more than 2 drinks a day for men
Excessive drinking in adults = 4 drinks/day/men, 3 drinks/day/woman
If you're drinking more than the suggested amounts, cut back.
ONE DRINK EQUALS= 
• Stress management – Meditation, massage therapy, yoga can decrease blood pressure by
~ 5mmHg. Get adequate sleep. Avoid excessive alcohol and caffeine. Make time for
enjoyable activities. Forget the past, the future is unknown, live life in the present! – Be
mindful. Give yourself a break from electronic devices.
• HTN – impact of healthy living on hypertension
Table 1. Key lifestyle changes to prevent and manage hypertension
Modification
Recommendation
Impact on Hypertension*

Sodium Reduction

Depending on age, limit sodium intake:

1500 mg per day maximum for those 50 years and younger.
1300 mg per day maximum for those 51-70 years.
1200 mg per day maximum for those 71 and older.

2-8 mm Hg

Physical Activity

Engage in regular physical activity:

Children aged 5-11 years and youth aged 12-17 years should accumulate at least 60 minutes of moderate- to vigorous-intensity physical activity daily.
Adults of any age should accumulate at least 150 minutes of moderate- to vigorous-intensity aerobic physical activity per week, in bouts of 10 minutes or more.

4-9 mm Hg

Healthy Weight

Maintain or achieve healthy body weight (BMI 18.5-24.9)
To achieve a healthier BMI, set a weight-loss goal of 5% to 10% body weight with no more than a 0.5 kg (0.5-1.0 lb) weight loss per week.

5-20 mm Hg per

10-14 kg weight

loss

Moderate Alcohol

Consumption

Limit alcohol intake:

Less than two standard drinks per day for men.
Less than one standard drink per day for women.

2-4 mm Hg

Stress Management

Learn to deal with everyday life challenges and obtain help for mental health problems.

Variable
 *Approximate range of BP reduction from JNC 7
Source Link: http://www.bcmj.org/sites/default/files/BCMJ_54_Vol8_lifestyle_mods.pdf
*How can hypertension be prevented through dietary and lifestyle approaches?
There are several dietary and lifestyle approaches that will help to decrease the risk of
hypertension.
The DASH Diet: Dietary Approaches to Stop Hypertension (4)

Losing weight and increasing physical activity
Eating fruits, vegetables, and whole grains
Including fat-free or low-fat dairy products, fish, poultry, beans, nuts, and vegetable oils in your diet
Limiting foods that are high in saturated fat, such as fatty meats, full-fat dairy products, and tropical oils such as coconut, palm kernel, and palm oils (these can be healthy options but in moderation)
Limiting sugar-sweetened beverages and sweets
The biggest challenge: limiting sodium intake to 2,300 mg/day (or 1,500mg/day for a more beneficial effect)
Sneaky Salt!
In the American food industry, most packaged products found in the grocery store are loaded
with sneaky salt additives. Salt is used as a preservative and flavoring for many foods, even
desserts and sweets! It is important to be aware of sodium in foods and reading food labels can
help to make better choices.
Salt and sodium are in many foods that may surprise you…
Cereal: Cereals should contain no more than 250 mg of sodium, but most common brands have
far more than that. 1 cup of Grape Nuts, a seemingly healthy cereal, has 580 mg of sodium!
Bagels: Bagels may not taste very salty, but may have up to 500-700 mg of sodium, depending
on size and flavor!
Cakes: 1/12 of a box of Classic Yellow Cake Mix from Duncan Hines has 260 mg of sodium!
Reading the nutrition label can help curb your choices.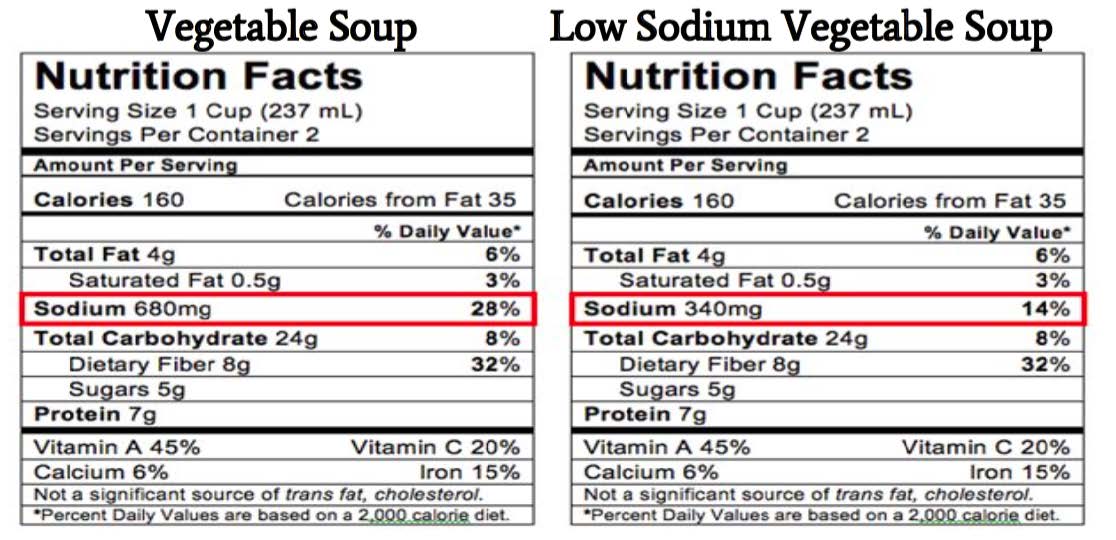 Becoming more familiar with sodium amounts in specific foods can help to manage sodium
intake. Also, keep in mind serving sizes! In the example above, there is 340 mg of sodium in one
cup of low sodium vegetable soup.
Hypertension: This vs. That
Salted almonds vs. unsalted almonds: 100 mg sodium in 22 almonds vs. ZERO mg sodium in 22 almonds
Chicken stir fry vs. grilled Chicken with vegetables: the soy sauce used in stir fry can add 850 mg of sodium to this meal!
Regular soy sauce vs. low sodium soy sauce vs. coconut aminos: 300 mg sodium per teaspoon vs. 230 mg sodium per teaspoon vs. 160 mg sodium per teaspoon
Although coaches are very limited in their time and often must look for the most convenient
lifestyle choices, it is crucial to make healthy habits a priority, in terms of diet choices and fitting
in a few minutes of exercise each day.
Savorfull is here to help make eating as convenient and healthy as possible when you're on the
court, on the road, or just on-the-go. Try some of these easy Savorfull Swaps that are sure to
keep your sodium levels in check and balanced.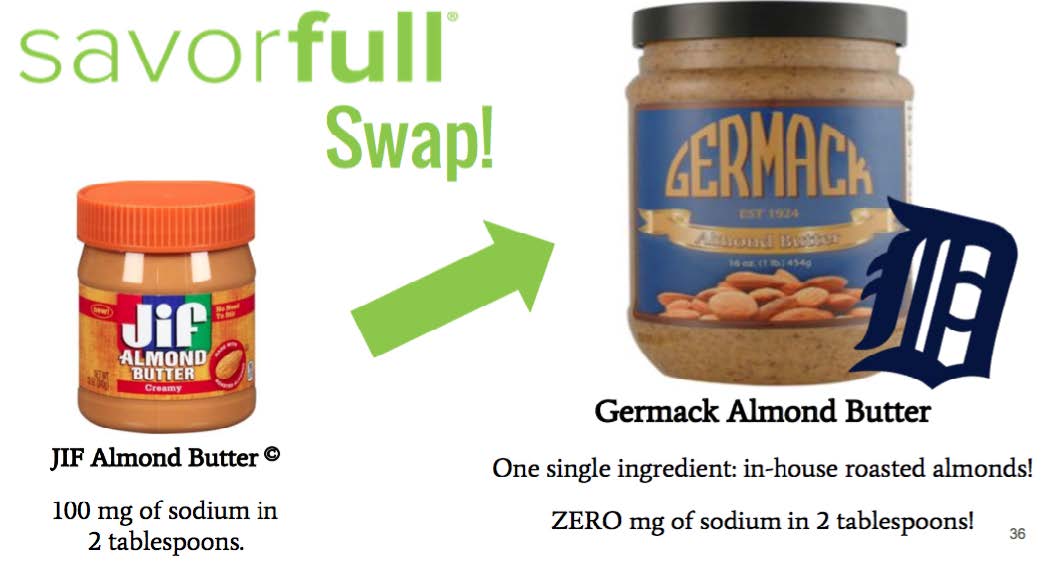 Check it out: https://savorfull.com/product/germack-almond-butter-1lb-6-jarscase/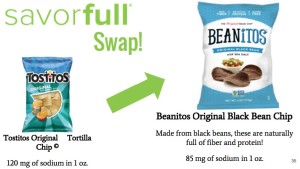 Check it out: https://savorfull.com/product/beanitos-original-black-bean-with-sea-salt-chips-1-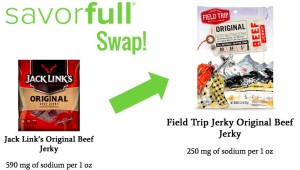 Check it out: https://savorfull.com/product/field-trip-jerky-original-no-3-beef-2-2oz-9-bagscase/
Bottom Line – Following a heart-healthy lifestyle and the proper nutrition is also beneficial for
your overall health. When you keep your heart healthy, you'll also feel great — and help yourself
stay that way for years to come.