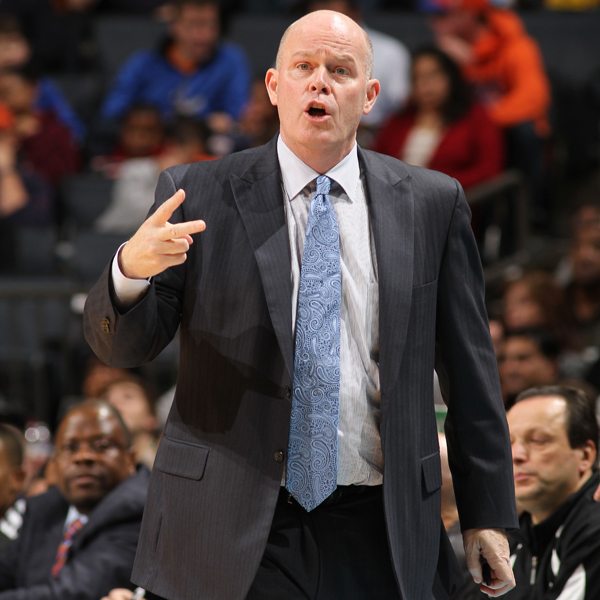 How do you fix a broken franchise?
We're not talking championships. We're talking about just not having a team be a broken pile of wreckage, lying beside the shoreline as birds nest on it. Before you figure out how to win a title, you have to figure out the process for being a good basketball team. That's the journey the Charlotte Bobcats are on this season in what is effectively their third rebuilding phase.
The Bobcats are 272-500 in their nine NBA seasons, and have undergone many attempts to make the team competitive. There were the first young-core attempts that fell apart whenSean May, Adam Morrison, and to a lesser degree Emeka Okafor failed to live up to draft promise.
There was the just-make-the-playoffs sellout in the late 2000s when Larry Brown and the front office mortgaged long-term assets for veteran players in hopes of reaching postseason play. They did and were swept in the first round like they had never been there, and the increase in wins didn't help changing the team's perception. The result was another rebuild.
The answer to the main question is maddeningly simple but excruciatingly difficult to accomplish. You have to change the culture. It's not about veterans or young players, it's not about star power (though they'll need that eventually), and it's not about scheme or system. It's about discipline, commitment and intelligence. The NBA is ruled by star players, but what separates the talented from the truly great is the culture they help cultivate. For Charlotte to be sustainably competitive, there has to be a culture that looks beyond wins and losses.
Meet Steve Clifford, first-year head coach of the Charlotte Bobcats.
The short-answer for "Who did the Bobcats hire this summer?" was "A respected assistant coach from the Lakers." That was the book's cover on Clifford. But to better understand why the Bobcats are, for the first time, competitive with the possibility of long-term success, you have to understand one thing about their new coach.
He's a lifer.
Clifford has been around coaching his entire life. The son of a high school coach, Clifford has known he wanted to do what he does since he was a kid.
"I grew up in a basketball family," he says. "I liked it from the beginning and I was always with my dad at practice and going to games.
"I can't remember a time when I wanted to do anything but coach."
Clifford has spent 31 years coaching, starting at Woodland High in Maine, where he also taught Special Education. It was there that he assisted at Jim Boeheim's basketall camp and met a young coach by the name of Jeff Van Gundy. More than a decade later, Van Gundy woud hire Clifford as an assistant with the New York Knicks, after Clifford already had ascended to head coach with Adelphi and was working as an assistant at East Carolina.
Clifford would go on to help mold great defenses in the NBA over the next 12 seasons. Between 2004 and 2013, nine of the ten teams he worked as an assistant for would have a top-15 defense in points allowed per posession, six in the top five. He worked under both Jeff and Stan Van Gundy, and helped coach Dwight Howard to become the Defensive Player of the Year multiple times.
So in a season when teams tried making big splashes with coaches who lacked experience, the Bobcats went the other way. They hired a guy who has been around, and has built a reputation on being able to communicate effectively with players at the NBA level, something that's not exactly known to be easy.
"What I've tried to do is, and I got this from Jeff when I was at Adelphi. He told me to come up with a leadership model. And I did the same thing when I got here. I think with these guys, if you ask them about me, at the end of the year the No. 1 thing I want them to say is 'He wants me to play well.'
"Most athletes, but particularly NBA players, that's all they care about. It's relationships and all that but at the end of the day, they're pro players. If they think that you can help them play well as individuals and as a group, they're going to listen to you. If they don't think you can help them or know what it takes to win in this league, they're not going to listen to you. For me, especially since I'm not not an ex-player, it's about helping them play well and then establishing credibility that I knows what we have to do to play well to win."
So that begs the next question. Are the Bobcats playing well?
Entering Saturday, Charlotte was in the No. 8 spot in the Eastern Conference, were six games under .500, on track for 36 wins. Baskeball-Reference projects they have a 62.6 percent chance of making the playoffs. Good. Not great. They seem like just another awful Eastern Conference team.
But there's more going on here than wins and losses. It takes more than that to rebuild a franchise like this. Consider that last season, with nearly the exact same roster, the Bobcats finished dead last in points allowed per possession. This season, with their only major addition being on the offensive side in Al Jefferson, the Cats are sixth in points allowed per possession.
The offense is a long ways off. But watching the Bobcats, you see something you haven't seen before. Discipline. Effort. A consistent commitment to what they want to do. Clifford says that's all part of building the culture.
"I like our team, I feel like we're developing the right kind of culture. We started off well, fighting in games, hanging in there. After Christmas, we got away from that. The [Michael KIdd-]Gilchrist and [Jeff] Taylor injuries definitely took away athleticism, quickness and defensive ability — but we didn't handle it well either. We've come back though, and gotten back to it. We're fighting harder, we're practicing well. To me, that's all part of the process.
"You're not going to change things overnight. But we've developed a culture of work, of rebounding, of toughness and playing smart. That's what I feel good about right now."
It's still surprising, because the Bobcats were so terrible a year ago defensively, the Charlotte would make such huge leap under Clifford. Clifford says that it's not about scheme, it's about using the talent that's on the team in the right way.
"We have a talented defensive team in the NBA to me," Clifford says. "We have quickness and toughness on the perimeter, and we have guys who can guard primary scorers fairly well. So we're not having to run around and double-team a lot. That makes everything easier. Our two four men, and really or three fours when Anthony [Tolliver] plays that position, they naturally make multiple efforts.
"And then they're smart about it. We're just playing base defense. We're not doing a lot. For me, to be an elite defense or a unit that can defend in the playoffs, there are things that we need to add. I don't think we're ready for it this year. We may do a few things here and there. Really, my thing is they're buying into it, they're trying hard, and we have guys who are capable of doing it."
One of those guys is sophomore defensive star Michael Kidd-Gilchrist. He entered the league hyped as a potential defensive player of the year candidate, and he's already showing signs of that. His ability is making things easier for the entire team.
"Gilchrist is so exceptional on the ball, even against the really good offensive players, he can on many nights make it hard on them to just not blow by him. That limits how much you have to help. And when you don't have to run around a lot, you get to stay in your spots and keep things pretty simple."
A lot of coaches will try and blow you away with competitive bluster. They have big opinions about issues or criticisms. Ask Lionel Hollins about advanced metrics, and you'll get a sermon on the dangers of math. Clifford is refreshingly nuanced in his opinions. When evaluating his defense, he cites points per possession instead of per-game, a so-called "advanced" stat, but also thinks that the numbers are only part of the whole picture.
"I like [analytics], you can never know too much. But this is not something new in coaching. When I was 8 years old, my dad was doing OER in Vermont. That's points per possession. He'd take a freshman girl every four years, teach her how to do it, and he'd be in the kitchen with the assistants looking at a chart with OER and DER. Analytics have been around forever. They've just evolved.
"So I like it and I use a lot of it but it's only part of it. It only tells you part of the story. An example is points in the paint. We're doing a good job limiting points in the paint. But there are other teams that are having success in that and they're doing it totally differently. And the only way you're going to know that and how to attack them is if you sit and watch. The thing you have to do to really understand what's going on is you have to sit and watch film."
The Bobcats are very much a work in progress. In the beginning of the year, an injury to Al Jefferson meant that the team had to evolve a temporary identity without him. It took time to integrate a healthy Jefferson into the offense. But in January, Jefferson exploded. He averaged 23.4 points, 11.3 rebounds and 2.6 assists while shooting 54 percent from the field. He dropped three straight 30-10 games while the Cats knocked off the Warriors andNuggets.
Clifford credits the work Jefferson has done to get healthy and get back into conditioning mid-season, and says that much of their early struggles with getting Jefferson involved have to do with the modern difficulty in building a post offense. But just as the Cats as a whole are a work in progress, Jefferson's role is starting to bear fruit for a team fighting to stay with the solid play it's shown early on.
But maybe this is all temporary success, which the Bobcats have seen before. Maybe the team will regress and they'll start again next year, the as the Hornets, all over. For Clifford, he's not looking to be Phil Jackson, some megastar coach with book deals. He loves what he does, not what he does it for, and just as basketball has always been a part of his life, it always will.
"You know, I'd never had the dream or ultimate goal of being a head coach in the NBA," Clifford says. "I wouldn't have stayed an assistant until I retired. But I would have gone back to college, because I wanted to be in charge one more time. But I'm so fortunate to be here, I'm happy to be here. I loved it with the Lakers, I loved it in New York, I loved it in Orlando. I love to coach. I can't remember a year that I haven't enjoyed. I feel blessed and I feel equally blessed to have had the right opportunities to have success."
Maybe, finally, the Bobcats have the guy who can give them that opportunity as well.
via www.cbssports.com by Matt Moore