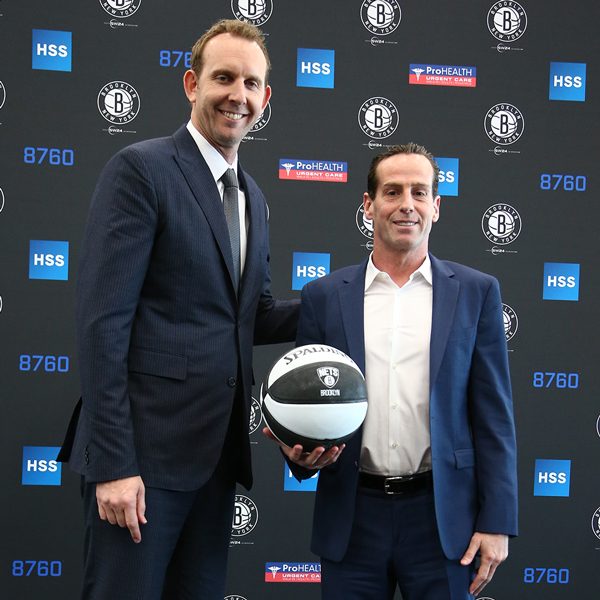 Via Kevin O'Connor, The Ringer
A black, glossy sign hangs on the wall outside of Sean Marks's office at the Brooklyn Nets' two-year-old practice facility on 39th Street in Brooklyn. An intricately designed maze, like the one in Westworld, lies in the middle. A light-blue line maps the correct path in and out of the puzzle. Above it, in white lettering, there's text that reads, "There are no shortcuts." Underneath, it reads, "Strategic thinking wins."
"Strangely enough, I stole that from an airplane magazine and I had them design it the way I wanted," says Marks with a laugh, now almost two years into his role as Nets general manager. "But it's true. There's not gonna be shortcuts along the way. We just got to do things that hopefully lead to something sustainable."
Marks knows a thing or two about sustainability. After 11 seasons as an NBA reserve (and a stint playing in Poland), Marks spent five years on the Spurs' staff, first in the front office, then as an assistant coach on Gregg Popovich's bench, and finally as assistant general manager to R.C. Buford. He won two titles with San Antonio along the way—in 2005 as a player, and nearly a decade later as an assistant coach. In February 2016, Marks traded in a top position with the Spurs, one of the most meticulously crafted team cultures in the league, for the Nets, a … team.
The hiring of Marks—at the time 40 years old and in the early stages of his post-playing career—to clean up one of the biggest messes in sports history certainly raised some eyebrows. (Marks himself was "wrestling" with the decision, according to reports at the time.) But where others saw disaster, Marks saw opportunity. The Nets, despite not controlling their own first-round pick until 2019, were a blank canvas. And the unique problem required more than a paint-by-numbers approach. "We've got to break the mold and at least be as creative as we can without living outside of the box," Marks says.
Joseph Tsai, cofounder and executive vice chairman of Alibaba, bought a 49 percent stake in the Nets from Mikhail Prokhorov in October and will likely take over full control in four years. But Marks's path forward remains the same; indeed, Tsai reportedly "expressed enthusiasm" over the direction of the franchise.
"It's like being with a startup; we're in more of a search mode," says Nets coach Kenny Atkinson. "We're not the Spurs; they're in a 'we know' mode. We're searching. We're very curious. We have a curious staff, diverse staff.
Click here to read the full article:  "There Are No Shortcuts"