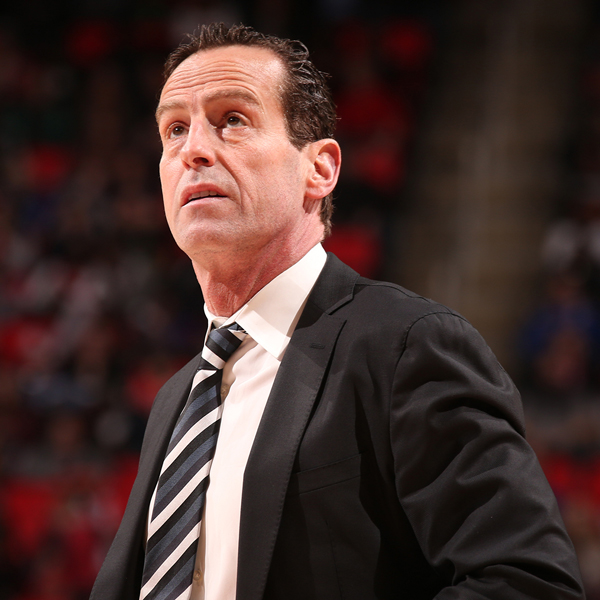 Source: Tom Dowd, NBA.com/nets
From the backyard to the CYO gym to St. Anthony's HS, Kenny Atkinson's basketball story is a Long Island story.
"A hotbed," the Brooklyn Nets coach says of the Long Island hoops scene in the 1970s and 80s, the environment that molded him and sent him on to a life in the sport. On winter nights, the high school gyms were packed for rabid rivalries headlined by future Division I and NBA players. It was a cradle for coaches too, on their way to the Big East and the bright lights of March Madness.
Atkinson played his own part in the show before taking his game to the University of Richmond and the NCAA Sweet 16 with an upset of defending national champion Indiana in the 1988 NCAA Tournament. It was on to Europe to play for a decade, and a coaching career that got its start in Paris.
But the path to an NBA bench really began with take-no-quarter games in the backyard of the Atkinson family's Northport home.
"On days it was like 10 below zero, my dad would be like, 'we're going out there.' Saturdays, Sundays, we're going out there and playing," said Atkinson. "My dad was a big influence. All my brothers played. And there were just wars in the backyard. Three-on-three, four-on-four, around the world. Always competing. And you're just around that? That's where it started."
When it came time to play organized ball, the first stop was CYO hoops at St. Phillip's.
"Little church, tile floor, stage," said Atkinson. "Make a layup and you get nailed. We had an eighth-grade team, I think we went undefeated. We had an unbelievable team. We beat Roosevelt, we beat all the teams. I started to realize, I could be pretty good at this. After that was going to Gus Alfieri's All-American basketball camp, which was out in Smithtown. That's when I started getting a global look. Because everybody from the island would come to that camp and compete and I started to realize I can compete at this level."
There was no shortage of hoop heroes for Atkinson to emulate. Start at home, where he was the seventh of eight brothers. When they weren't battling in the backyard, Kenny was watching his brothers play high school ball at Northport. He easily rattles off the names of the players he saw along the way: Mitch Kupchak of Brentwood, who went on to North Carolina and the NBA, and to become GM of the Lakers; Jeff Ruland at Sachem, a future NBA All-Star; Holy Trinity's Matt Doherty, who went on to win a national championship with Michael Jordan at UNC; St. Dominic's Tim Kempton, who played at Notre Dame; current Oklahoma City coach Billy Donovan of St. Agnes (now Kellenberg Memorial), who went to the Final Four playing for Rick Pitino in 1987 and won two national championships coaching at Florida.
To continue reading, click here: LONG ISLAND HOOP LESSONS LAUNCHED KENNY ATKINSON'S JOURNEY TO THE NBA