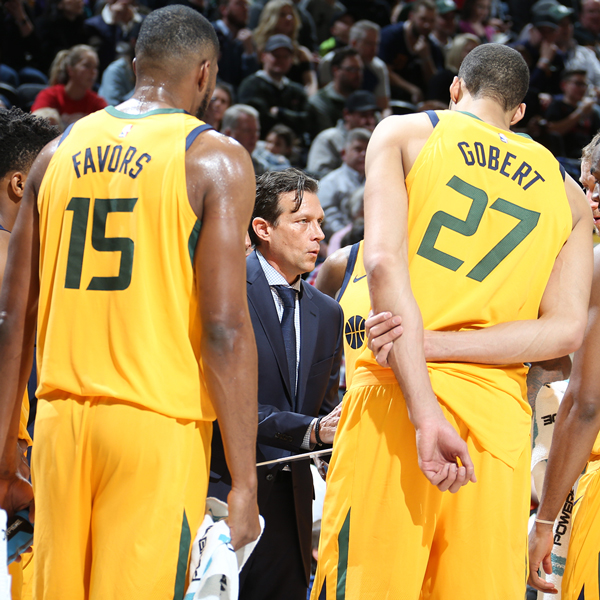 Source: John Gonzalez, The Ringer
When Utah got Rudy Gobert back in January, the Jazz were in bad shape. That tends to happen when you lose your franchise center and one of the best defenders in the league for long stretches. Gobert was out for 11 games after suffering a bone bruise to his right knee in early November. Then he missed another 15 games after spraining the PCL in his left knee in mid-December. Not long after he returned the second time, the Jazz went on a three-game road trip. They lost the first one to the Hawks in Atlanta, which is not the kind of result you want when you're trying to salvage your season.
Falling to Atlanta dropped Utah to 19-28. The Jazz had played more than half their season and were five games behind the Denver Nuggets for the final Western Conference playoff spot. In late January, FiveThirtyEight gave Utah just a 20 percent chance to make the playoffs and predicted it would finish 38-44—the same record that was forecasted for the pre-Blake Pistons and four wins shy of the Clippers' estimate. It was grim.
"For me, at this point, I was looking at the standings," Gobert recalled, "and I was like, 'OK, there's no way we can make the playoffs. There's no way we can win that many games. We lost to Atlanta.'"
Maybe Quin Snyder could sense that things were going sideways, or perhaps it was just one of those moments when the head coach tells his players to just keep after it. Whatever the impetus, after the loss to Atlanta while the Jazz were on the way to Detroit, Gobert said Snyder instructed his team to purposefully ignore the standings and the external noise. "I remember him telling us to just play," Gobert said. "Don't even worry about the rankings and all that. Just come out and compete."
It might sound like boilerplate coach talk, but Gobert insisted there was was more to it than that. He said it snapped him and his teammates out of a woe-is-us funk that involved a lot of time spent watching scoreboards from around the league. The Jazz played the next game in Detroit. They needed some late-game Joe Ingles heroics to tie things up in the fourth quarter, then pulled out a tight 3-point win in overtime. And that was it. They were off.
"It was definitely a turning point," Gobert told me while the Jazz were in L.A. over the weekend. "After playing that bad game in Atlanta, if we lose that Detroit game, it's probably a different story. But we kept fighting. We did what [Quin] said. We just played."
It didn't go down like it does in the movies. No one kicked over a table or gave a fiery speech. But it was a crisis of confidence and a moment that led to an unlikely midseason correction. That's when the fun started.
After the Jazz beat the Lakers on Sunday in Los Angeles, they clinched a Western Conference playoff spot—a remarkable feat considering how bad things looked not that long ago. Not many people expected them to reach the postseason. I certainly didn't. As recently as mid-January, I would have happily taken any odds you offered and bet against them pulling out a playoff run.
To continue reading, click here: How a January Loss to the Hawks Turned the Jazz's Season Around