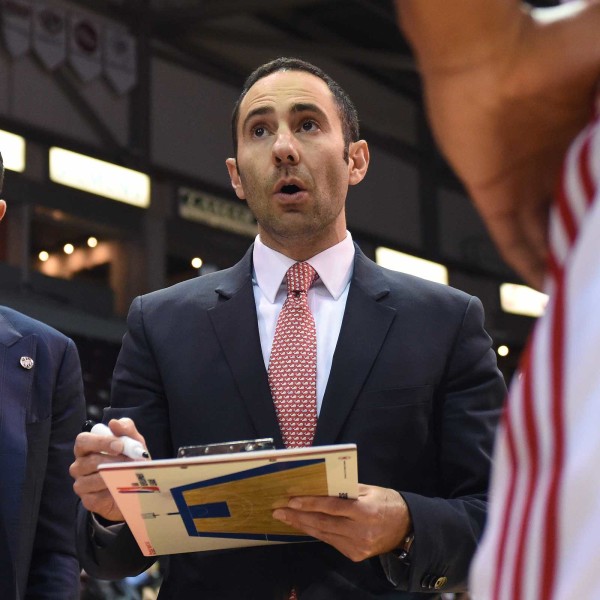 Source: Mike Trudell, NBA.com
When the Lakers fly back from road games, assistant coach Jesse Mermuys takes his seat next to head coach Luke Walton in the middle section of the team charter plane.
For the colleagues and friends who first met in 1999 in Tucson, Arizona, first comes a video breakdown of that night's game, then an edit of the previous two games the next opponent played highlighting their offensive sets.
When the work is done, Walton and Mermuys break out their iPads, so they can play chess.
Mermuys allows that Walton wins more often than not, because "He had Bill Walton and John Wooden giving him lessons … I had to learn in the street with salt and pepper shakers."
We spent some time with Mermuys to go deeper into what it's like coaching alongside his longtime friend, what makes Walton special as a coach, how the young players like Lonzo Ball, Brandon Ingram, Julius Randle, Kyle Kuzma and Josh Hart are developing and more.
Below is a transcript of the conversation:
MT: You and Luke go back a long time, to when he started playing at the University of Arizona, a program you were closely tied to. What's the story?
Mermuys: We had pickup runs not only at Arizona in the summers, but at my high school (Salpointe Catholic H.S.) as well, which was near U of A and was the premier basketball high school in Tucson at the time. A guy that was two years ahead of me and one of my best friends, John Ash*, was a walk on at U of A, and a teammate of Luke's. There were just a ton of tie ins, though, because I'd been a part of that program my whole life, going to Lute Olson's camp every summer. I knew the coaching staff and was just always there. The basketball community in Arizona is a pretty small, connected group. So through all of that, Luke and I just clicked and became friends, and as the years went on, became closer and closer.
MT: You've been in the NBA for several years now, and worked for several coaches (for the Nuggets, Rockets and Raptors) … what specifically drew you to this job as Luke's guy?
Mermuys: What's amazing about the friendship from the standpoint of the NBA is that for the entire time Luke was playing (2003-13), I was working my way up through the league doing all these different jobs. And you never thought he was going to get the kind of job he got right after playing that soon. That was amazing. I thought that I'd be hiring him, the way things usually work timing wise. So he was able to see my progression, because we'd maintained the connection throughout the league, going to dinners when he came to the cities I was coaching in. It was nice for him to basically be a part of my journey.
To continue reading, click here: Inside the Locker Room With Jesse Mermuys