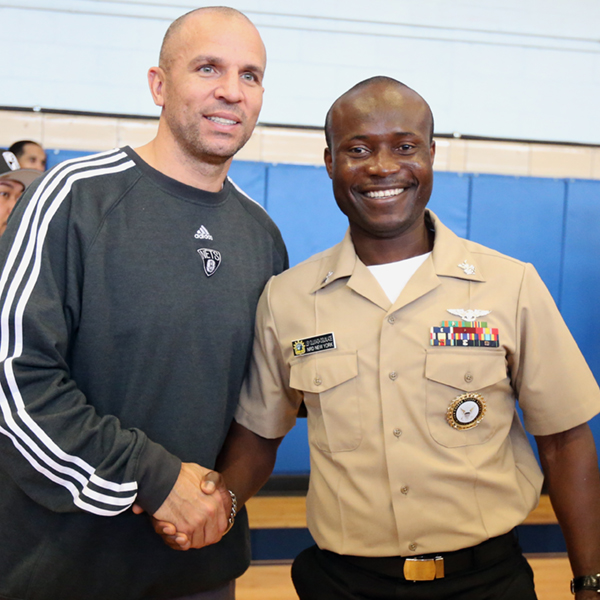 As they prepare to head out on their first extended road trip of the season this week, Coach Jason Kidd and his Brooklyn Nets took a special trip on Monday to spend some time with Armed Forces members in Brooklyn for Veterans Day.
The Nets held their daily practice on Monday at Fort Hamilton Army Base in front of approximately 300 service men and women. Following the practice, the Nets went to work in the cafeteria, where they served lunch to those who serve the United States.
[dopwgg id="19″]
The event was organized by the Nets with the help of Air Force technical sergeant Derek Bishop, who lauded the franchise for the gesture.
"You always hear about players coming to do meet-and-greets at high schools, but for the whole Brooklyn Nets basketball team to come to Fort Hamilton and celebrate Veteran's Day with us, it's an absolutely incredible thing," Bishop said. "I've never heard of anything like this before, and I've been in the Air Force 15 years. It's an honor to have them here and I think it's great that they take the time to come out and spend time with service members."
Coach Kidd, whose father was an Air Force mechanic, said that he and his team relished the opportunity to give back to the Brooklyn-based soldiers.
"I think probably a lot of people didn't know there was a fort here, right here in our home in Brooklyn," said Coach Kidd. "So to be able to share time — we're going to have lunch and to be able to serve them dinner — is something special. They serve us every day."
After watching practice, Bishop and other service members presented the Nets with a special gift: a flag that flew over the World Trade Center site in 2011 on the 10th anniversary of the Sept. 11, 2001 attacks. According to Bishop, only 15 such flags are currently in existence and most were given to families who lost a loved one that day. But the service men and women felt the Nets' gesture to visit them and hold practice at Fort Hamilton was so grand that it was deserving of such a unique presentation
"We felt that, as all five branches of the armed forces, there was no better reason to present one than today," Bishop said, "because for the Brooklyn Nets to come out here to show their appreciation is second to none. So I hope the flag flies proudly in the Barclays Center."