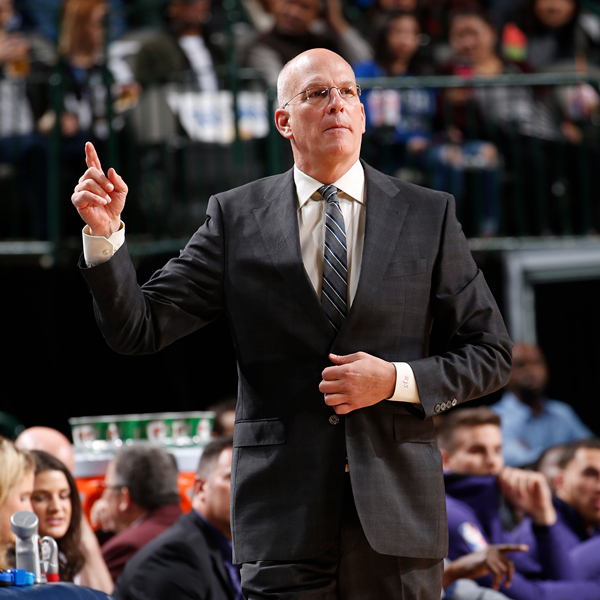 Via ESPN
An interim coach's play and a little-known rule lifted the Phoenix Suns past the Memphis Grizzlies on Tuesday night.
The Suns notched a 99-97 win, thanks to Phoenix big men Dragan Bender and Tyson Chandler connecting on an out-of-bounds alley-oop that provided the winning margin in the final second of play.
Bender delivered the pass to Chandler, who threw home a rim-rattling dunk over the Grizzlies' Brandan Wright with 0.4 seconds to go.
"My job was to punch it in. It was close," said Chandler, who finished with seven points and six rebounds. "It might have hit the back rim, but I caught it over the cylinders because I knew there was no goaltending."
Officials, however, had to review the play, as it appeared that Chandler goaltended to get the ball home. As it turns out, there's no goaltending rule in that situation.
"I was trying to create a play where you could score with like three-tenths of a second or something, and I thought tonight was a good time to do it," Suns interim coach Jay Triano said. "I put it on about two or three days after I took over the job here, and it's a rule that a lot of people don't know. You cannot goaltend a ball that isn't going to count, so I told our guys, 'Shoot the ball in the basket, and all Tyson has to do is touch it on the way down or grab the rim and have it hit your knuckle on the way in.' I asked the officials when they come and do their clinics and seminars with the coaches, I asked them that 15 years ago when I was in Toronto. I asked them about it, and they had to go back and look at it, and I've tried to keep it a secret, and it's not a secret anymore."
Click here to read the full article: Suns rely on little-known rule to slam Grizzlies in final second