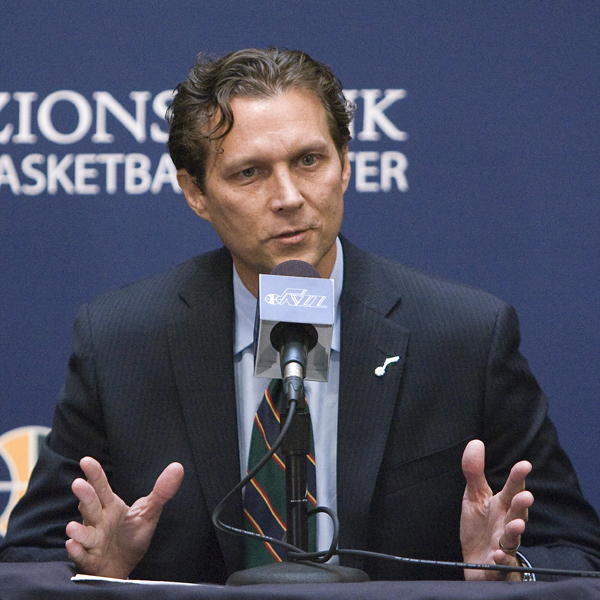 SALT LAKE CITY (AP) — The Utah Jazz announced Friday that they have hired Atlanta Hawks assistant coach Quin Snyder to replace Tyrone Corbin, who was let go earlier this year after three-plus seasons in Salt Lake City.
Snyder most recently completed his first season as an assistant with Atlanta. He has also been an assistant with the Los Angeles Lakers, the Philadelphia 76ers and the Los Angeles Clippers. He was the head coach at Missouri for seven seasons, from 1999 to 2006, leading the Tigers to four NCAA tournaments. That included an Elite Eight appearance in 2002.
"He has an impressive basketball pedigree, including more than a decade of head coaching experience that positions him well to succeed in the Jazz organization," Jazz CEO Greg Miller said in a statement. "We look forward to Quin's contributions both on the court and in the community."
Snyder succeeds Corbin, who was not offered a new contract. Corbin went 112-146 in Salt Lake City after taking over on Feb. 10, 2011, following the resignation of Jerry Sloan, for whom he played three seasons and served as a longtime assistant.
Corbin reached the playoffs in the strike-shortened 2011-12 season, but his team was swept by San Antonio in the first round of the playoffs. The Jazz went 43-39 the next season and dumped a number of veterans. This year, they went 25-57, the worst season by the Jazz since 1979-80, when Utah was 24-58 following the franchise's relocation from New Orleans.
"The opportunity to join the Utah Jazz and to be part of such a highly respected franchise with an incredibly bright future is a great honor," Snyder said in a statement. "I approach this opportunity with gratitude and humility and am committed to doing everything I can to help the Jazz become a championship-caliber team."
Former Jazz forward Paul Millsap, who went to Atlanta last season, posted to Twitter: "Congratulations to Quin Snyder for being named head coach of the (at)utahjazz!!! The Jazz are getting a great coach and person."
Snyder is the eighth head coach in Jazz history. The team planned a news conference on Saturday.
via www.nba.com