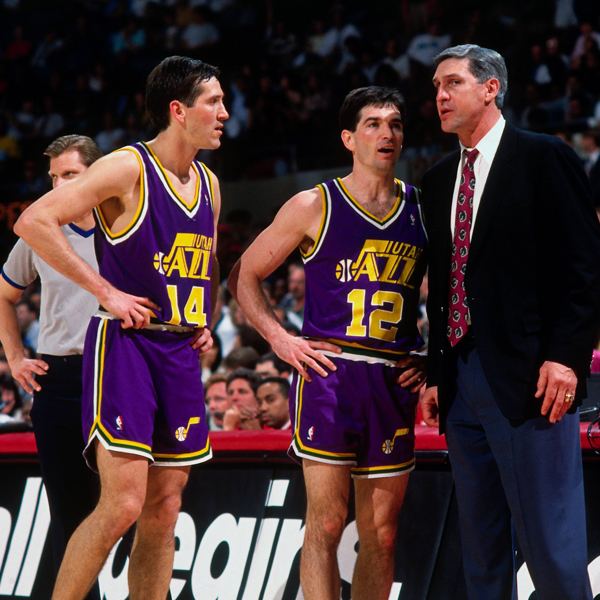 It's been said that bad company corrupts good character. It has also been said that "Iron sharpens iron."
Picture yourself as a professional basketball player. While parking your car, saying "good morning" to the training staff and making your way onto the court, you notice that your teammates are having discussions about offensive sets you never thought of.
They are so engaged in this topic and have so many creative ideas and ways to score within the system your team runs, that you can only listen and get excited. Working in an environment where everyone's basketball IQ is through the roof and having people surrounding you that challenge you to think wiser, and share new perspectives in your mind about basketball, is an experience only a few players in the NBA can say they've had.
Back in the 1990s, the Utah Jazz were like this.  They were a contender for a championship every single year and though they were a small-market team, they had a big-market punch. Of course two of their most well-known players are John Stockton and Karl Malone, but one of their most important players in the '90s was shooting guard Jeff Hornacek.
Because of the talent he played with, Hornacek not only became a better player on the court, but also gained a lot of knowledge when it came to the game of basketball.
If you remember the Delta Center, then you remember Hornacek. He was the person on the hardwood letting off 3-pointers left and right and making fans inside of the Delta Center go crazy. Hornacek was one of my favorite players to watch in the NBA and has an argument as one of the most under-appreciated players in NBA history.
Now as the head coach of the Phoenix Suns, he can say that his time in Utah and his coach Jerry Sloan, influenced him to become a coach.
Back when Hornacek played for the Jazz, he excelled in his role as the third scoring option. Though he was the second-leading scorer during certain seasons, he was traditionally third in the pecking order of getting shots. Playing with the unstoppable pick and roll combination of Stockton and Malone will affect that.
Hornacek played a vital role within the starting lineup and helped the Utah Jazz reach the NBA Finals two seasons in a row (1996-97 and 1997-98). He was a selfless player and an integral cog in the success of the Jazz.
One of the most important reasons why Hornacek thrived in Utah was because of the intelligent coach that was leading the Jazz franchise. Hall of Fame coach Jerry Sloan has a basketball mind like no other and is one of the most under appreciated coaches in NBA history (see the correlation from earlier?)
Coach Sloan is one of the biggest influences that any player could ever have and Hornacek being in his presence for seven years learned a lot. Now as we fast forward in the career of Horancek, he is one of the most innovative coaches in the NBA with his Phoenix Suns. The influence that Sloan had on his career was profound and we can see some of the similar offense philosophies that these two have.
Coach Sloan was a pioneer when it came to the offensive side of the basketball. Back in the 1970s and 1980s, most of the NBA used a center as a base inside of the offense to dictate the flow and pace of a game. Instead, Sloan switched it up and used the flex and motion offense to enabling his guards and faster players to have control and create pace in the offense.
Because of this, his Jazz teams were competitive and didn't always need to have a traditional lineup with a big and burly center.
Sloan used guards, movement and creativity within the offensive side of the basketball and it created matchup advantages and allowed quicker players to thrive.
Thirteen years later, one of his players is now following in his footsteps. As the coach of the Phoenix Suns, Hornacek's team is starting to resemble the Jazz teams that he once played for. Though his Suns have no Malone or Stockton, they often use spacing on the floor to use the pick and roll to score points.
Markieff Morris and Marcus Morris are used in the pick and roll since they each have the range to shoot jump shots. While the point guard spot is for Goran Dragic and Eric Bledsoe to use dribble penetration and come off picks to work the defense. The Suns run a lot, they use flow in their offense and have perimeter players cutting around the rim, getting open on three pointers and finding open lanes on the perimeter to score points.
Lasting impacts make a long impression and with evidence of Hornacek's Suns, Jerry Sloan's mind was one of his greatest impacts.
During an interview with Andrew Gilstrap of Arizona Sports Hornacek said this:
"You know, Jerry Sloan always used to tell us if you can, after the game, come in that locker room, look in the mirror and say, 'I laid it all out there,' and you lost, then so be it. So that's the attitude we have to have. Hopefully, if we play as hard as we can and play together, then we're going to win a fair share of games."
Because of Coach Sloan's influence, Hornacek's Suns team are going to win a lot of games and may become one of the sleeper playoff teams in the grueling Western Conference.
It's like becoming a member of the Jazz once will always stay with you. The basketball knowledge that is shared in Utah, is another reason why they are once again on the upward trajectory in the NBA world.
Coach Hornacek has a lot to give thanks to because of the influence that the Utah Jazz and Coach Sloan had on his career.
via hoopshabit.com