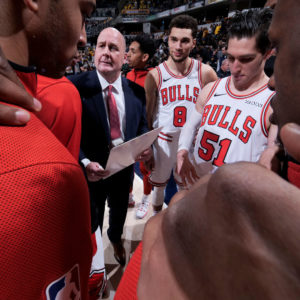 During a timeout as the Bulls earned a rare home victory over the Grizzlies on Wednesday to head into the All-Star break on a positive note, Zach LaVine spoke up to coach Jim Boylen.
Mindful that Otto Porter Jr. was on his way to a career-high 37 points, LaVine, who took just 10 shots with seven assists, suggested a play call to keep Porter hot.
"That's the kind of (expletive) I want," Boylen said, his voice rising with intensity, when asked about the moment in an interview as the break began. "That means Zach's taking himself out of the equation and doing what's right for Otto and the team.
"Kris Dunn will do that too. He'll come to me and say, 'Lauri (Markkanen) has it cooking. Let's go to him.' RoLo (Robin Lopez) has a good heart, a good spirit. He's always sticking up for the essence of the team.
Click here for the full article: 34 games into his Bulls tenure, Jim Boylen's intensity hasn't changed a bit: 'Push them without being combative'
Source: www.chicagotribune.com