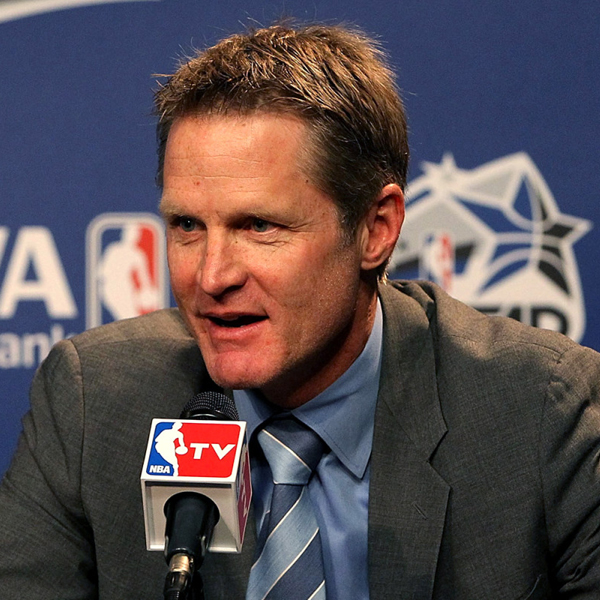 OAKLAND, Calif. (AP) — The Golden State Warriors are taking another chance on a television analyst and former NBA guard who has never been a head coach at any level.
The Warriors won the bidding war with the New York Knicks for Steve Kerr on Wednesday, hiring him away from the TNT broadcast table to be their coach. Kerr agreed to a five-year, $25 million deal with Golden State, said his agent, Mike Tannenbaum.
The Warriors confirmed the agreement Wednesday night and said they will introduce Kerr at a news conference after the contract is complete.
Kerr had been in talks with the Knicks about becoming their coach since Phil Jackson took over as team president in March. He won three titles playing for Jackson in Chicago and another two under Gregg Popovich in San Antonio.
Kerr told NBA.com, which first reported the agreement, that going to Golden State "just felt like the right move on many levels." He said his daughter plays volleyball nearby at the University of California, Berkeley, his oldest son is in college in San Diego and his youngest son is a junior in high school.
Kerr called the offer to coach the Knicks a "tantalizing" opportunity. He said it was "agonizing" to say no to Jackson "because of what I think of him and what he's done for my career."
"I told Phil, `I think I have to pursue this other opportunity,"' Kerr told the website. "He gave me his blessing. He said. `Go look at it, and do what was in my heart."'
Kerr, 48, said last month that he has wanted to coach since stepping down after three seasons as general manager of the Phoenix Suns in June 2010. And while the lure of rebuilding a flagship franchise with his mentor at Madison Square Garden looked appealing, the chance to coach a Western Conference contender in his home state proved to be too much.
Kerr replaces Mark Jackson, who was fired by the Warriors on May 6 after three seasons and back-to-back playoff appearances – mostly due to a sour relationship between him and team management.
The Warriors job is certainly a far more attractive one than when owner Joe Lacob hired Jackson away from the ESPN/ABC broadcast table in June 2011. The Warriors are coming off a 51-win season and consecutive playoff appearances for the first time in 20 years, and they've surrounded star Stephen Curry with a talented young core.
Kerr became the hottest coaching candidate on the market after Phil Jackson started courting him to the Knicks. Kerr also has close ties to Lacob, his son, assistant GM Kirk Lacob, and Warriors President Rick Welts, who worked in Phoenix's front office during Kerr's time as Suns general manager.
Given the tension that built between Jackson and Warriors management last season – and the back-and-forth that played out between them in the media after Jackson was dismissed – having an established relationship with Kerr was a big reason Lacob wanted him as coach.
Lacob lauded Kerr as a candidate last week and defended the decision to change coaches – which has been debated at great lengths in the basketball-united Bay Area. He compared the decision to how he built his fortune as a venture capitalist in Silicon Valley.
Lacob said there's a different person to lead a business at different stages of development, and the Warriors have gone from a "startup" company to an organization looking to maximize its output.
"Or in this case win an NBA championship," he said. "And we just felt overall we needed a different person to go forward and get to the next level."
And while Kerr has no coaching experience, he played 15 seasons and – also similar to Mark Jackson – has been around some of the most successful sideline leaders.
Kerr has credited Phil Jackson and Tex Winter for most of his basketball knowledge. Winter taught the triangle offense – which Kerr would not commit to running with the Warriors – and was a longtime assistant for Jackson, who used the system to win an NBA-record 11 championships as a coach of the Bulls and Lakers.
Golden State also spoke with former Orlando Magic and Miami Heat coach Stan Van Gundy during its search. Van Gundy agreed to a $35 million, five-year deal with Detroit on Tuesday after the Pistons also gave him control of basketball operations – something the Warriors wouldn't do with general manager Bob Myers and Kirk Lacob in place.
The Warriors met with Kerr again on Tuesday night in Oklahoma City, where Kerr was calling the Thunder-Clippers game. And they apparently made a big enough impression – and contract offer – to land the man they wanted all along.
via www.nba.com